University of Michigan School of Information
Alumni Snapshot: Maria Gosur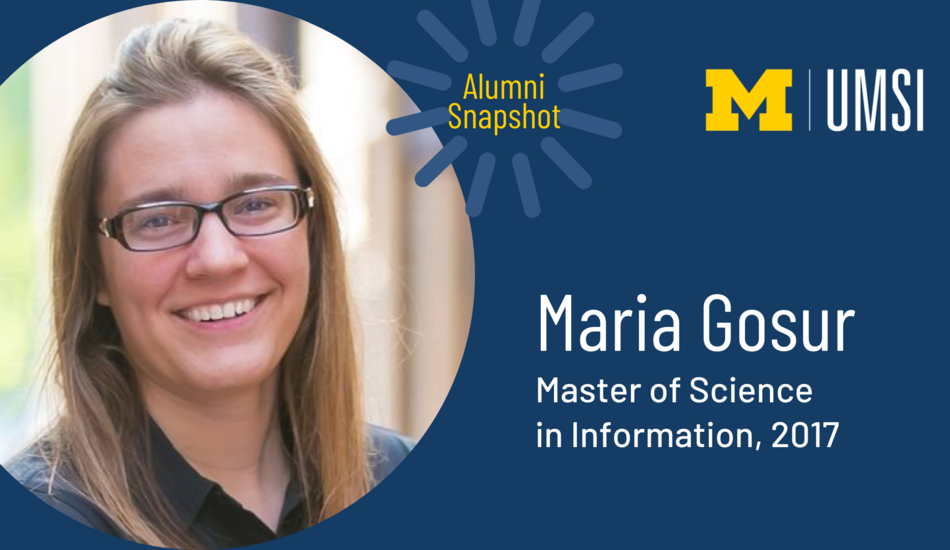 Maria Gosur 
MSI '17 (Human-Computer Interaction)
User Experience Engineer at Schoolcraft College and Entrepreneur
I am currently a user experience (UX) engineer at Schoolcraft College. I am part of the marketing and communications team, and my responsibility focuses on UX research and managing the college website that contains around 70 department sites. The research I do involves studying competitor websites, exploring strengths and weaknesses, developing customer journey maps, observing the web experience of students and other user types, and more. I also lead the web development and user interface (UI) design aspects of maintaining the website. We are in the midst of launching new website areas this summer and while I've been a part of previous website launches, this is the first time we are strongly emphasizing UX. 
I am also the owner of a business called Creative Seed, which offers web development and graphic design services. Different clients come to me to create or improve their website, and we look at the UX first to inspire new directions for marketing. I dabble in all different areas of UX, so there is never a dull moment. That is what I like most about my work; it is so different all the time.
Advice for getting into the information field
Make sure you practice what you do, but it should be something you are passionate about. If you can customize what you are learning in school to what you are interested in, then you will learn so much more from the experience.
Networking is important, but make sure you are networking with the right people. It's like pitching a product — you want to make sure you're talking to the right target audience. Seeking mentorship is probably one of the most important pieces of advice I would give. It has made a drastic impact in my life as I've always had a mentor in every stage of my life to challenge and encourage me. 
Be sure to understand what your goals and core values are. I had a very specific goal of growing where I was located instead of moving out of state or applying to large corporations after I graduated from the program. I knew who I was, I knew where I wanted to be, and this guided my various decision-making, even when it felt like I was going against the grain.
Lastly, treat every moment as an opportunity to learn something new. User experience is everywhere, information is everywhere, and there is always a chance to improve what it is now. Give more than 100% if you really want something. When I applied to UMSI, I created a custom portfolio book and directly handed it to admissions because I knew I needed to stand out in a competitive field like information. That small action provided opportunities. Always strive to give that little extra that's in you because it's often the factor that makes a difference.
Most valuable UMSI experience
When I was first starting the program, I met Nancy Benovich Gilby — then the Ehrenberg Director of Entrepreneurship at UMSI — who was doing amazing things as an entrepreneur, and I thought I could learn a lot from her. She encouraged me to participate in an event called Make Health Fest to share an idea I had for creating an app to help with medication reminders. It was really out of my comfort zone to enter an event like that and pitch my own idea. Through that experience, I received a lot of good feedback and met someone else from the business school who ended up being a partner for this application venture, and it took off from there. 
Best UMSI memory
Participating in Innovation in Action, a campus-wide pitch competition, was a great memory for me. I collaborated with four other students from different schools and together we worked on a start-up for the medication app I mentioned earlier for a couple of months. We won the grand prize, which was really exciting — not because of the money we received for the start-up, but for how amazing it was to come together as five people from different backgrounds and make a positive impact with user experience and design. 
I also still remember the first day of orientation. There was such high energy, and being surrounded by other students who are enthusiastic about learning got me excited about my next five years at UMSI. I didn't want to just do class work — I wanted to make it something that would be valuable to me. One of the courses I enjoyed was the Contextual Inquiry course because it was a real life challenge to take on as a learning experience. I loved how UMSI provided real client work and problem solving opportunities for our program. 
UMSI skills at work 
I came into the School of Information already interested in user experience and from there it further solidified my knowledge of how to use it in my day-to-day life. I was working while attending the program, so it was great to be able to apply the things I learned in the work I was doing at the time. 
Motivation for pursuing information 
For my work, in order to deliver quality and creative results, you need to know how to make information understandable for your audience. I have always been a geek when it comes to information architecture and project management. I wanted to learn more about mobile app development and entrepreneurship, and UMSI seemed to be the place where I had a chance to touch each of these points and interact with other students who cross through other schools. It felt like home.
— Oct. 14, 2021 
Learn more about UMSI's Master of Science in Information program and how to apply.
Send UMSI an update and share your own Alumni Snapshot with the world.