University of Michigan School of Information
Alumni Snapshot: Omid Farivar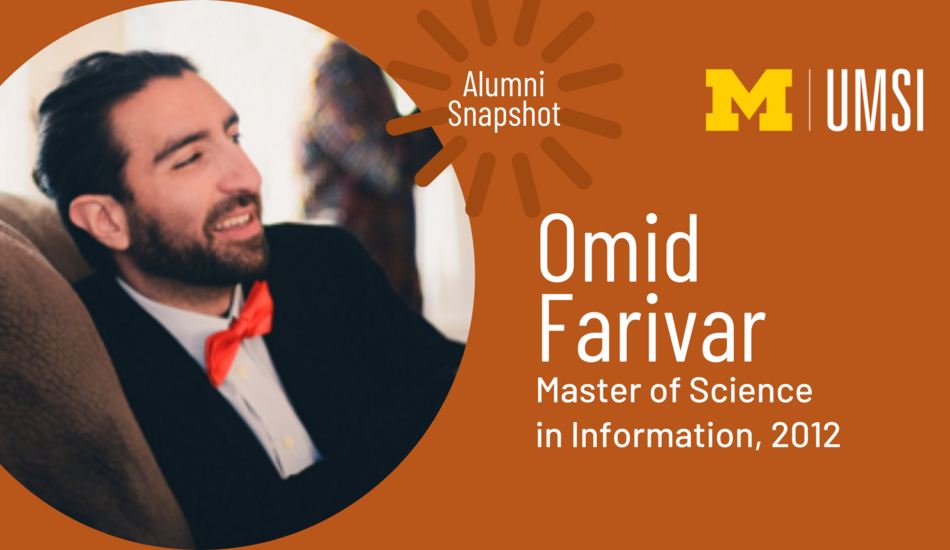 Omid Farivar 
MSI '12 (Human-Computer Interaction)
User Experience Research Lead at Discord
I've been working as the User Experience (UX) Research Lead at Discord since last October. I was recruited to start a UX research team that would bring in more qualitative insight and partner with other product managers and product marketing managers to drive the road mapping of new features. I have two researchers who have recently joined my team, and we've been hard at work pushing for new processes and best practices as we set ourselves up as "Discord Research." The next rung in the career ladder for me (and I want to stay here a long time) is either a head of research or director of research role, so that is what I'm currently working toward. Prior to joining Discord, I was leading consumer research at Cruise, a self-driving car company based in the San Francisco Bay.
UMSI skills in work 
There are several UMSI courses that made a great impact on my skills as a researcher. I took a class that was taught by the current dean of UMSI, Tom Finholt, called Evaluation of Systems and Services. This was a primer to using research methods in an applied setting. We partnered with a real-world client and applied some common methods to explore some of their business problems. We learned how to do journey mapping, interviewing, surveying, etc. I also took a graphic design course with Elena Godin, where I learned the fundamentals of good design. I'm not an artist by any stretch of the imagination, so it was awesome being out of my comfort zone. Every researcher needs to have a good sense of what good design is, as well as why.

SI 501, one of the intro courses that all UMSI grad students have to take, was also really important, but not in the way you may expect. It was challenging because we had to take a class with all of the other master's students in the program. Many of us had different backgrounds, experiences, skills and expectations, leading to some challenging group dynamics, at times — very realistic to an actual work situation.
Motivation for pursuing information
I started off at UC San Diego as an electrical engineering major with no interest in psychology or information. I wanted to build! Hack! But, after my first course attempting to learn C, I realized programming and building were probably not what I wanted to do full time. I was lucky to speak with an amazing career advisor. I found cognitive science and human-computer interaction and fell in love with how they intersected computer science, psychology and neuroscience.
Best UMSI memory
There are too many! I have to say though, our cohort was just a lot of fun and knew how to let loose after all the intense study sessions and hours spent writing together in the UMSI Student Lounge. 
Advice for students
It's no secret that right now is a really trying and tough time for the world. That's why I think UX design and research are more important than ever. There is a lot of value in committing to a career that's all about crafting usable, delightful products we can use. That said, it's also super hard to get started as a UX researcher in industry. Be kind to yourself, don't give up, and value your own worth.
— Oct. 7, 2021 
Learn more about UMSI's Master of Science in Information program and how to apply.
Send UMSI an update and share your own Alumni Snapshot with the world.