University of Michigan School of Information
Alumni Snapshot: John Garrison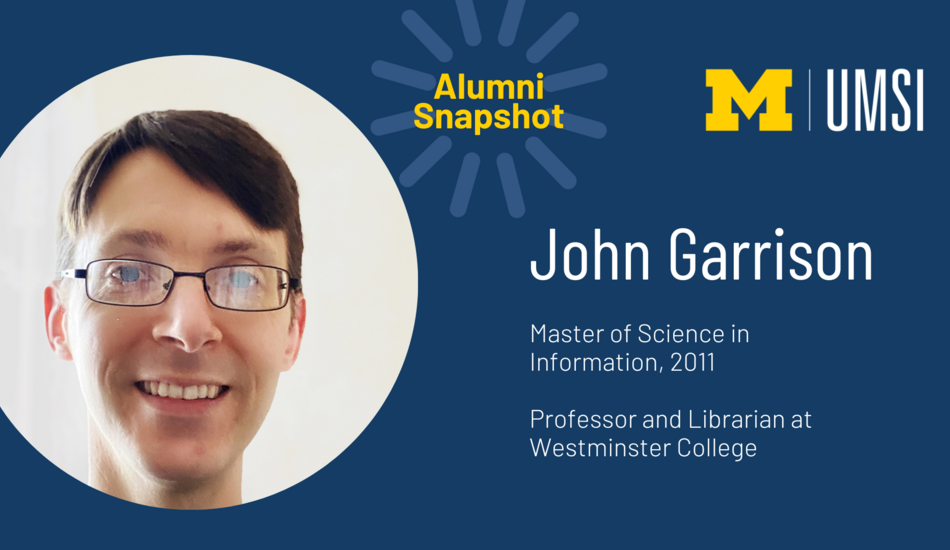 John Garrison 
MSI 2011, Concentration in Library Studies
Professor and librarian at Westminster College
After graduating from the master's program at the University of Michigan, I got a position at Westminster College in Western Pennsylvania as a librarian. I have been with Westminster since 2012 and received tenure in 2018. My main responsibilities are in serials collections and electronic resources at the Westminster College library. 
UMSI skills in work
UMSI is not direct job training in the sense of jumping into a job and knowing everything you need to know for that position. However, I would say the curriculum for UMSI was definitely helpful in learning about the theory behind academic library roles. Whether that was from the information literacy instruction or the reference interview, it was transferable for my job position. In a less direct but important way, several different computer science and programming courses I took at UMSI have also been valuable. I took these due to personal interest and being aware of how information technology functions and what the fundamentals of it are. This helps me understand certain troubleshooting issues I deal with in my job. The library works very closely with the help desk now so many students come to the library to fix their computers or for online help. Because of that close relationship with library and IT, I am able to have a better idea of how to help students outside of library specific expertise while also seeing how technology may impact library work moving forward. At the daily level of how to order a database, how to teach a specific course on biology, UMSI gave me the framework needed to do the work well. 
Motivation for pursuing information
I had a summer job in a college library during my high school years and enjoyed that experience. When I attended the College of Wooster, I also worked at the library there. I did not immediately think of librarianship as the career field I would end up in, but as I was thinking of my career options at the end of my undergraduate years, I realized I loved the work I did in libraries and their mission. I researched more about what was needed to become a librarian and quickly found out about the master's degree for library studies. I was really impressed with the UMSI degree program and received generous financial support for attending. 
Most valuable UMSI experience
I would say my internship at the Taubman Medical Library was the single most valuable experience for me at the School of Information — having the opportunity to interact with a number of librarians and learning from them throughout the summer between my first and second year in the program was helpful. 
Favorite memory at UMSI
I would have to say starting my internship at the Taubman Medical Library. Up until that point, I had worked at several libraries doing basic tasks like shelving books.. This internship gave me the opportunity to be hands-on for the type of advanced, in-depth work I was looking forward to doing as a career. That was when I felt the most excitement and a sense of possibility. The librarians I met there were also so welcoming and wanted to show me the ropes for what it was like to be an academic librarian. 
Advice for students
Take full advantage of the coursework. I recommend branching out beyond just your specific track in the program. I did librarianship but I also learned about databases and Python, and while I don't use those skills every single day, it is still useful to me on a regular basis. They were also some of my favorite courses at UMSI. Really take advantage of the variety that is available at UMSI. On top of that, I would say internships are a vital part of getting a job after graduation. When I look at job candidates for open positions at Westminster, if you have an interesting internship on your resume, that stands out to me. Definitely take an internship (or more than one if you have the time) and get that experience before starting your job search. 
A friend I had made at UMSI who was also in the library track introduced me to the Taubman internship. Meeting those classmates and getting to know them was not only valuable professionally to me but made the program that much more enjoyable to have those close connections with peers who had the same interests. 
Learn more about UMSI's Master of Science in Information program and how to apply.
Check out internship opportunities at UMSI's career development office.