University of Michigan School of Information
Alumni Snapshot: Julie Darling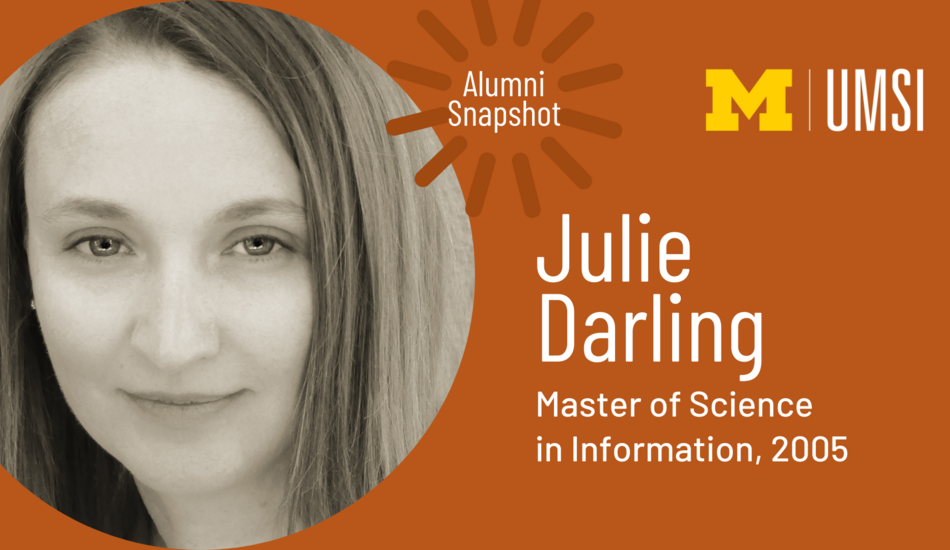 Julie Darling 
MSI '05 (Library Information Service and School Media) 
Media specialist at A2 STEAM 
I am currently the media specialist at the Ann Arbor STEAM school, a K-8 school that focuses on STEAM (science, technology, engineering, art and math) and utilizes project-based learning for instruction. Six years ago, when I was figuring out how to build a makerspace, I'd actually visited the STEAM school to investigate how they'd set up their makerspace. Over the past several years, I did tours all over the country and went to every makerspace that I could to figure out different ways that makerspaces were being utilized. 
I fell in love with makerspaces because they are such an incredibly engaging tool to use and give students the opportunity for hands-on, kinesthetic learning. The makerspace that I built in the grade school library at Dexter Community Schools has a variety of tools including a 3D printer, green screen, knitting machine, button maker, numerous hand tools and so much more to help support a variety of maker activities and encourage innovation. 
Although I'm new to the STEAM position (I started in February and taught remotely until June), I'm really excited to figure out how to build upon the exciting projects that my colleagues are already doing, and find ways to bring more making opportunities to STEAM students through their library classes. I'm also excited to expand the curriculum that I've developed. After immersing myself in makerspace and utilizing my Dexter Schools makerspace with thousands of students, I've developed concrete ideas for what works well and how makerspace can support different educational goals. My current primary focus is to use makerspace to support SEL (social-emotional learning). In fact, I feel so passionately about this SEL/makerspace combination that I wrote a book about it.
UMSI skills in work
One of the really great things that the UMSI program does is teach you to be resourceful. That's at the heart of being a librarian/media specialist. Finding accurate and relevant information, figuring out new platforms and developing strategies for the effective use of technology are all skills that came from my time at UMSI. The foundation courses were also fabulous for developing my ability to learn and adapt quickly.
Motivation for pursuing information
My mom would take me, every week, to the West Branch of the Ann Arbor District Library. At the time you could only check out six books per library card, per visit. Every week I would max out my six book checkout allotment. I've always been a voracious reader. Later, when I was in high school I took a business class where part of the class was focused on identifying what kind of job that you'd really enjoy, and then taking steps to secure a related job or internship. I really wanted to work at a bookstore and ended up with a position at Nicola's Books. 
In college, I took classes in psychology and anthropology, topics I was interested in, but I was still trying to figure out what I wanted to do for a career. My boyfriend at the time (who's now my husband), asked me if I had ever thought about pursuing librarianship, which, if you've met me, is obviously a perfect fit. Getting into the UMSI program felt like fate. I love everything about being a librarian/media specialist. I've worked in school and public libraries and the work is always changing. I'm the kind of person who really likes learning so this also makes it a really good match for me.
Favorite UMSI memory
My favorite memory at UMSI is going to a professional conference with a group of library information services/school media students. We spent the whole conference together; going to sessions, talking about what we learned after and making connections with professionals already working in the field. It was so much fun. I'm still in touch with many in that group, and we still support and share professional learning with each other.
Advice for students 
I think that one thing that makes people gravitate to the UMSI program is their love for learning. My best advice is to keep following that passion. When you immerse yourself in your field and learn everything you can about it, you'll also figure out your niche. There's nothing more exciting than being able to contribute your thoughts and experiences so others can benefit from your unique perspective.
— April 14, 2022 
Learn more about UMSI's Master of Science in Information program and how to apply.
Send UMSI an update and share your own Alumni Snapshot with the world.