University of Michigan School of Information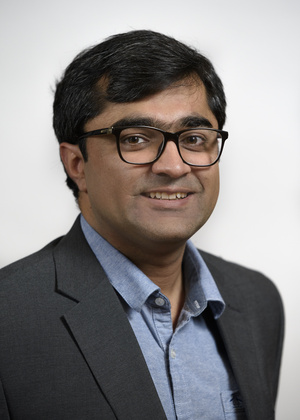 Clinical Assistant Professor of Information, School of Information
Email:
mnaseem@umich.edu
Phone: 734/615-7505
Biography
Mustafa Naseem is a Clinical Assistant Professor of Information at the University of Michigan Ann Arbor. Mustafa interests lie at the intersection of technology and poverty. His recent work has focused on the use of information and communication technology (ICT) to improve public service delivery in global health, and water and sanitation (WASH) sectors. Mustafa has taught and led ICT, design, and entrepreneurship programs in six countries in Africa, Asia and North America, and prior to joining Michigan Mustafa was the ICTD Expert-in-Residence at the ATLAS Institute, University of Colorado Boulder. He received his master's degree from the ATLAS Institute on a Fulbright Scholarship, and was shortlisted among 12 finalist Rolex Awards for Enterprise Young Laureates in 2016.
Mustafa aspires to, and believes in, scaling solutions through the public sector and non-profit partners to impact millions of lives. A few of Mustafa's projects have impacted tens of thousands of lives in Punjab, Pakistan. Mustafa's work has been been supported by generous funding from the Bill and Melinda Gates Foundation, the Department for International Development (DFID - UK), the National Academies of Science, Engineering and Medicine, National Institutes of Health (NIH), and the United States Agency for International Development (USAID). A list of recent projects include:
1. Lead PI for a $100K grant (2018) from the Bill and Melinda Gates Foundation, to design a machine learning based anomaly detection algorithm to identify errors in electronic immunization data reported in Punjab, Pakistan
2. Co-PI for a $250K grant (2018)from the National Institutes of Health (NIH) to perform a randomized control trial in Punjab, Pakistan to determine whether interacting with a health hotline (Super Abbu) leads to any changes in knowledge, attitudes and behaviors among men. (Lead PI: Dr. Arman Rezaee, UC-Davis).
3. Co-PI for a $500K grant (2018) from the National Academies Keck Futures Initiative to identify ways in which existing digital technology can be used to amplify the impact of healthcare institutions that work in maternal and neonatal care in Lahore (Pakistan), Cape Town (South Africa), and Detroit (United States). (Lead PI: Dr. Kentaro Toyama, University of Michigan)
4. Lead PI for a $375K grant (2017) from the US-Pakistan Science, Technology Cooperation Program (funded by USAID and Pakistan's HEC) to design and deploy water dispensing and quality measurement units in Punjab, Pakistan
5. Co-PI for a $100K grant (2016) to design and deploy a phone-based hotline to allow expectant fathers to ask questions related to pregnancy and childcare. (Lead PI: Dr. Agha Ali Raza, Information Technology University)
6. Lead PI for a £250K (2015) grant (funded by DFID-UK) to design, develop and pilot an immunization information system in Punjab, Pakistan
Areas of interest
ICTs and social change, human computer interaction (HCI), health informatics
Honors and awards
Shortlisted among 12 finalists for Rolex Young Laureates Awards for Enterprise
Fulbright Scholarship (2011-2013) 
Education
MS in ICT and Development (ICTD), University of Colorado Boulder
BS in Electrical Engineering, National University of Sciences and Technology (NUST), Pakistan