University of Michigan School of Information
Curriculum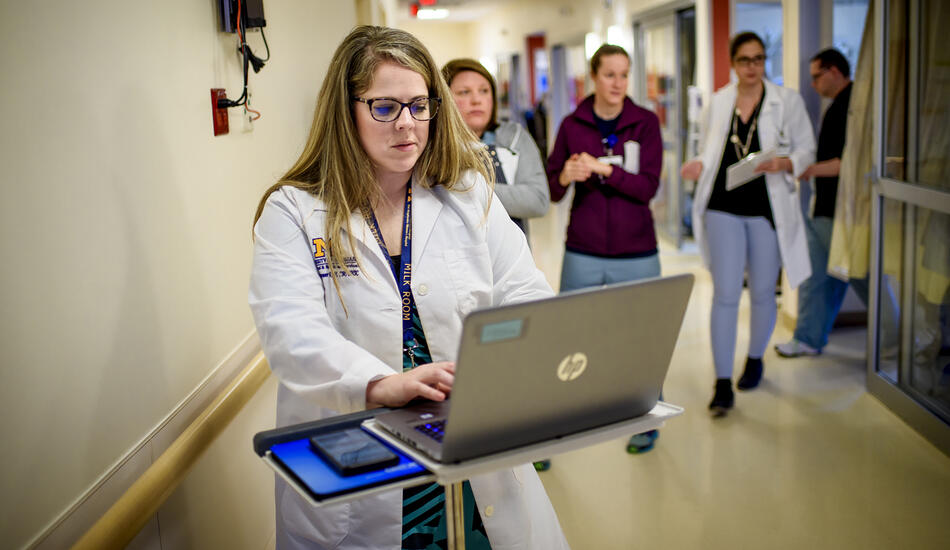 The 52-credit, two-year, on-campus MHI program prepares students for careers that will harness the power of information to enhance health and transform individual health and health care. We are developing the next generation of leaders to guide this rapidly evolving field.
Students completing the Master of Health Informatics (MHI) will be well prepared to enter — and become leaders in — the health informatics field. Through their elective course selections, students may shape their preparation more specifically to certain subfields, such as clinical, consumer or public health application areas. 
Because there is likely to be integration and convergence among these subfields in the coming years, however, all students will be required to acquire knowledge relevant to each of these subfields. Defining features of the program include its strengths in leadership, consumer health informatics applications, and system-related human and organizational issues.
Core courses
In the MHI core courses, you will build knowledge of the health care system and master concepts in health policy, information science, and behavioral, cognitive and organizational science. You will develop methodological skills in high-powered analytics, systems analysis, planning, development and implementation.
Internship
A central feature of the program is the internship experience, through which you will:
Develop skills required to create health information systems and resources that are truly useful to those who interact with them

Develop a deeper understanding of the context and the goals of systems' end users

Develop the ability to translate system requirements into designs that are practical to implement and support

Guide the development of systems that can accommodate the high rate of change that is characteristic of the health sector

Integrate conceptual understanding of health issues with a strong ability to recognize unique information requirements in various settings
Additional opportunities through engaged learning
MHI students are encouraged to take advantage of many engaged learning programs that are offered through the Engaged Learning Office. These include the A2 DataDive, Alternative Spring Break, Alternative Fall Break and Citizen Interaction Design's summer program.
Self-initiated dual degrees
MHI students may self-initiate a dual degree with other graduate programs at the University of Michigan by contacting each school to find out more about their curriculum and opportunities for dual degrees.
Certificate option for current U-M graduate students
The Health Informatics program offers a 15-credit Graduate Certificate in Health Informatics (GCHI) open only to students who are currently enrolled in a graduate program at the University of Michigan-Ann Arbor.
Find out more about the graduate certificate by visiting the GCHI webpage.