University of Michigan School of Information
Curriculum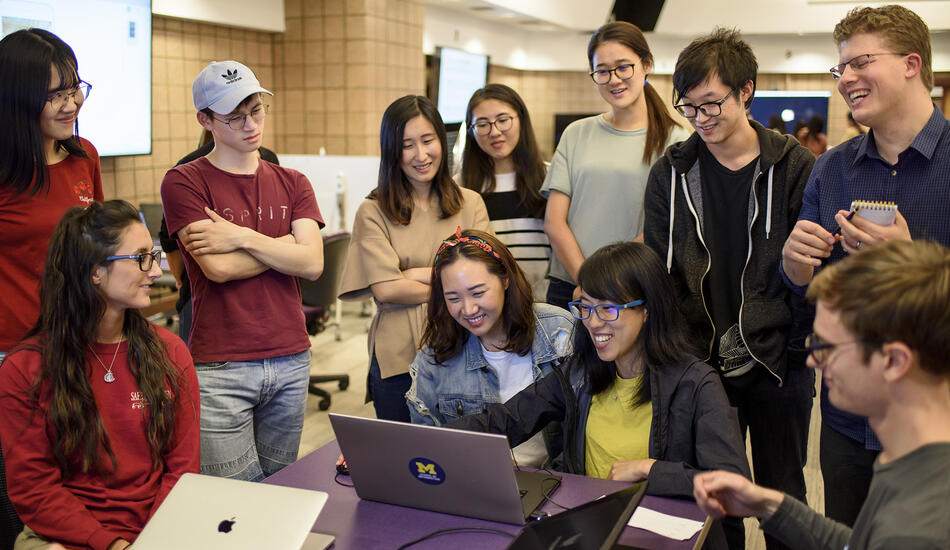 In just two years, your Master of Science in Information courses can give you the expertise you need to join our highly successful graduates in the workforce or in academia.
The MSI is a 48-credit degree program, with a minimum of 39 credits required from School of Information courses. While the program will take you two years to complete on a full-time basis, you may also elect to take it over three to four years part-time.
We believe in interdisciplinary work and experiential learning, and our students live that philosophy. All students complete an approved internship at an external organization. Your coursework includes several components that ensure a substantial academic program yet allow for flexibility.
One thing you'll notice in our masters' courses is our focus on practical, real-world applications for the theory and methods you learn. Students in many of our courses tackle real-world problems from organizations around the world, offering solutions those organizations can use even before they graduate. That kind of practical experience not only gives students a realistic view of what information careers entail, but also helps build relevant experience that they can highlight in their resumes or portfolios. We have an incredible success rate for career placement and salaries, and the mix of practical work with theory in our courses is one reason why.
UMSI coursework 
Your UMSI study will include introductory courses, advanced courses, mastery courses and UMSI Internship Program courses. Included in the introductory and advanced courses are prerequisites for mastery courses, which are designed to provide a strong foundation in a particular area of interest and prepare you for your chosen mastery course. By tailoring what mastery course you aim for and the prerequisites you take, you have flexibility within the program while still getting the high-level education that our #1-ranked program is known for.
You may choose to take advanced electives that support additional depth in your primary area of interest or select electives to diversify your skills and knowledge. The courses you select from are organized as introductory through advanced, with most advanced courses having a prerequisite sequence.
The following curriculum outlines linked to each Mastery Course below should serve as excellent guides for what your MSI coursework in this curricular area could look like. Please be aware that the field of information is constantly changing, and as the field changes, so does our curriculum. This ensures students are prepared to enter the field of information with relevant skills, knowledge, and experience. Incoming and current students should refer to their respective Canvas sites to ensure they are accessing the most up to date curricular information for their specific cohort.
Mastery Course or Master's Thesis Option Program
You'll complete either a three-credit mastery course or six-credit master's thesis in your second year as the capstone of the program. 
Mastery courses (SI 699) are project-based courses that require a high level of independence from students to demonstrate synthesis of the major theories, methods, and approaches to inquiry and/or schools of practice necessary for entry into a particular career in the information professions. Learn more about the different Mastery courses offered.  
The Master's Thesis Option Program (MTOP) is a rigorous two-semester research experience where, working closely with a faculty advisor, you explore original research questions and apply the tools of information science to generate new knowledge. Students apply to MTOP at the end of their first year in the MSI or MHI program and, if accepted, enroll in the specified independent study courses for thesis research (SI 697 & SI 698) in their second year. 
Note: While mastery courses hold a prominent place in the curriculum and serve as a kind of capstone for the MSI degree, they are just like any other three-credit course on your transcript. The MSI is a single degree — no explicit indication of specialization or focus appears on the transcript, which only show course titles and grades.
UMSI Internship Courses
MSI students are able to earn up to nine internship course credits by taking SI 681 and/or SI 690* for work at an approved internship. To be eligible, students must have completed 2 semesters of study with UMSI and have an internship experience related to the degree program, as well as a supervisor with 3+ years relevant experience. Most students complete an internship the summer between their first and second years in the MSI program, but there is flexibility to earn credit during fall or winter of their second year. The Career Development Office provides resources and support to help you find an internship.
We recommend all students to participate in an internship (for credit or not) for a number of reasons. First, it gives you the opportunity to see the results of the skills you're building in real-world situations. Second, it gives you a better understanding of the opportunities and challenges in the field, which you bring back to your second-year coursework. Third, it allows you to build experience, as well as a stronger resume and/or portfolio, which future employers look for. And finally, we know that the connections made during internships often lead directly to employment, helping to ensure that your odds of finding a job in the field of your choice after graduation are nearly guaranteed.
To see the outcomes from the many internships our students participate in each year, we invite you to browse our internship outcomes page.
*In February 2023 it was announced that MSI students would no longer be required to complete an internship(s) and earn internship course credit to graduate. This change of degree requirements applied to all students matriculating Fall 2022 or after, however; students who already started the program can opt-into the original Fall 2022 degree requirements. 
Sign up for our interest list and receive:
Invitations to exclusive information sessions and events 
The opportunity to chat with current students 
More in-depth information about the MSI program 
Tips and advice for creating a successful application 
Reminders for important deadlines