University of Michigan School of Information
Consulting, design and innovation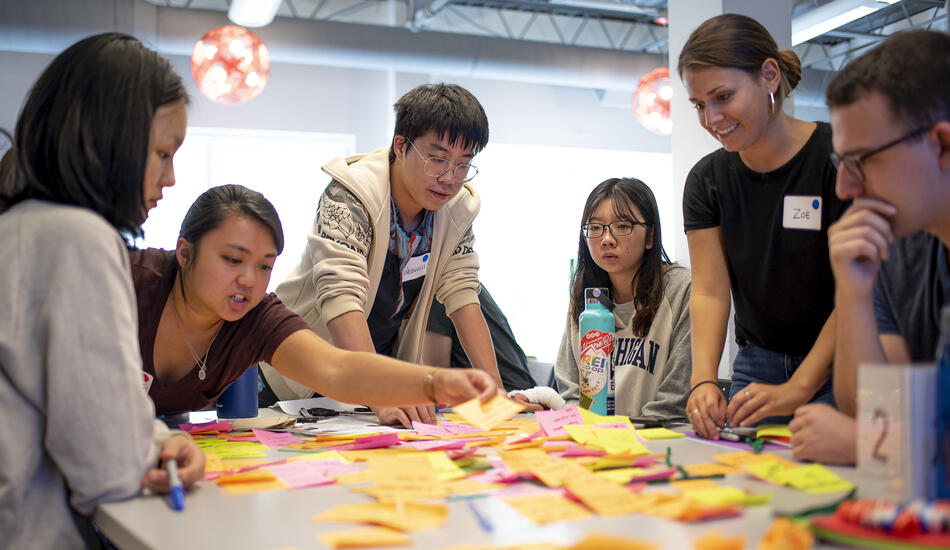 Whether you are pursuing a career in librarianship, health informatics, digital preservation, data science or user experience design, the ability to think critically about organizational challenges, communicate clearly, scope a problem and deliver a sustainable outcome is integral to career success and societal change.
The Engaged Learning Office offers students the opportunity to partake in consulting projects focused on archival, data, design, health and librarianship work. These consulting programs facilitate a suite of information and creative problem-solving resources, which engage UMSI students with real-world clients. Participating students act as consultants and collaborators to solve practical information challenges in semi-structured, fast-paced environments. While working with clients from the private and public sector industries, students apply creative problem solving, innovation, and change management techniques to scope projects, manage deliverables and provide impactful information outcomes to clients.
Consulting allows students to apply knowledge and skills outside of the classroom. These experiences are often ambiguous project environments and help to build novel portfolio pieces, be better prepared for future work environments and engage deeply in society's wicked problems.
The Engaged Learning Office is reviewing short-term consulting program options and anticipates more opportunities being offered soon.
Design Jams
A design jam is a short-term learning experience (two to five hours) at which students from the School of Information and U-M respond to real-world, societal, and industry challenges  presented by sponsoring organizations. 
Organizations bring a complex information problem, a specific issue they are trying to solve. Past challenges have included:
Helping to prevent drowning in the Great Lakes

Reducing payday lending issues for low-income populations

Understanding the entrepreneurship ecosystem at U-M post COVID-19
Participating in a design jam allows you to: 
Get exposure to real-world problems

Develop design skills, which are ideal for all areas of studies

Learn from peers through collaboration/team experience

Showcase skills and competencies to organizations and potential employers

Impact an organization by solving a design problem
When: Fall and winter semesters
Civic User Testing (CUT Groups)
In partnership with city staff, small teams of 4-6 students work over three weeks to develop, proctor and report on user tests of government information tools with citizens of various local Michigan municipalities.
When: Offered twice each semester
Eligibility: UMSI students 
Learn more and apply in M-Compass: Information: Citizen User Testing (CUTgroup)
"I want[ed] to directly interact with people and communities, and that's what CUTgroup is all about." 
Matt Smallish, MSI '20
UX Lab
In UX Lab, a small group of advanced UMSI students provides user experience design methods and consulting services to a multitude of burgeoning entrepreneurs. Short-term consulting is offered to people associated with the following programs:
In this program, UMSI graduate students act as freelance UX consultants, managing their own consultancy under the guidance of the ELO and UX professionals. Students design consultant strategies, workshops and other resources to help entrepreneurs use UX methods to improve their business. 
When: Currently on pause
Interested in any of these programs? Email

[email protected]