University of Michigan School of Information
4 great reasons to check out UMSI's Virtual Career Fair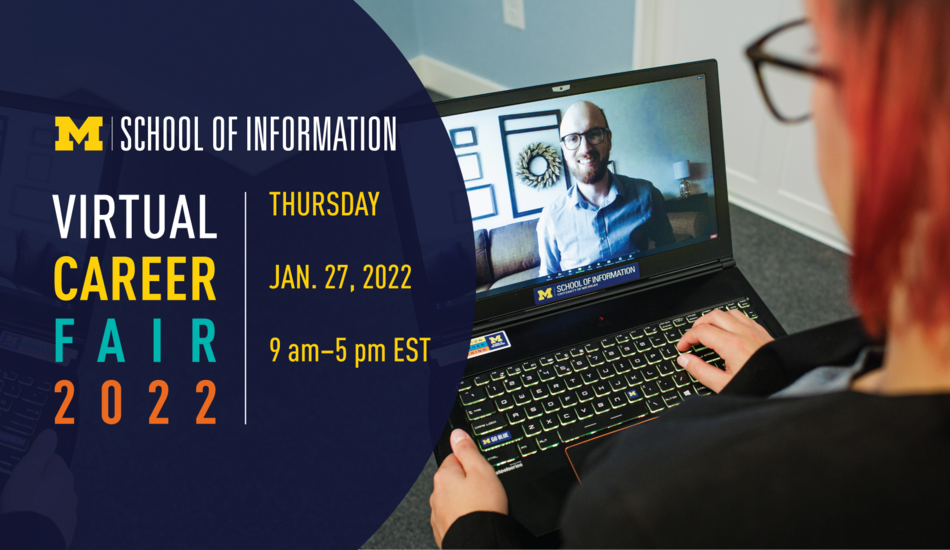 Tuesday, 01/25/2022
Nearly 100 percent of 2020 University of Michigan School of Information (UMSI) graduates were working in their field of choice within six months of graduation. One way the UMSI Career Development Office (CDO) helps students find these jobs is through the school's career fairs. 
The CDO launched UMSI's first career fair in 2016. Since then, the school has hosted hundreds of employers interested in recruiting UMSI students.
As the labor market continues to improve, a greater number of employers are participating in campus recruiting activities, bringing more exciting job and internship opportunities to UMSI students. 
"We have 75 percent more employers participating in this year's career fair," says Joanna Kroll, director of career development at UMSI. 
At UMSI's winter Virtual Career Fair on Thursday, Jan. 27 from 9 a.m. - 5 p.m. EST, students can look forward to a fruitful day full of discovering new professional pathways, networking with industry pros, and meeting one-on-one with employers to showcase their skills. 
Meet with recruiters at industry-leading companies. 
Company representatives from Kohls, Lowes, Blue Cross Blue Shield, Dominos, Oracle and more have already registered to meet with UMSI students. Research and bookmark compelling companies via the Career Fair Plus platform, and review recruiters' descriptions to determine who to meet with based on individual needs. 
Discover new companies and learn about jobs and internships.
Learn about opportunities at new companies, like Coinbase, AdAdapted and Workit Health, the addiction care clinic co-founded by UMSI Master of Science in Information alumna Lisa McLaughlin. 
Sign up for one-on-one meetings with employers. 
Forget spending all day waiting in long, crowded, loud lines, Kroll says. "Students send in their resumes to employers and do all their preparation to meet one-on-one with them ahead of time with fewer distractions." A more intentional conversation online allows employers' undivided attention to go toward students showcasing their skills and qualifications, too. 
Enjoy a more accessible, less stressful career fair experience. 
Employers say virtual career fairs prove to be effective in reaching a broader and more diverse student population. And students say that virtual career fairs are less stressful and easier to access and prepare for than in-person career fairs. 
Kroll says, "When it's a student's scheduled time to meet with an employer, they can simply join the career fair from the comfort of their own homes instead of trekking across a cold and icy campus, and because they are scheduled, students have more time to prepare for more intentional conversations." 
 
The UMSI Student Career Fair Guide has everything you need to set up your Career Fair Plus account, upload your resume, and schedule meetings. And check out the UMSI Virtual Career Prep Workshop for helpful career fair tips.  
The deadline to register and schedule employer meetings is Wednesday, Jan. 26 at 11:59 p.m. EST. 
Accommodation request: 
What accommodation or access needs can UMSI's Career Development Office help facilitate for you? Contact [email protected]. 
— Martha Spall, UMSI writer
People featured in this story
Director of Career Development and Adjunct Lecturer in Information, School of Information