University of Michigan School of Information
Alain Cohn research on global honesty receives European honor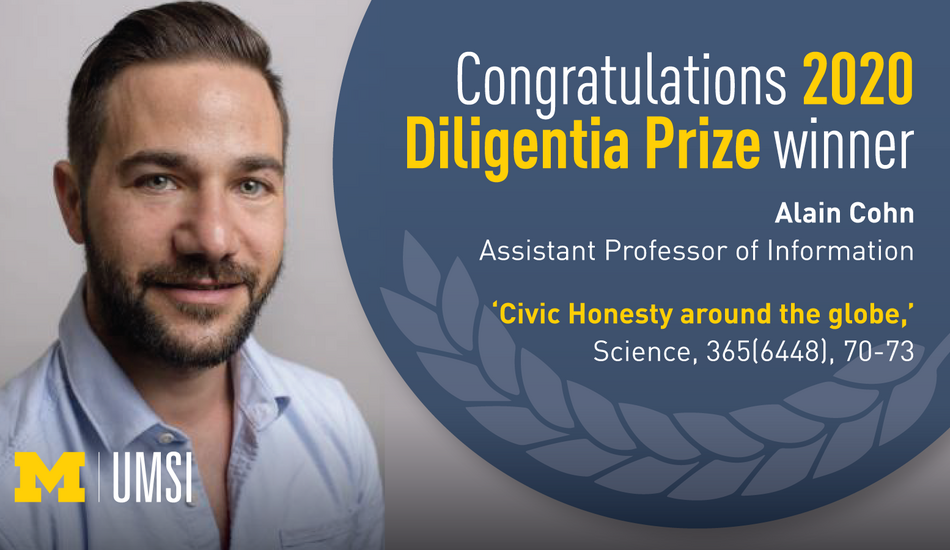 Wednesday, 07/22/2020
UMSI assistant professor Alain Cohn's research on "Civic Honesty Around the Globe" has received the 2020 Diligentia Prize from Germany's Diligentia Foundation for Empirical Research.
Each year, the Diligentia Foundation honors outstanding empirical and experimental research that has produced innovative results for socially relevant issues. The prize is awarded for scientific publications by individual authors or teams of authors in the form of articles in recognized international journals.
Cohn was one of the lead authors on "Civic Honesty Around the Globe," published in Science magazine in July, 2019. His co-lead author was Michel André Maréchal (University of Zurich); David Tannenbaum (University of Utah) and Christian Lukas Zünd (University of Zurich) were co-authors.
The article describes research which explored the trade-off between material self-interest and honesty around the world. Cohn and his team distributed over 17,000 wallets containing various sums of money in 355 cities across 40 countries and found that citizens were more likely to return wallets with larger sums of money. Their findings revealed that across nations, people want to see themselves as good people and that this desire to maintain a positive self-image can be a stronger force than making a quick profit.
The Diligentia Foundation for Empirical Research was founded in 2015 to promote the social sciences, in particular economics and related disciplines. The foundation promotes empirical research on various issues and since 2019 has awarded the Diligentia Prize for Empirical Research. The award recipient is chosen by an international jury and the €5000 prize is divided equally among the research team members.
More information:
- UMSI News Service
Topics
People featured in this story
Associate Professor of Information, School of Information