University of Michigan School of Information
Is augmented reality technology suitable for sensitive museum exhibitions?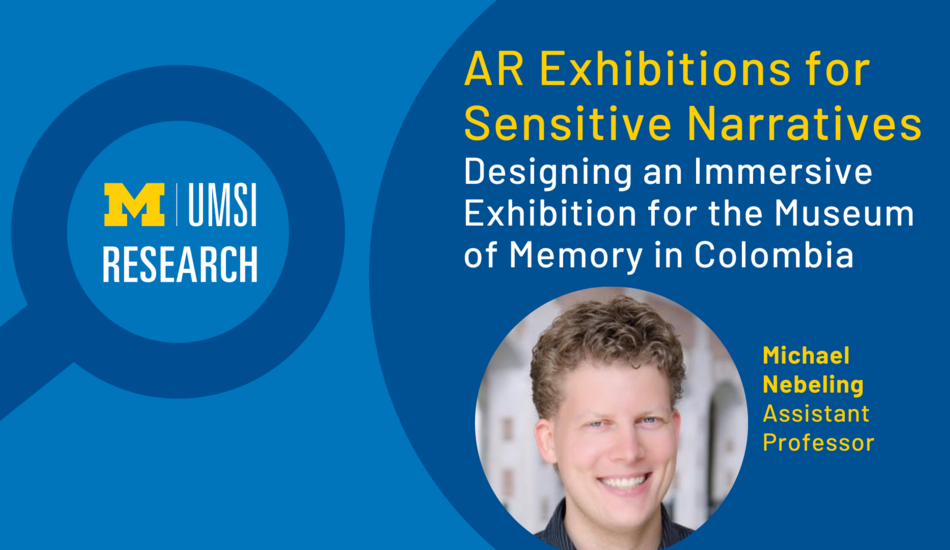 Monday, 07/18/2022
Museums are turning toward augmented reality (AR) technology to create immersive exhibits for visitors. AR can be especially useful in storytelling, creating stronger connections and feelings of empathy, but there is a risk of re-traumatizing victims of historical events. 
New research by University of Michigan School of Information master's student graduate Ana María Cárdenas Gasca, assistant professor Michael Nebeling, and colleagues looks at the benefits and drawbacks of using AR to create memorialization exhibits and experiences for visitors.
Memorialization can take sensitive, violent, or traumatic historical events and capture the memories of those who lived through it. The process engages audiences but it has to be done carefully– memorialization can also trigger human rights concerns and re-traumatize victims. 
Researchers wanted to understand how AR can be thoughtfully used for memorialization. In their study, the team collaborated with museum staff from the human rights museum Museo Nacional de la Memoria (Museum of Memory) in Colombia. 
Their goal was to uncover the best practices of creating immersive AR experiences around sensitive stories from the Colombian armed conflict that began in 1964. The researchers and museum staff went through an iterative process of planning, analyzing, and refining AR memorialization exhibits. They also included 20 participants, both museum staff and citizens, to gather feedback about their designs.
Through their collaboration, they came up with a design and deployment strategy for using AR technologies for memorialization of sensitive subjects. The researchers note there was a constant push and pull between realistic depictions of historical events and sensitivity to the victim's narratives.
The researchers found that carefully curated AR content worked best when it transported visitors into the stories of the people, rather than immersing them in the trauma of an event. In particular, it is easy for AR to overshadow a story with flashy visual and audio effects. 
"Much of AR is hyped towards creating unforgettable experiences by transforming your real-world surroundings. We wanted to challenge this," says Nebeling. "When Ana and I started designing her master's thesis project, we were particularly interested in creating new AR designs for sensitive narratives. This has been a complex topic and I believe we have a lot more to explore to fully navigate the new design and ethical issues with AR."
Through their work, the team found that AR can be an effective tool for memorialization if it is carefully designed. They note that museum staff, AR designers, and visitors need to collaborate to create ethical, sensitive, and immersive exhibits that focus on storytelling. 
— Sarah Derouin, UMSI public relations specialist
RELATED:
Read the study "AR Exhibition for Sensitive Narratives: Designing and Immersive Exhibition for the Museum of Memory in Colombia." 
Learn more about assistant professor Michael Nebeling. 
People featured in this story
Associate Professor of Information, School of Information and Associate Professor of Electrical Engineering and Computer Science, College of Engineering