University of Michigan School of Information
Barry Fishman: grades don't encourage learning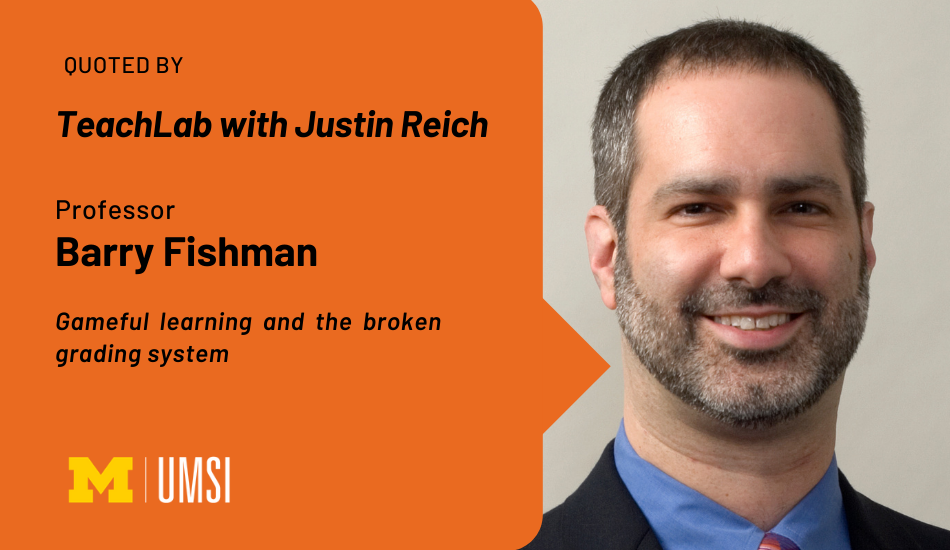 Monday, 05/17/2021
University of Michigan School of Information Professor Barry Fishman was interviewed on "TeachLab with Justin Reich," a podcast from Massachusetts Institute of Technology (MIT) about the art and craft of teaching.
Fishman wrote the introduction to the new Michigan Publishing 50th anniversary edition of the book Wad-Ja-Get?: The Grading Game in American Education by Howard Kirschenbaum, Rodney Napier and Sidney B. Simon. Fishman talked with Reich about the text, issues with grading and "gameful learning" which is a concept that borrows elements of game design and was pioneered at U-M to redesign the classroom structure and make it a more engaging learning experience.
Fishman researches gameful learning and has created GameCraft, a learning management system that assists instructors in building gameful courses that help students focus on learning.
Grades remove information from the system. Rather than me knowing what a learner has learned, I know that they have an A or a B or a C. What does that mean? It doesn't mean really anything at all, especially if it's a B or a C. And maybe you throw a curve in. That's even worse. Curves really remove information from the system, and they ration success. This is one of the worst problems with grading, I think, is that they were really designed for ranking and sorting. They were never designed to encourage learning.  - Barry Fishman
Listen to the full conversation.
Read more about the 50th anniversary edition of Wad-Ja-Get?: The Grading Game in American Education.
- Kate Cammell, Writer UMSI