University of Michigan School of Information
Brueckner: A new high-tech screen at Detroit airport seems harmless but consumers should be skeptical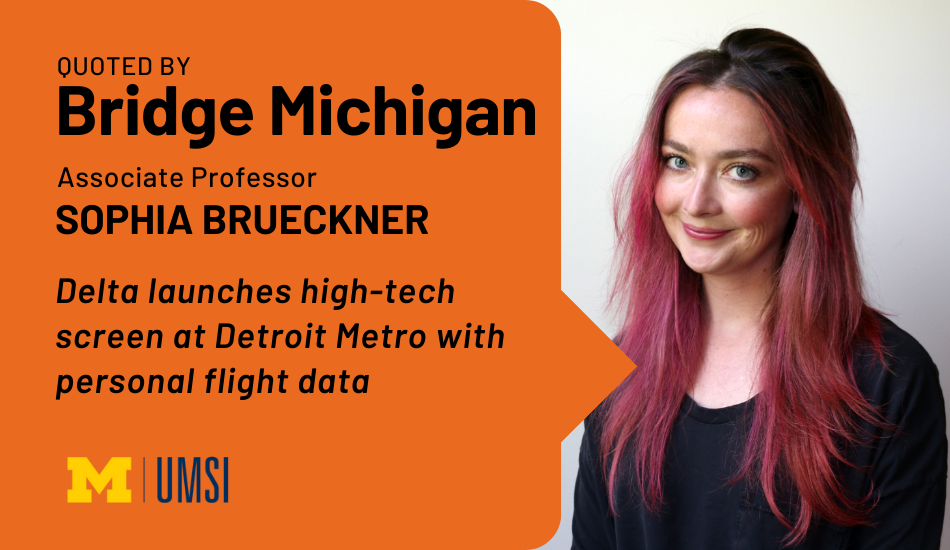 Wednesday, 07/20/2022
The Delta concourse at Detroit Metropolitan Wayne County Airport has a new high-tech gate status screen. Bridge Michigan reports passengers can opt to receive personalized flight information on the screen that is visible only to them. 
"Travelers can opt to try it out by showing a boarding pass or using Delta's digital identity program at a kiosk. Pixels in the display project millions of light rays that can be directed to a specific person. Motion sensors follow travelers as they move so that, no matter where they stand, they can see their flight data, but nobody else's."
The technology used in these high tech screens is called Parallel Reality. While Parallel Reality does not store personal data or use facial recognition or biometrics, Sophia Brueckner, associate professor of information and co-director of the University of Michigan Center for Ethics, Society and Computing, says said consumers should "always be skeptical of giving up any data" and "opting into anything that is tracking you in any way."  
"You should always imagine whatever technology you opt into, how it's going to be used to make money off of you," she says. "Instead of (information) just being contained to your browser, it's going to be everywhere surrounding you if these displays exist and not only would this be really creepy and intrusive …we will end up becoming isolated from each other in our parallel realities."
RELATED:
Read "Delta launches high-tech screen at Detroit Metro with personal flight data" on bridgemi.com.
Learn more about associate professor Sophia Brueckner.
People featured in this story
Associate Professor of Art and Design, Penny W Stamps School of Art and Design, Associate Professor of Information, School of Information and Associate Professor of Digital Studies Institute, College of Literature, Science, and the Arts