University of Michigan School of Information
Cohn: What happens when customers lie to chatbots?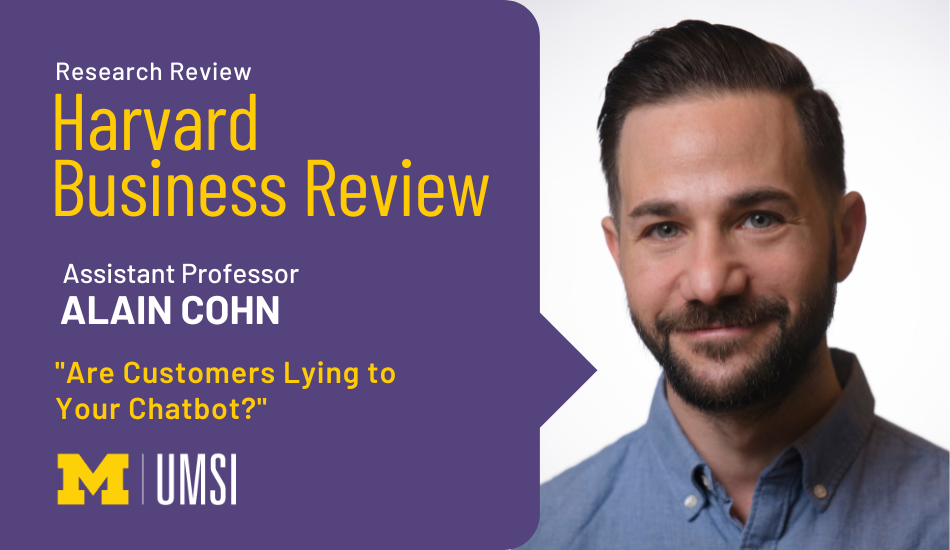 Tuesday, 05/10/2022
Automated customer service technologies like chatbots are becoming more commonplace in businesses. These non-human workers can save companies money– but only if humans are honest with the business-bots. 
Alain Cohn, assistant professor at the University of Michigan School of Information, writes in Harvard Business Review about his research breaks down new research on human honesty with automated systems versus in-person interactions.
To measure honest behavior, the researchers asked participants to flip a coin and report their results. Participants were told  they'd get a cash prize based on the outcome of their flips. Some participants reported to a person via video call or chat, while the other group reported their results to an automated bot. 
"A bit of cheating is to be expected regardless — but our participants were more than twice as likely to cheat when talking to a digital system than when talking to a human," writes Cohn, explaining that 9% cheated when talking to a person, versus 22% when reporting to a bot. "We also found that blatant cheating, which we defined as reporting an implausibly high success rate of nine or ten successful coin flips, was more than three times more common when reporting to a machine than when reporting to a human."
Pushing things further, Cohn and his team tested if they could predict who would be dishonest. They again asked for coin flips, and categorized participants as "likely cheaters" based on their reporting numbers. In the next round, the group was asked if they'd like to report to a person or digital system. 
"When we took a closer look, we found that 'likely cheaters' were significantly more likely to choose the online form, while 'likely truth-tellers' preferred to report to a human," writes Cohn. He adds that their findings could help companies flag certain customers as "higher risk" of being dishonest. These findings mean companies could direct fraud detection efforts to groups of people more likely to lie. 
Ideally, Cohn says, "with a better understanding of the psychology that makes people more or less likely to lie, organizations can build systems that can identify likely cases of cheating, and ideally, nudge people to be more honest."
RELATED:
Read "Are Customers Lying to Your Chatbot?" on hbr.org. 
Learn more about assistant professor Alain Cohn. 
Read more about Cohn's research on honesty in "Moral concerns override desire to profit from finding a lost wallet."
Topics
People featured in this story
Associate Professor of Information, School of Information