University of Michigan School of Information
Disinformation expert Irene Pasquetto gives talk at Harvard Kennedy School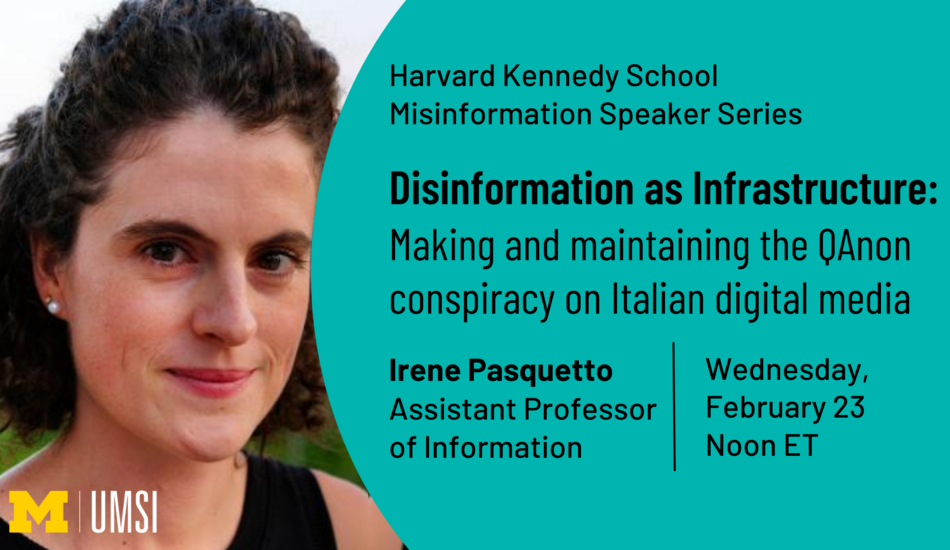 Wednesday, 02/16/2022
Irene Pasquetto, misinformation and disinformation expert, is speaking at Harvard Kennedy School's "Misinformation Speakers Series." Pasquetto is an assistant professor of information at the University of Michigan School of Information. 
She will be speaking about her new research on how Italian QAnon supporters designed and maintained a multi-layered network of disinformation across numerous social media platforms, messaging apps, and websites. 
In her abstract, Pasquetto concludes that stopping the flow of disinformation requires fast-responses. "...we show that deplatforming is a time-sensitive effort. The longer platforms wait to intervene, the harder it is to eradicate (dis)information infrastructures as they develop new layers, get distributed across the Internet, and can rely on a critical mass of loyal followers."
Irene Pasquetto will be speaking virtually. Details about her talk and registration for the event can be found on the UMSI event page.
Learn more about Dr. Pasquetto. 
People featured in this story
Assistant Professor of Information, School of Information