University of Michigan School of Information
Faculty awards recognize outstanding instruction, leadership and community-engaged research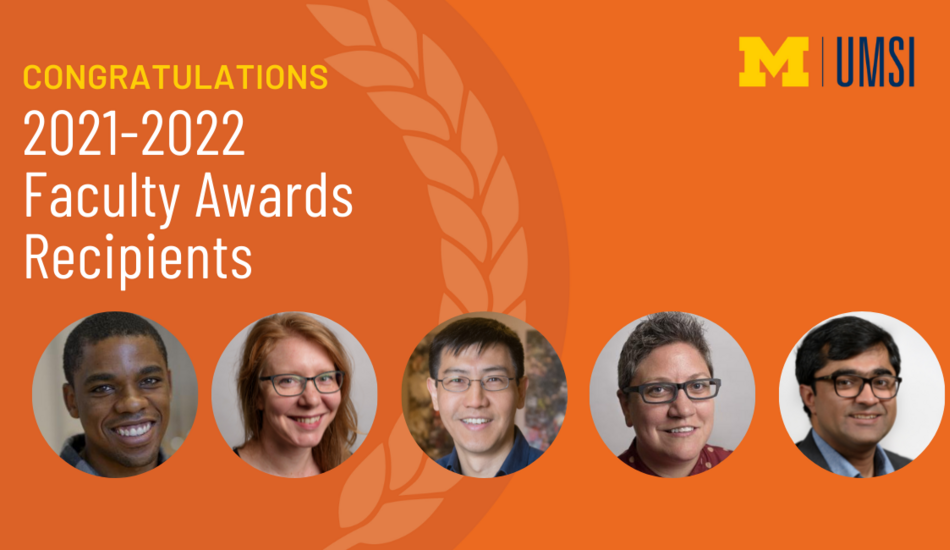 Thursday, 09/16/2021
Five faculty members received awards for outstanding conduct in instruction, leadership and community-engaged research at the University of Michigan School of Information's first faculty meeting of the 2021-2022 school year on September 15. 
Assistant Professors Steve Oney and Andrea Thomer are co-recipients of the Excellence in Instruction award. Oney was recognized for outstanding instruction using innovative teaching approaches and inclusive methods, as well as developing the Python 3 Programming Specialization on Coursera. Thomer was cited for outstanding instruction using active learning methods and methods to foster critical thinking, and for her critical leadership in developing and revising information organization and digital curation curricula. 
W.K. Kellogg Professor of Community Information Kentaro Toyama received the Michael D. Cohen Outstanding Service Award. This award was named to honor the memory of Professor Emeritus Michael D. Cohen and recognizes commitment to serving the UMSI community and mission. Toyama was honored for leadership of UMSI's Diversity, Equity, and Inclusion (DEI) Committee and Master of Science in Information (MSI) Committee, for faculty governance leadership, and for pivotal work in developing an information and communication technologies and development (ICTD) intellectual community.
Associate Professor Libby Hemphill and Clinical Assistant Professor Mustafa Naseem are co-recipients of this year's Joan Durrance Community Engagement Award. The award recognizes excellence in building partnerships with communities in order to develop information-related projects that can lead to social change and is named for Professor Emerita Joan Durrance, who was devoted to conducting research that helped underserved populations. 
Hemphill was praised for acquiring datasets and developing materials, tools and training programs so that the research data about historically marginalized populations are appropriately accessible and reusable. 
Naseem was recognized for leadership on the State of Michigan's COVID-19 Dashboard project, and for novel initiatives involving information and communication technology (ICT) to improve public service delivery in global health.
Previous honorees:
UMSI Excellence in Instruction Award
Michael D. Cohen Outstanding Service Award
People featured in this story