University of Michigan School of Information
Father and son Nick and Ani Madurkar find pride and joy as MADS program peers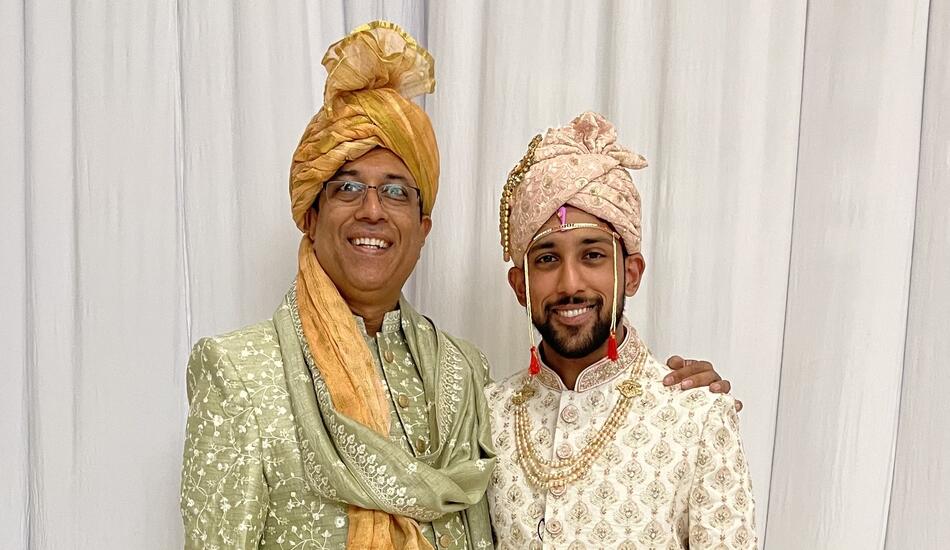 Monday, 09/12/2022
Nick Madurkar says he's always benefited from being open to learning from anyone and everyone. That includes his son Ani Madurkar. Ani also happened to be his classmate at the University of Michigan School of Information. 
This father and son duo, each at different points in their careers, decided to enroll together in UMSI's fully online Master of Applied Data Science (MADS) program.
Son Ani took his first job as a data analyst after his dad encouraged him to enter the "future" of the industry: data science. 
Soon after, Ani was ready to sharpen his skills and broaden his career options. That was when he discovered UMSI's new online MADS degree, which is built to be flexible enough to allow students to balance their careers and education. 
When Ani told his dad about his plans to apply, Nick decided to join his son on this new path. Nick, a 30-year veteran of the tech industry, got a promise of tuition support from his firm and got his application in for the program. Father and son made plans to study together.
But there was a snag when Ani received notification of his admission and Nick didn't. 
"Soon I got a letter that said, OK, you got the admission, but you have to take this test of English as a foreign language," Nick says. 
For a moment, he was discouraged. But Ani reminded him that they were in this together, and that he was sure to pass. 
"So we went through all that, and I got the admission. That was my proudest moment," Nick says. 
Education, a family value 
Father and son have always shared mutual respect and open communication. They say navigating the MADS program together has bonded them in new ways, as Nick studied from Troy, Mich. and Ani from Cleveland, Ohio.  
Learning has always been in the family's blood. Decades ago, Nick's mother started Mount Mary High School in Mumbai, India with approximately 20 students. Today, his sister — Ani's aunt — is running the same school with nearly 2,000 students. 
"I have an education degree, my wife has an education degree, my sister, my mom, we all have education degrees," Nick says. "So Ani getting his master's degree, at Michigan no less, is a treat for all of us." 
Ani graduated in 2021, and Nick plans to graduate in Dec. 2022, which he jokes is "partially Ani's fault." 
"Ani recently got married and wanted a traditional Indian wedding, which is like five days long," Nick says. The flexibility of the MADS program allowed Nick to put the program on the back burner for a few months while he focused on helping with his son's wedding. 
Looking back, Ani says getting to be classmates with his dad was fascinating, even though they didn't take many courses together. 
In fact, they encouraged each other to branch out, meet new people via the MADS Slack channels, and enroll in courses that pertained to their particular interests. 
"I wanted to do things like sports analytics that might not make as much sense for my dad," Ani says, "but we always came together to discuss different homework assignments or which electives to take."
Ani appreciates the insight he gained into how his father thinks about problems, and says one of his proudest moments was helping his father with coursework. 
"I never thought of myself as a programmer, but it was a sign that if I can teach someone who's been doing this for more than 20 years, I can do this," he says. 
Nick says Ani's trajectory has been astonishing. 
"I've been doing this a long time," he says. "For Ani to go from being a non-programmer to a well-respected senior data scientist with numerous articles? Wow.  I'm so proud to be his dad." 
— Martha Spall, UMSI writer 
RELATED: 
Learn more about the MADS program and how to apply.