University of Michigan School of Information
Garcia: In a post-Roe world, people need to guard their privacy online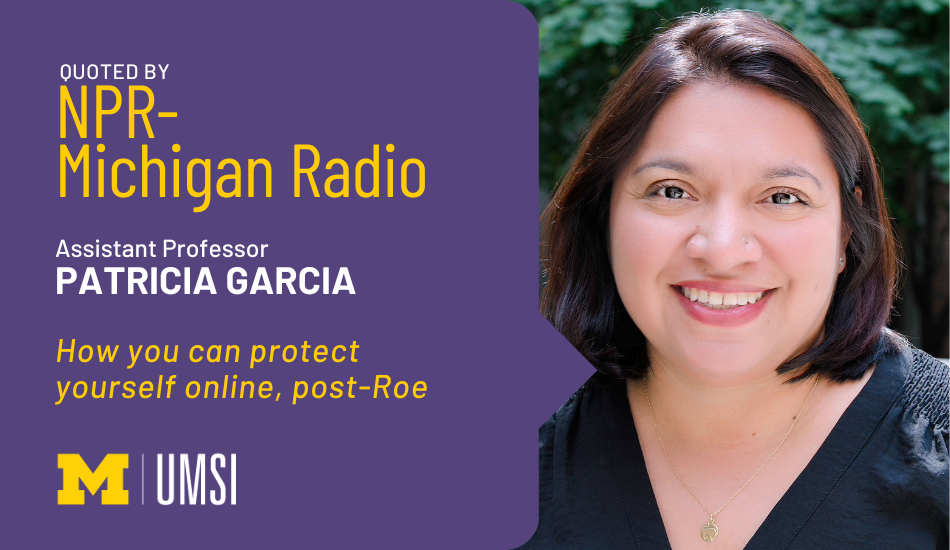 Monday, 07/11/2022
NPR affiliate Michigan Radio talked with Patricia Garcia, assistant professor and digital security expert, about data tracking in a post-Roe world. She says it's important to remember that each data point that's collected has a person attached to it.
Abortion is still legal in the state of Michigan. But privacy advocates warn that online searches and app trackers collect vast amounts of information about people. While tracking has traditionally be used for targeting advertisements, this information could now be used to prosecute people seeking or assisting with abortion services. 
While companies say their data collection is secure, investigations have found that's not entirely true. Michigan Radio reports that Google released a report detailing all the requests for warrants it received from 2018-2020. Michigan ranked fourth-highest in the nation for location requests. 
"The report doesn't cover what was done with those warrants and those requests for data or how much data was given," Garcia said.
Garcia says that as Midwest states start enacting restrictive bans, eyes are turning toward Michigan. "I think because of that, and because sort of the legality and criminality of abortion is still very much a gray area, I think it's more important now than ever for women, trans people and people with uteruses who are seeking abortions to protect themselves."
"I think we're starting to understand a lot more how data can be tied very closely to people's bodies and what that means for bodily autonomy," says Garcia.
RELATED:
Read "How you can protect yourself online, post-Roe" on michiganradio.org, and learn more about how to make a digital security plan. 
Patricia Garcia is co-Director of University of Michigan's Center for Ethics, Society, and Computing (ESC), and co-Author of "The Feminist Data Manifest-No." Her research examines how harmful data practices perpetuate structural inequities along racialized and gendered lines on Learn more about assistant professor of information, Patricia Garcia. 
Topics
People featured in this story
Assistant Professor of Information, School of Information and Assistant Professor of Digital Studies Institute, College of Literature, Science, and the Arts