University of Michigan School of Information
Haimson: Authenticity in social media posts is not possible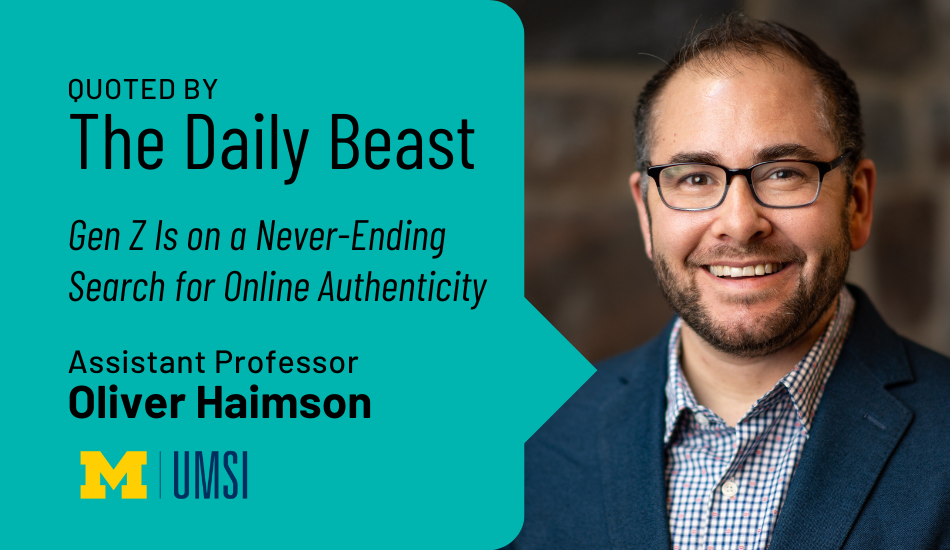 Monday, 09/12/2022
In a world of carefully curated social media, a new app BeReal, is marketed as an unfiltered, in-the-moment glimpse at real life. But is authenticity on social media even possible? 
Oliver Haimson, an assistant professor at University of Michigan School of Information, says that years of crafting an online performance created an ingrained "online authenticity paradox" that fights against a push towards authenticity. 
"If you ask people if they want to be authentic on social media, most are going to say yes, because authenticity is presented as a standard that we all should be holding ourselves to," Haimson told The Daily Beast. "But in reality, it's not actually possible to be completely authentic online."
Authenticity can mean vulnerability, says Haimson. "If we could just recognize [authenticity] as unrealistic rather than holding it up as something that we all should strive to follow, people can grow more comfortable and healthy in their online perception."
Read more about Haimson's research at UMSI. 
People featured in this story
Assistant Professor of Information, School of Information and Assistant Professor of Digital Studies Institute, College of Literature, Science, and the Arts