University of Michigan School of Information
Haimson: It's not easy being real online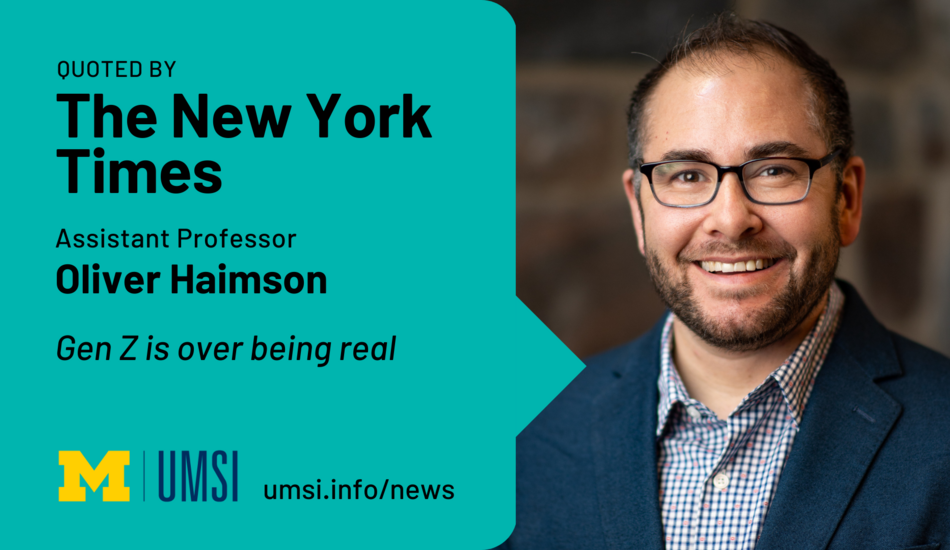 Thursday, 04/13/2023
Last summer, a popular social media app — BeReal — was all the talk among Gen Z. With more than 15 million daily users last October, its emphasis on authenticity and spontaneity made it a staple among people searching for more honesty in their social media networks.  
Today, the app's usage is diminishing. University of Michigan School of Information assistant professor Oliver Haimson talks about why Gen Z is pulling away from it for the New York Times. 
"People were starting to realize that it's not necessarily this promise of authenticity and realness that they were expecting it to be," Haimson says. 
Haimson discusses the "online authenticity paradox." Our desire to impress our friends and present a fabricated image of ourselves eclipses our longing for authenticity. 
RELATED
Read "They're over being real" in the New York Times.
Read more about Oliver Haimson's research on social media and identity through his UMSI faculty profile.
People featured in this story
Assistant Professor of Information, School of Information and Assistant Professor of Digital Studies Institute, College of Literature, Science, and the Arts