University of Michigan School of Information
Haimson: Tumblr's ban on nudity cast trans communities from the platform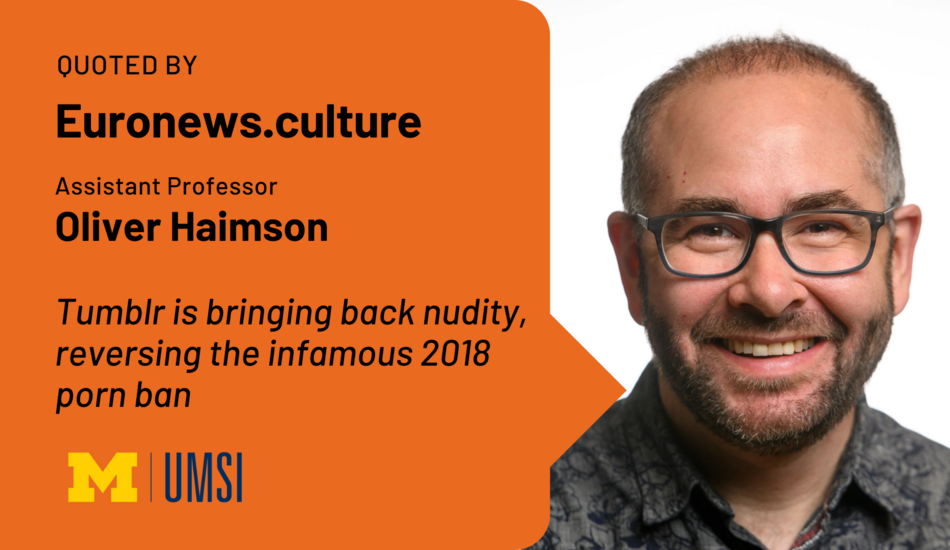 Friday, 11/11/2022
In 2018, Tumblr banned nudity from its platform, sending shockwaves through LGBTQ+ communities who used the network as a safe space. Recently, Tumblr decided to reverse its ban. 
An article by Euronews.culture discusses the change, the role of nudity on Tumblr and how this reversal will impact the future of the platform. 
The piece cites research published by University of Michigan School of Information assistant professor Oliver Haimson, an expert on the role of social media and digital platforms for marginalized communities. . 
In 2019, Haimson published a paper examining the role of Tumblr on transgender communites. 
"Tumblr's features enabled non-normative, fluid, non-linear, and multiple identity presentations, making it queer both in theory and in use by LGBTQ people," Haimson writes. "Tumblr's ban sent a clear signal to trans communities that they were no longer welcome—and leaves it unclear where they will congregate next."
RELATED 
Read "Tumblr is bringing back nudity, reversing the infamous 2018 porn ban" at Euronews.culture. 
Read Haimson's paper, titled "Tumblr was a trans technology: the meaning, importance, history, and future of trans technologies." 
Learn more about Haimson's research and interests by visiting his faculty profile. 
People featured in this story
Assistant Professor of Information, School of Information and Assistant Professor of Digital Studies Institute, College of Literature, Science, and the Arts