University of Michigan School of Information
How UMSI's Mustafa Naseem is changing the world, one person at a time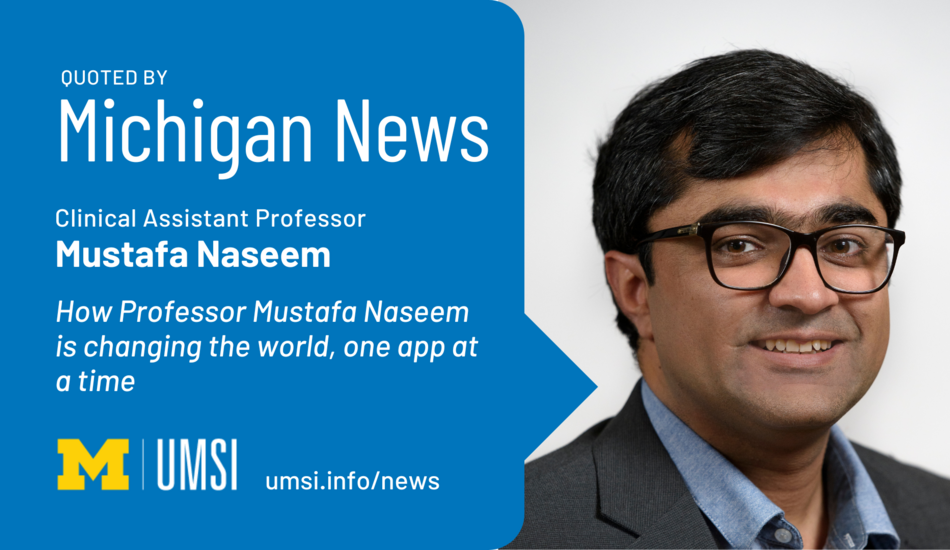 Tuesday, 05/16/2023
For years, University of Michigan School of Information clinical professor of information Mustafa Naseem has been positively changing how fathers in Pakistan navigate healthcare, family responsibilities and technology. 
His research focuses on creating technologies that enable behavior changes among men in patriarchal societies, spurring the improvement of health outcomes in children and women. Most notably, he created Super Abbu (Super Dad) to connect fathers in Pakistan to resources by giving them access to a shame-free platform where they can ask questions. 
Most recently, Naseem has been featured in a profile by Michigan Daily reporter Eliya Emtiaz. Emtiaz writes about her experience with Naseem in the classroom, his research projects and how Pakistani women are leveraging social media to build community. 
"Part of my work is influencing men to be better partners, better parents, and better fathers," Naseem says. "The other part, as I quickly realized, (relates to) social determinants of health. Seventy percent of our well-being is determined not by our genetic makeup or by the quality of care we have access to, but the environment that we are in." 
Naseem goes on to talk about his influences, current projects and what it means to teach at U-M and impact students who will go on to creative positive social change. 
"We have this mantra at Michigan, leaders and best. I think that's inspirational and important," Naseem said. "But it also then starts to paint a picture of brilliance here, not elsewhere. I want to teach my students that when you go work in these communities, just because the person you're working with is non-literate or doesn't know how to read or write, doesn't mean they're not intelligent. Just because they happen to be low-income doesn't mean they can't solve their own problems or come up with interesting ideas."
RELATED 
Read "How Professor Mustafa Naseem is changing the world, one app at a time" at The Michigan Daily. 
Read more about Mustafa Naseem's research and impact on his UMSI faculty profile and his personal website. 
People featured in this story
Clinical Assistant Professor of Information, School of Information