University of Michigan School of Information
Julie Hui honored for innovation in teaching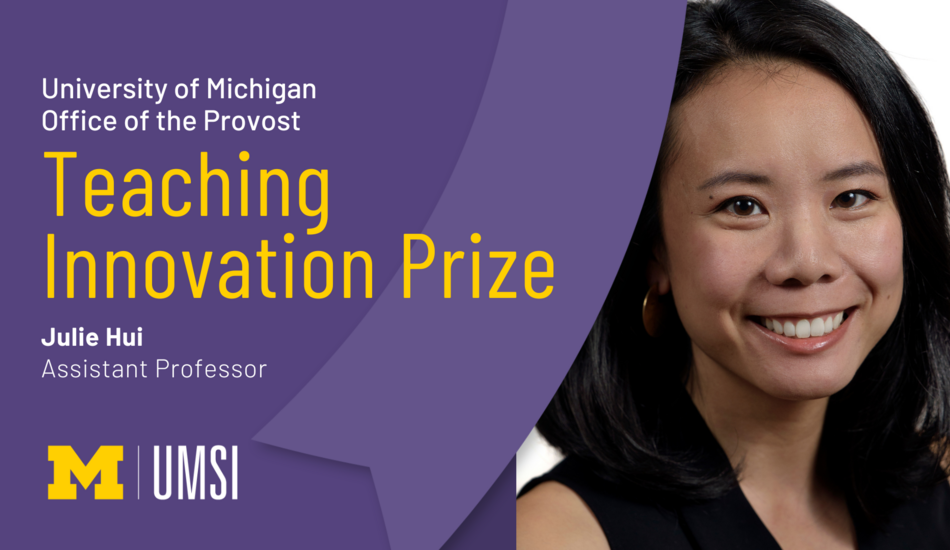 Wednesday, 04/12/2023
University of Michigan School of Information assistant professor Julie Hui has earned a Provost's Teaching Innovation Prize. 
The award is sponsored by the University of Michigan Office of the Provost, the Center for Research on Learning and Teaching and the University of Michigan Library. 
Hui's project, titled "Lettersmith: A Writing Support Tool That Provides Structured Guidance and Encourages Metacognition," helps students with professional writing. Through Lettersmith, students learn to create high quality professional messages, like cover letters and client emails, as well as other documents like technical reports and memos. 
"I am particularly interested in supporting people who do not have a strong professional network to begin with. Through observations and interviews, I learned that much of these connections are established through 'cold' messaging, where someone reaches out to a new contact with a well-written introduction message,'" Hui says. 
"However, many people, especially students, have difficulty crafting these messages, especially if they do not have easy access to a mentor or parent who could look over their writing." 
Hui has long been interested in technology that helps people learn and develop their careers. She, along with a group of PhD students, are currently researching gig work infrastructures and algorithms that affect workers' agency and well-being. Her community centered approach has also taken her to Detroit, where she's training local residents to serve as technology support for small businesses in Detroit's Eastside. 
"All of these projects involve understanding how people in different communities use, or choose not to use, technology for socio-economic or career development," she says. 
At UMSI, Hui enjoys mentoring students and "introducing students to new topics that might inspire their future careers." 
"I've always wanted to be a teacher, which is one of the main reasons I chose a path in academia," she says. "Technology and the Internet are changing rapidly, and being able to teach about these topics means that we get to shape what people pay attention to and choose to work on in the future." 
RELATED
Learn more about Julie Hui's research interests and current projects by visiting her UMSI faculty profile.
Read about the Provost's Teaching Innovation Prize, current winners and how to apply.
People featured in this story
Assistant Professor of Information, School of Information