University of Michigan School of Information
Lampe: People are dying while attempting to capture the perfect photo for social media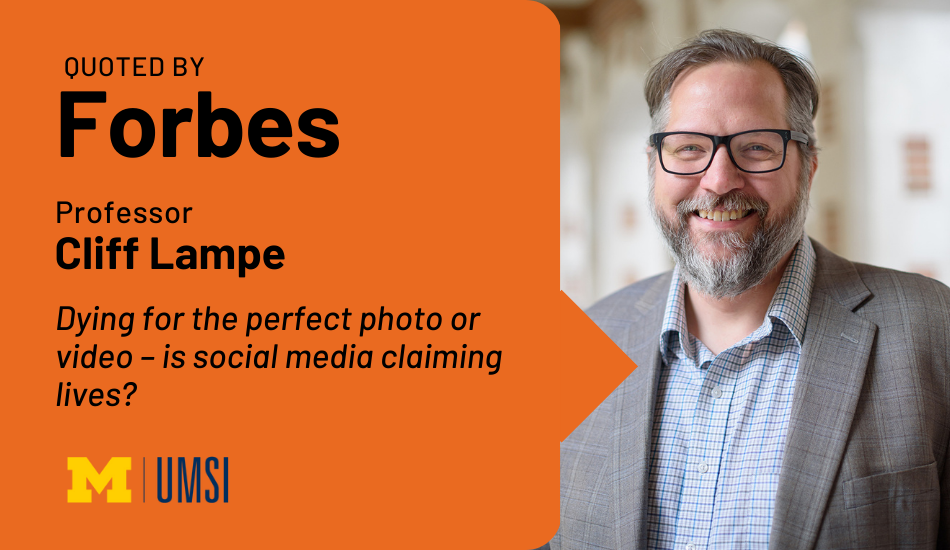 Monday, 02/06/2023
Selfie related deaths are on the rise as users take unnecessary risks in an attempt to take the perfect photo for social media, 
An article by Forbes discusses this phenomenon with University of Michigan School of Information professor and digital communications expert Cliff Lampe. 
Lampe talks about the "idealized" view of the world these photos and videos represent, and why people are willing to put themselves at risk. 
"The algorithms aren't able to focus on the safety of content, and people seeing the perfect photo or video may not realize how dangerous it was," Lampe says. "Videos are increasingly an unreliable narrator. You're only seeing a curated vision of what is happening. You don't see the failed attempts. Photos and videos thus present an idealized view of the world."
"There is often a dopamine rush when you're posting something truly special to social media," Lampe adds. "Everyone is now a content producer and creator, so when you post something that gets a lot of attention, it becomes a reward."
RELATED: 
Read "Dying for the perfect photo video — Is social media claiming lives?" on Forbes. 
Learn more about professor of information and associate dean for academic affairs Cliff Lampe's research interests and publications by visiting his faculty profile. 
—
Noor Hindi
Public Relations Specialist
People featured in this story
Professor of Information and Associate Dean for Academic Affairs, School of Information