University of Michigan School of Information
Megan Threats earns 2023 anti-racism research and community impact faculty fellowship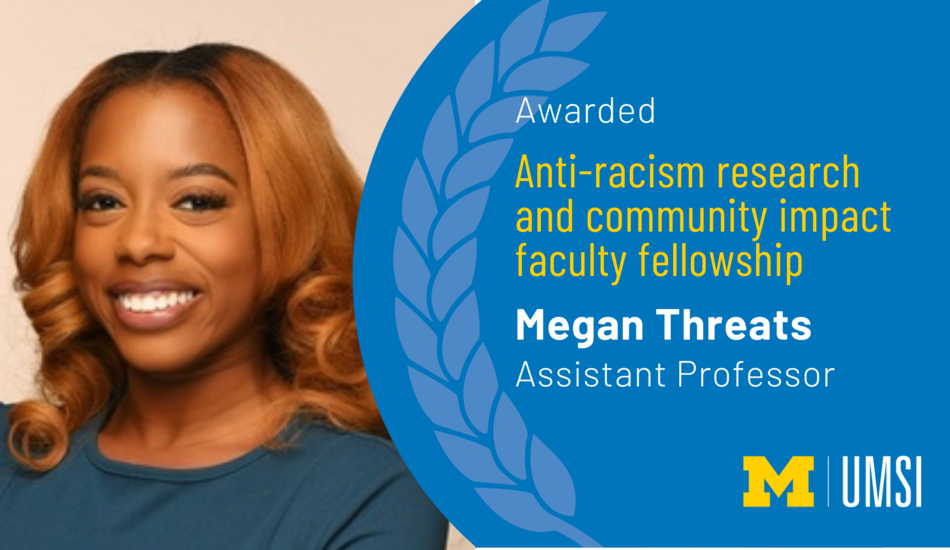 Friday, 05/26/2023
University of Michigan School of Information assistant professor Megan Threats has earned a 2023 Anti-Racism Research and Community Impact Faculty Fellowship from the National Center for Institutional Diversity and the Anti-Racism Collaborative at the University of Michigan. 
The fellowship will support Threat's research on the digital divide after incarceration, which disproportionately impacts racial and ethnic minoritized communities, especially Black communities, and people with lower socioeconomic status in the United States. 
The lack of access to technology, coupled with the rapid acceleration of technology in society, leaves formerly incarcerated citizens at a disproportionate disadvantage. This affects their ability to apply to jobs, retain employment, communicate with healthcare providers and apply for public benefits. 
Threat's project seeks to investigate how returning citizens in Michigan navigate the digital divide and attempt to attain health and digital literacy upon re-entry. After the completion of the research, Threats will work with community stakeholders to create resources and tools for returning citizens.
"The results of this research will help to map the digital divide's impact on returning citizens across the state of Michigan and will result in the development of a state-wide open education resource for helping returning citizens locate and attain digital, health, and digital health literacy skills building classes, programming and resources," Threats says. 
Threat's research has long focused on leveraging informatics to achieve health justice for minoritized communities. She uses anti-racist research methods to document health inequities while creating innovative solutions to combat injustice. 
"This project will lead to the development of a reentry resource guide to attaining health, digital, and digital health literacy skills in the state of Michigan that is an open education resource, and freely accessible and available to communities on and offline," she says. "The creation and dissemination of this resource can help community stakeholders, including staff and administrators at community-based organizations, libraries, healthcare institutions, government offices and other civic institutions enhance their capacity to combat digital, health, and digital health literacy as determinants of health."
RELATED
Read more about Megan Threats research and work on health justice and informatics by visiting her UMSI faculty profile.
People featured in this story
Assistant Professor of Information, School of Information