University of Michigan School of Information
More than 60 projects set for UMSI's Expo '22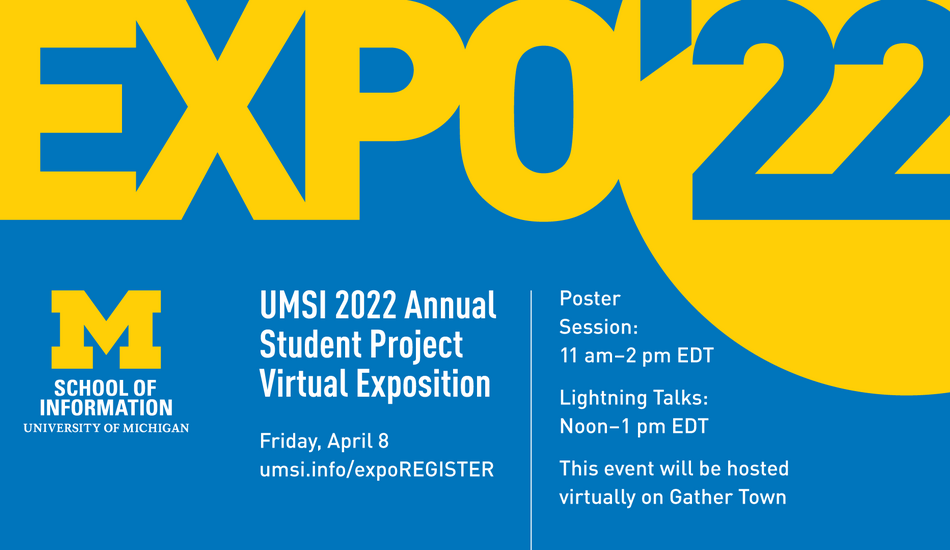 Friday, 04/01/2022
UMSI's tagline is, "Information changes everything." At Expo '22, students will demonstrate exactly what that means. 
The UMSI 2022 Annual Student Project Virtual Exposition, Friday, April 8, will showcase information projects involving everything from mapping how customers interact with a local taproom to applying user research to lemur conservation.
The spring Expo is the largest of three annual student presentation events coordinated by UMSI's Engaged Learning Office (ELO). The event will be hosted virtually on Gather.Town, an immersive digital platform. 
Guests can explore over 60 projects in the 11 a.m.-2 p.m. poster session and in three- to five-minute lightning talks between noon and 1 p.m. Guests are welcome to come to all or part of the event at their convenience. 
"Information is such a broad field," says Tim Williams, ELO student engagement coordinator. "I didn't understand what UMSI does until I started seeing our students' output. This is the kind of event where we get to see how students contextualize information based on their interests. At Expo '22, we'll see projects involving business, medicine, education and much more." 
Some of the projects at Expo '22: 
Backyard Brains: UX Learning for Neuroscience




Master of Science in Information students Milly Dai, Tianchi Fu, Bahar Shahmammadova, Emma West and Fan Xu
Bl

ø

m Meadworks: Journey mapping for a local small business 




Master of Science in Information students Kelly Yaoli Liu, Terrence Liu, Yeshashree Prasanna, Jessica Thomas and Cheryl Xiaoyan Wu


 

Lemur Conservation Network: User research for Lemur Conservation




Master of Science in Information students Yixuan Mao, Yuxin Wang and Zhiyuan Zhang


 

Michigan Medicine Clinical Homepage Redesign




Bachelor of Science in Information students Ruma Deb, Chloe Minieri, Jack William Pakela and Preetam Singh Shokar


 

Southwest Counseling Solutions: Behavioral Health Program Cost & Efficiency Analysis

 




Bachelor of Science in Information students Ashley Newman, Karen Lin, Max Rosenberg and Isaiah Erven


 

Michigan Department of State:

Improving access to ID for the previously incarcerated people




Master's students Michelle Torby, Hanaa Ziad and Grecia Macias


 

Cromaine District Library: Website Redesign




Students Amy Engineer, Meghan Quigley, Mayank Kinger, Ben Greenberg and Xiaochen

Shi
ELO welcomes representatives from businesses and community organizations, as students present information solutions created in UMSI client-based courses and programs like Community Corps and Design Clinic. Students in these programs help organizations address their real-world information challenges. "We want this to be a networking event as well," Williams says. "Clients can attend, connect with our students and come up with ideas around how they could collaborate to strengthen their organization in the future." 
Williams says it's inspiring to see Bachelor of Science in Information (BSI) students present capstone projects, which highlight culminating degree work in students' areas of focus. 
Guests can vote for projects to receive the Best Project Award, the Bachelor of Science in Information Final Project Award, the Diversity, Equity and Inclusion Award, the Innovation and Entrepreneurship Award, and the Community Engagement Award. Winning projects will receive $1,000 for first place and $200 for honorable mention. 
Information is even changing the Gather.Town experience. ELO design and communications assistant Molly Kraine, a BSI junior also enrolled in the University of Michigan's Penny W. Stamps School of Art & Design, has applied their user experience design expertise while constructing the virtual expo environment.
"Every single object in Gather.Town is placed by hand," Kraine says. "That gives me the opportunity to include a lot of wayfinders, like arrows and signs, to help attendees navigate the rooms. I'm also paying attention to the smaller schematic aspects of the environment that play into the larger user experience, like making sure all the doors line up." 
People featured in this story
Student Engagement Administrative Coordinator