University of Michigan School of Information
Pal: Ghost accounts are using misinformation to boycott Bollywood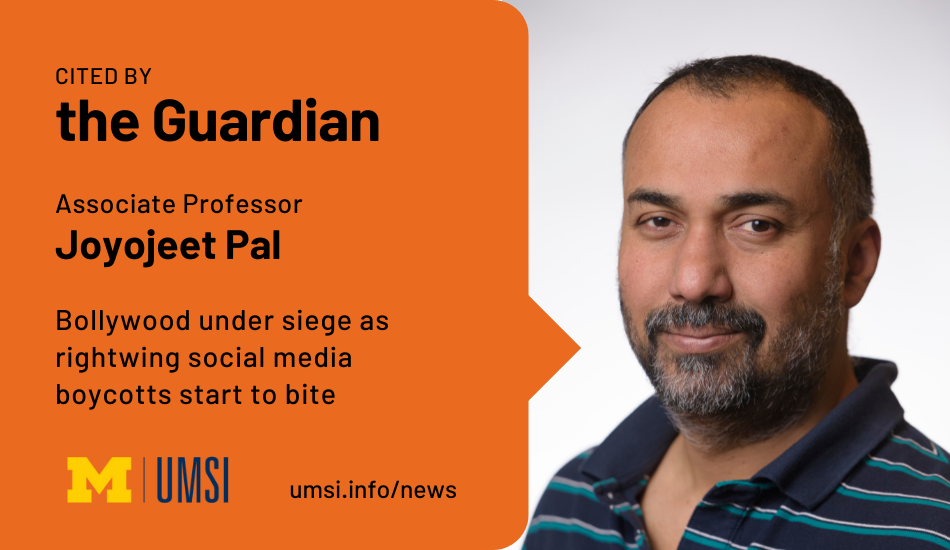 Tuesday, 10/04/2022
Big budget Bollywood movies like "Laal Singh Chaddha" and "Vikram Vedha" are increasingly under attack by right-wing groups for depicting "secular ideology" or because their lead stars are Muslim actors. 
A recent article by the Guardian lays out the current tension facing the Bollywood industry as hate groups use Twitter to delegitimize the industry, spreading hate speech, misinformation and targeted attacks against actors in an effort to push for Hindu nationalism in Indian media. 
Joyojeet Pal, a University of Michigan School of Information expert on the role of technology in democracy, was cited in this article. Pal recently published a paper on the topic of these organized attacks with researcher Sheyril Agarwal. 
The paper found trolling is scheduled and systematically planned around the release dates of films, orchestrated by online groups that have strong network connections and engage in methodical attacks around other issues. The research showed that attacks used organized techniques such as coordinated hashtagging, with support from several ghost accounts using the #BoycottBollywood hashtag to spread hate speech and misinformation. 
The paper's goal is to better understand the characteristics and mechanisms of these attacks in an effort to confront these challenges, and specifically, why undermining the culture and entertainment industries in India has grown to be a significant part of online activity in India in the last decade.
"We found that a very significant proportion of the accounts that tweeted the BoycottBollywood hashtag were in fact ghost accounts with no social media following," Pal and Agarwal write. "A total of 12,889 out of the 167,989 accounts that at least once used the hashtag had 0 followers. This suggests collusive behavior, since an account with no followers has no real incentive to flood social media with messaging." 
The consequence of these attacks has a potentially negative impact on box office performances, with the Guardian citing that 20 of the 26 big Bollywood releases so far in 2022 have reportedly flopped. 
RELATED
Read the Guardian's article on the ongoing attacks against Bollywood. 
Read Joyojeet Pal's research of hate group's use of social media and disinformation in India. 
Learn more about Joyojeet Pal. 
People featured in this story
Associate Professor of Information, School of Information