University of Michigan School of Information
Severance on landing your first programming job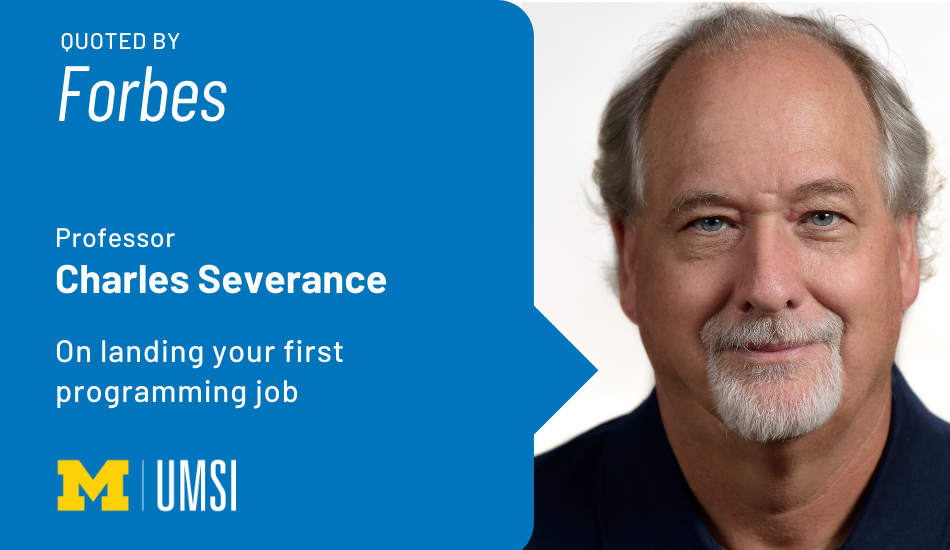 Tuesday, 05/18/2021
Forbes.com featured an interview with UMSI Clinical Professor Charles Severance on how to land a first job in the programming industry.
Severance, known as "Dr. Chuck" to the millions of students he teaches on Coursera, offered advice to those outside of traditional academic spaces and those looking to make a career change. He said any position can offer opportunities to merge new programming projects with current work.
A very common way to get a programming job is to evolve your current job so that you are doing some programming. Let's say you work in sales and each month there is a spreadsheet of results for each sales person for the month. Perhaps you can write a simple Python program to produce a clever report that would be hard to make by hand. Show the report to your boss and ask if there are other reports that might be useful. The next thing you know you are spending a few hours per week doing data analysis.
Severance's biggest tip? Keep learning and seek a community to build your programming skills and network.
-Kate Cammell, Writer UMSI