University of Michigan School of Information
Singh: AI could be a useful tool in emergency departments, but use it wisely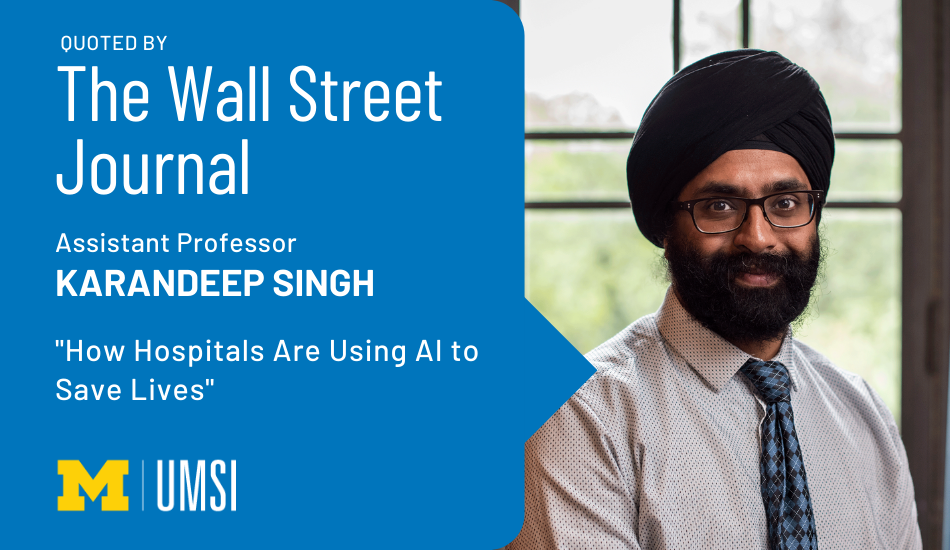 Monday, 04/25/2022
Artificial intelligence (AI) technologies have been gaining traction in healthcare, quickly sifting through missions of data points to help healthcare providers treat patients. While AI has been a useful tool for detecting cancer or identifying drug treatment plans, the tech is now being used in a more pressing setting: the emergency room. 
The Wall Street Journal reports that AI is now being incorporated into ERs and intensive-care units to help detect failing health or the development of deadly infections. For instance, AI models have predicted sepsis cases in hospital patients hours before human detection, significantly reducing the number of outbreaks.
While AI expands into emergency settings, Karandeep Singh, assistant professor at the University of Michigan School of Information and at the Medical School, warns of limitations in current AI systems. 
Singh says that there are issues with AI that need to be addressed. AI algorithms are often created using only one type of patient demographics, leading to problems when another racial group are the patients. In another case, the symptoms of two infections could be very similar, but the treatment options are different – AI might not be able to differentiate between the two. 
AI is a tempting technology, but hospital staff need to weigh how effective it would be for their needs. Singh says practitioners have to "understand when AI is not working as intended, and prioritize problems based on whether they are solvable rather than simply what AI tools are available."
Read "How Hospitals Are Using AI to Save Lives" on wsj.com.
Learn more about assistant professor Karandeep Singh. 
People featured in this story
Assistant Professor of Learning Health Sciences, Assistant Professor of Internal Medicine, Assistant Professor of Urology, Associate Chief Medical Information Officer of Artificial Intelligence, Medical School and Assistant Professor of Information, School of Information