University of Michigan School of Information
Thomas: Cuba is creating smartphones, citizens have reason to be excited and skeptical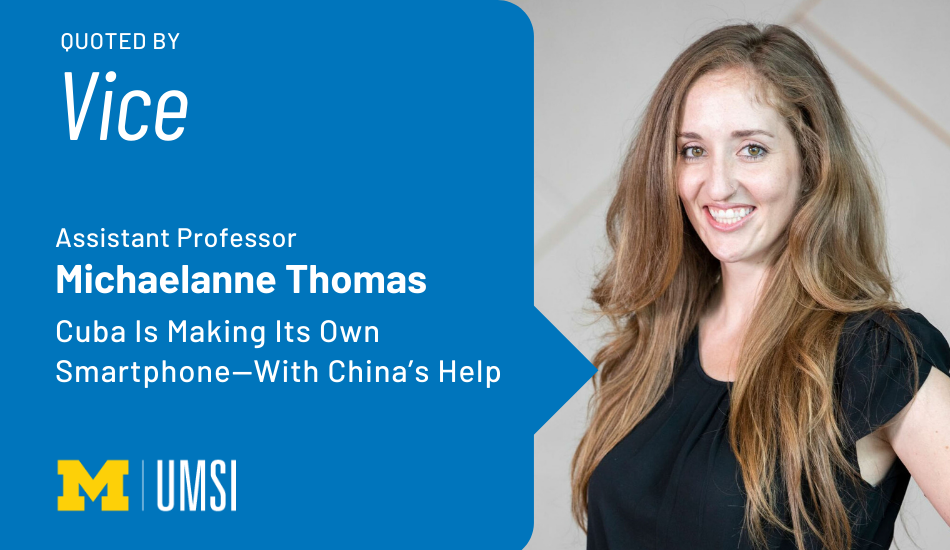 Tuesday, 06/15/2021
Assistant Professor and Presidential Postdoc Fellow Michaelanne Thomas was quoted in a Vice article about Cuba's first attempt at creating a homegrown smartphone. 
Eager to bridge the technological gap between Cuba and the rest of the world, Gedeme, a state-owned technology company, has created nearly 6,000 prototypes of a smartphone. The company is receiving help from the Chinese tech-giant Huawei, which will supply raw materials and firewall encryption to block foreign websites and applications.
Thomas, whose research explores internet and social media use in Cuba, told Vice that because the device is state-created, there's an obvious caveat: the smartphones could open a backdoor for government surveillance of the island. 
They're going to have their own device, endemic to the island. I'm sure that in that same vein, it has got to give them more control. 
However, she pointed out that because many citizens already believe they're being spied on by their government, they might not be deterred from getting a Cuban smartphone. 
With the power of Huawei and Gedeme combined, Thomas believes there's an opportunity for the creation of a great piece of technology.
"I think people will be willing to try it out, but news is going to travel fast if it sucks," said Thomas.
Read the full article here.
- Kate Cammell, Writer UMSI
People featured in this story
Assistant Professor of Information, School of Information