University of Michigan School of Information
U-M hosts Asian American Faculty and Student Accomplishments Symposium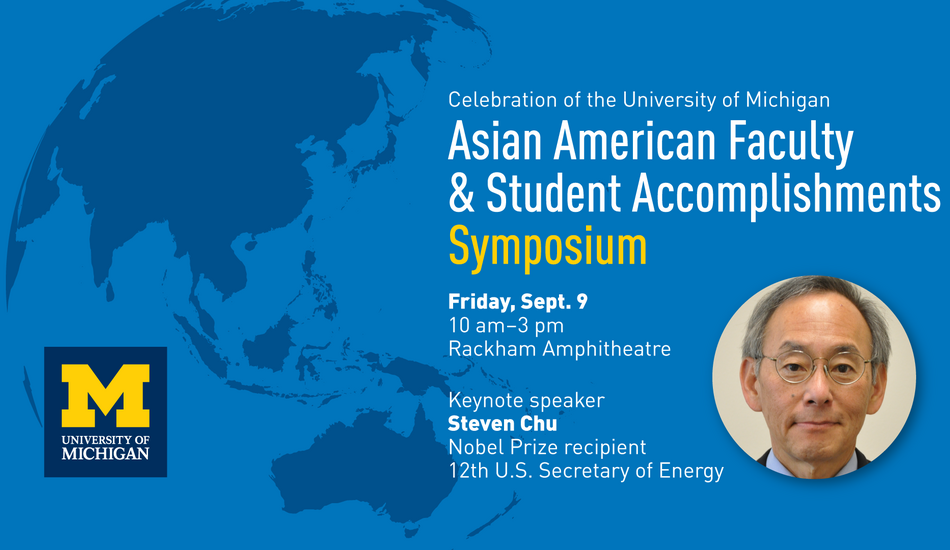 Tuesday, 08/30/2022
The University of Michigan will be hosting the inaugural Asian American Faculty and Student Accomplishments Symposium on Friday, Sept. 9, 10 a.m.-3 p.m. The event will be held on campus in the Rackham Amphitheatre. Registration is required and the event is open to the public. 
The symposium is a celebratory event that will act as a reset after a particularly tumultuous few years for Asians and Asian Americans. Yan Chen, Daniel Kahneman Collegiate Professor at the University of Michigan School of Information (UMSI) and president of the Association of Chinese Professors (ACP), says that the U.S. Department of Justice's 2018 China Initiative created a hostile environment for researchers of Chinese origin. 
"The China Initiative singled out academics of Chinese origin — professors and students, U.S. citizens or not," says Chen. She explained that the implication was that these academics were "likely to be spies for the Chinese government." 
As a result, many Chinese-origin scholars found themselves under investigation. "According to FBI director Christopher Wray, since the establishment of the China Initiative, two cases were opened every day on a Chinese or Chinese American scholar," says Chen.
Although the Biden administration ended the China Initiative, Chen says a chilling effect remains. This is especially true for Chinese American scientists and academics. 
"People are scared to apply for federal funding for research, but they are also leaving the United States, looking for jobs in Europe, Australia and other countries," she says. 
U-M faculty are not immune to this type of discrimination, says Chen. In a 2021 survey by the U-M ACP, nearly two-thirds of Chinese-origin faculty did not feel safe as academic researchers. Additionally, a third considered avoiding federal grant applications, and almost half of the respondents felt it was difficult to concentrate and be as productive as before the Initiative.
Considering the past few years, the Provost's Office decided that it was important to celebrate the accomplishments of Asian and Asian American scholars and their contributions to American society and U-M. The symposium is a celebration, but the event also explores ways to advocate for and strengthen Asian and Asian American representation in the United States. 
Steven Chu, professor of physics at Stanford University, is the keynote speaker. Dr. Chu is the co-recipient of the 1997 Nobel Prize in Physics for his contributions to laser cooling and atom trapping. He also served as the 12th United States Secretary of Energy from 2009-1013.
Dr. Chu was a great choice for keynote speaker because of his unique background, says Chen. "On the one hand, he is a great scientist. He is a Nobel laureate in physics, he was the director of the Lawrence Berkeley Lab, he's accomplished a lot in his discipline," she says. "He also went into policymaking, influencing public policy in his area of expertise."
Dr. Chu's keynote, "The Contributions of Asian Americans in U.S. Science and Engineering," will highlight how the rising international competition in science and engineering, especially from China, has changed how the United States can attract and retain talent. Dr. Chu will discuss the increased suspicion and scrutiny faced by scientists and engineers with familial ties to China. He will also highlight the consequences of this scrutiny on the United States' global reputation, including its ability to welcome scientists and engineers from around the world.
After the symposium, Dr. Chu will head to the Department of Physics to give a talk on "Single-Molecular Step Resolution of Neuron Transport and Non-Thermal Equilibrium Statistical Physics," starting at 4 p.m. 
In addition to the keynote address, there are three moderated panel sessions and a lunch reception with faculty slides and student poster displays. 
Funding for the symposium comes from the Office of the Provost. The event is co-sponsored by ACP, the Lieberthal-Rogel Center for Chinese Studies, INDIGO: The LSA Asian and Asian-American Faculty Alliance, International Institute, Physics Department, and UMSI. 
Asian American Faculty and Student Accomplishments Symposium program
Unless otherwise noted, all events take place at the Rackham Amphitheatre.
10 a.m. Opening remarks by University of Michigan Provost Laurie K. McCauley
10:10 a.m. Keynote address by Dr. Steven Chu, Stanford University
11:10 a.m. Asian American Accomplishments at U-M  
Participants: 
Noon Lunch Reception, Faculty Slides & Student Poster Display (Rackham Assembly Hall)
1 p.m. Faculty Research Highlights, moderated by Mary Gallagher, U-M International Institute director. In this session, a diverse set of faculty will give lightning talks to highlight their research and contributions.
2 p.m. Advocating for Asian Americans in the U.S., moderated by Ann Chih Lin, Lieberthal-Rogel Center for Chinese Studies director. This session will focus on advocating for Asian Americans in government and in our communities.
Participants:

RELATED:
Visit Stanford University professor Stephen Chu's webpage. 
Learn more about UMSI professor Yan Chen.
—Sarah Derouin, UMSI public relations specialist
People featured in this story
Daniel Kahneman Collegiate Professor of Information, Professor of Information, School of Information and Research Professor, Research Center for Group Dynamics, Institute for Social Research