University of Michigan School of Information
UMSI alumni team up on groundbreaking Michigan Medicine, BCBSM COVID-19 data collection initiative to identify best treatment practices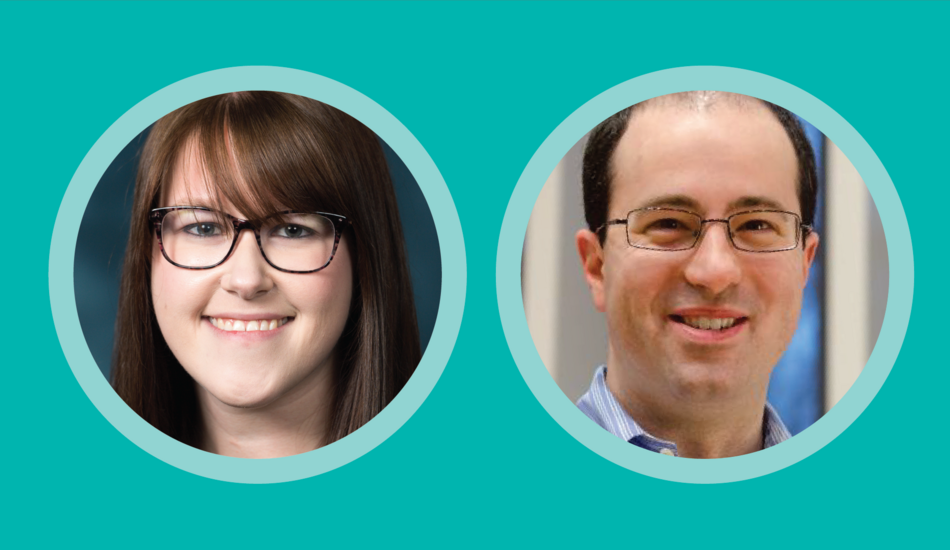 Thursday, 05/07/2020
School of Information alumni Tawny Czilok and Michael Hess are vital members of the leadership team behind Mi-COVID 19, a data collection collaboration between Michigan Medicine, Blue Cross Blue Shield of Michigan and hospitals across the state. The registry will provide insight into best treatment practices and could help save lives amid the state's COVID-19 crisis. 
The Mi-COVID 19 initiative is a groundbreaking effort that will yield a comprehensive clinical picture of patient care, but its whirlwind launch is based on a decade of work done by U-M health informaticists, information scientists and clinicians.  
Though Tawny Czilok (MHI '17) and Michael Hess (MSI '06) graduated from different UMSI programs, they both currently work with the Michigan Hospital Medicine Safety Consortium (HMS). HMS is a Collaborative Quality Initiative (CQI), one of seventeen sponsored by Blue Cross Blue Shield of Michigan through their Value Partnership Program. 
The purpose of these CQIs is to collect, share and analyze data through clinical registries, then design and implement changes to improve outcomes of complex, technical areas of care.  
HMS was formed in 2010 to improve patient safety and the quality of care for hospitalized medical patients by Dr. Scott Flanders, Chief Clinical Strategy Officer at Michigan Medicine and Professor of Internal Medicine – Hospital Medicine at the University of Michigan Medical School. Since then, HMS has created registries focused on initiatives like preventing blood clots, appropriate vascular access usage, and promoting proper antimicrobial stewardship. 
"The registries are where Michael comes in," said Czilok. "He builds them for HMS with our assistance from the clinical side … I'm a nurse, so my team works with physicians to determine the data collection method and what the key variables are.
"Then it's my responsibility to work with Michael and determine how the questions in the registry can be asked in a way that can be easily abstracted from the medical record while keeping in mind what can be done in terms of the IT structure." 
Michigan Medicine leads numerous other CQI initiatives centered around topics like surgery and oncology to name a few, but HMS was aptly positioned to take on the challenge of developing a COVID-19 data registry due to this unique partnership. 
"We are really unique in that we focus strictly on patients who are hospitalized," said Czilok. "We work with hospitalists, infectious diseases and critical care physicians who care for COVID-19 patients while hospitalized." 
It was one of the physicians, Dr. Hallie Prescott, who initially discussed the idea of the COVID-19 registry and set HMS on a seemingly impossible task: complete six months' worth of work within two weeks by developing and launching a COVID-19 database that would start tracking Michigan's cases ASAP.  
"I got a call from the HMS program manager, Elizabeth McLaughlin, on March 22," said Hess. "She basically wanted to know how quickly we could do this. My initial thought was, 'Oh, it takes us about six months to put together a site from beginning to end.' And she was like, 'Yeah, we need it in two weeks.'" 
At the IT helm, this MSI alum made it happen by leveraging existing infrastructure. 
"We reused infrastructure from other projects, so a lot of the other systems fell into place," said Hess. "We already had a training system that we could put training material into. We already had a mechanism to handle abstractions. We weren't starting from zero.
"We were starting from zero with all the clinical elements, because obviously not only had we never done a COVID project, no one had," he continued. "Normally when you do these types of projects, there are standard acceptable guidelines … None of that existed here." 
As trailblazers, their responsibility was palpable. Thanks to incredible push from Hess, Czilok and the HMS team, the registry — titled Mi-COVID 19 ⁠— went live on April 2. 
With Michigan Medicine reporting that the comprehensive, multi-site registry will likely be one of the largest collections of COVID-19 patient data to date, their dedication will provide valuable and timely insight into best practices in treating patients with the virus.
"We've collected data on about 2,000 people so far, and we've collected detailed treatment data on 500 of those," said Hess.
In addition to translating between clinicians and technicians in her role, Czilok's MHI background trained her to deal with various other information challenges surrounding the initiative — making her role integral to the registry's continued success. 
"It really has turned into not just an HMS-specific initiative but something more CQI-wide," said Czilok. 
She put together a branding strategy including logos and PowerPoint materials to disseminate to abstractors, both from HMS and other CQIs who were redeployed to abstract for the Mi-COVID 19 project while experiencing smaller workloads due to the statewide lockdown. 
"As with all initiatives, the quality of the data entered is paramount. Given the rapid launch of this registry, ensuring quality data is even more imperative," said Czilok. 
In order to ensure their data would be meaningful, she and her team of three nurses put together training materials for data collectors and abstractors in record time. 
Czilok then worked with an HMS data analyst to launch a programmatic data check that can run a query in real time and check for inaccuracies in abstraction. 
Data collection is in full force as more hospitals request to join the initiative every day. As for the future of the Mi-COVID 19 registry, Czilok says every decision will support the CQIs' mission to improve the quality of care for patients across Michigan. 
"Publications do come out of these initiatives, but that is a byproduct of our primary goal, which is quality improvement," said Czilok. "There are a lot of research registries out there that collect all this data and then people pay to use it, and that's not us. How we use the data will always come back to the mission of the quality improvement goals that we have set forth with the CQIs in general." 
However, Mi-COVID 19 will certainly have an impact beyond the state's borders. 
"Findings from the data will be published at some point or made more available outside of Michigan," said Czilok. "Quality improvement is accomplished through identifying standards of practice and upholding those standards in everyday patient care. In some cases, the standards of care are not well known, as is the case with caring for patients with COVID-19. Publications and broad dissemination of information is critical to set the stage for the development of those standards, and the CQIs have a long history of doing just that.
People featured in this story
Solution Architect Lead, UMSI Computing Services Associate Director, Adjunct Lecturer in Information, School of Information and App Programmer/Analyst Ld