University of Michigan School of Information
UMSI doctoral student Kaiwen Sun awarded prestigious Meta Fellowship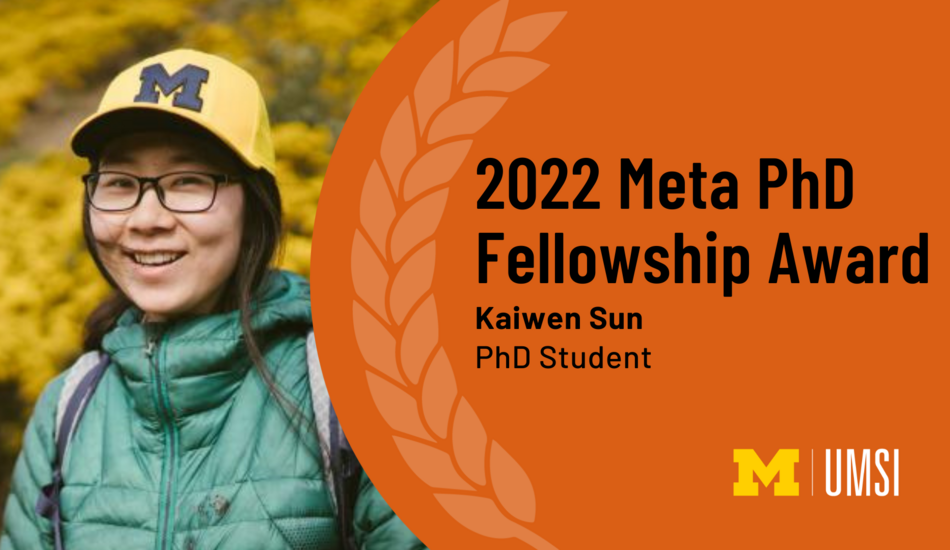 Friday, 02/25/2022
University of Michigan School of Information doctoral student, Kaiwen Sun, was awarded the prestigious Meta Research PhD Fellowship. 
The Meta Fellowship is a global program designed to encourage and support promising doctoral students who are engaged in innovative and relevant research in areas related to computer science and engineering.
Sun's research focuses on understanding and supporting children's privacy and safety needs in smart home environments. "Smart home products intended for adults could often end up being used by children," says Sun. "When smart home technologies modify the home environment physically and digitally, children's safety and privacy are impacted in nuanced ways."
"The pandemic has shifted children's living, learning, and playing to the digital environment at home. So it's timely and critical to consider children's awareness, understanding, and needs of smart home safety and privacy, to ensure children's wellbeing, cultivate their digital literacy and competency, and provide implications for creating more child-friendly digital products, services, and policies," she says. 
In a sea of more than 2,300 applicants, Sun's research stood out. "Fellowships such as this are highly competitive and its award to Kaiwen is a testament to both the quality of her work and inquiry as well as the timeliness of her research," says Christopher Brooks, UMSI professor and co-advisor to Sun. He adds that Sun's research focuses on some of the most vulnerable members of society: children. 
"I think this award shows the importance of this research on children's safety and privacy in the digital environment," says Sun. "With the support of Meta Fellowship, I am able to dedicate my time to work on these research projects, engaging with children and families to research and design safe and privacy-protective smart home experiences."
She notes that the Fellowship award comes at a perfect time, as she has been juggling  research during a pandemic along with taking care of a toddler. 
"I am honored for the opportunity to learn and engage with more people about this line of research as a continuation of my previous work on child digital privacy and smart home safety," says Sun. "I am excited to jump right in and work on these research questions!"
Sun's existing research has already shown the challenges which face children and families in the modern smart home. "This fellowship now gives me the ability to find ways to surmount these challenges, through thoughtful, inclusive design where children are included in the process" said Sun. 
"As we stand at the precipice of new social digital experiences, with the metaverse, smart homes, and always-connected wearables, we need to deepen our understanding of how individuals in society are impacted," says Brooks. "This fellowship demonstrates the power of the UMSI mission, where we situate our inquiry at the intersection of people and technology, and train the leaders and best of tomorrow."
— Sarah Derouin, UMSI public relations specialist
Learn more about Kaiwen Sun, Christopher Brooks, and Florian Schaub.
Learn more about the Meta PhD Fellowship Program.
Topics
People featured in this story
Assistant Professor of Information, School of Information
Associate Professor of Information, School of Information and Associate Professor of Electrical Engineering and Computer Science, College of Engineering