University of Michigan School of Information
UMSI graduate student instructors recognized for dedication and impact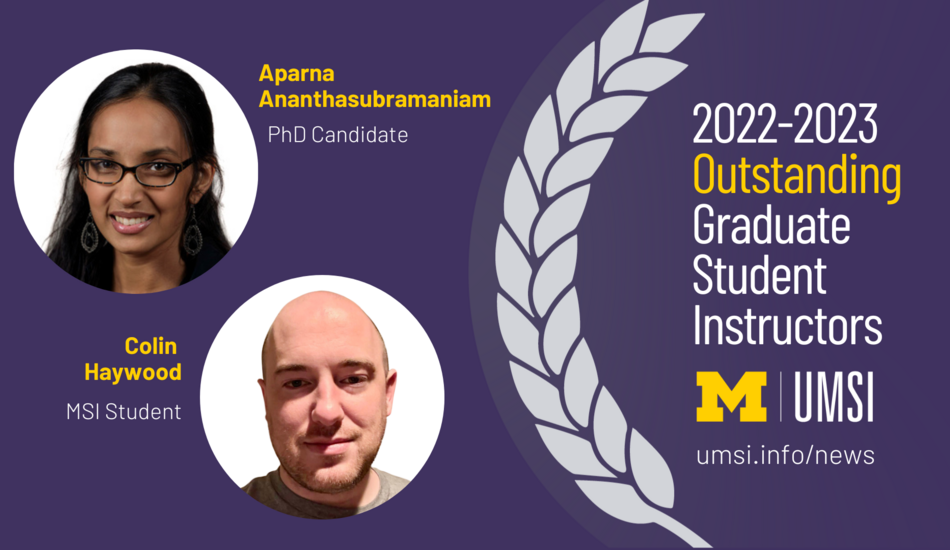 Wednesday, 09/06/2023
Aparna Ananthasubramaniam and Colin Haywood have been selected as recipients of UMSI's 2022-2023 Outstanding Graduate Student Instructor Award. The annual award, which offers an honorarium of $500, recognizes overall exemplary performance as a GSI, including dedication, impact and instructional skills. Recipients are selected based on course evaluations and nominations by faculty, students and peer GSIs.
Aparna Ananthasubramaniam is the doctoral recipient of the award. She was a GSI in SI 301: Models of Social Information Processing. 
Aparna's research interests include computational social sciences, complex systems, natural language processing and social policy. Prior to beginning her PhD, she worked in the social sector for several years, including as co-founder and co-director of Heart and Home Collaborative Women's Shelter. Aparna continues to collaborate with nonprofit partners on research and capacity-building projects. She is a 2022 recipient of the UMSI Award for Impact in Diversity, Equity and Inclusion. 
"I hope students, especially those seeing a class like SI 301 for the first time, realize that they are capable of learning to reason in new ways," Aparna said. Many of her students remarked that this was their first time taking a course that required them to develop a strong understanding of concepts, learn real-world applications and engage in abstract reasoning all at once. 
Colin Haywood, who was a GSI in the course SI 501: Contextual Inquiry and Consulting Foundations, is the master's student recipient of the Outstanding GSI Award. 
"To receive the award is a great honor because it reflects the evaluations of students and professors I've interacted and worked with closely over a long period of time," Colin said. 
On the library and archives track, Colin is "deeply interested in how libraries and archives, both public and private, can make use of the often limited funds available to them to best serve all members of their communities." He was a recipient of a Fulbright Scholarship to Japan in 2008 to translate the poetic works of Higuchi Ichiyo, a late 19th century Japanese writer. Prior to starting his Master of Science in Information, he taught English in rural Japanese public schools for several years, an experience that prepared him for working with students at UMSI. 
"I hope that my students left our class with not only an improved understanding of the issues relevant to the class," Colin said, "but also a renewed appreciation for hard work, attention to detail and their own capabilities to transcend whatever obstacles they might encounter."
Nominees highlighted the deep expertise and commitment Aparna and Colin demonstrated in their courses. Both stood out for the support they gave to students who encountered challenges. 
"I try to make the material more accessible by creating a safe space for students to ask questions and engage with the course content," Aparna said. Her ultimate hope for her students, as they encounter problems in their courses and careers, is the same goal she sets for herself as a teacher: to be "willing to change approaches." 
— Abigail McFee, marketing and communications writer
People featured in this story