University of Michigan School of Information
UMSI offers new 'special topics' courses that speak to the moment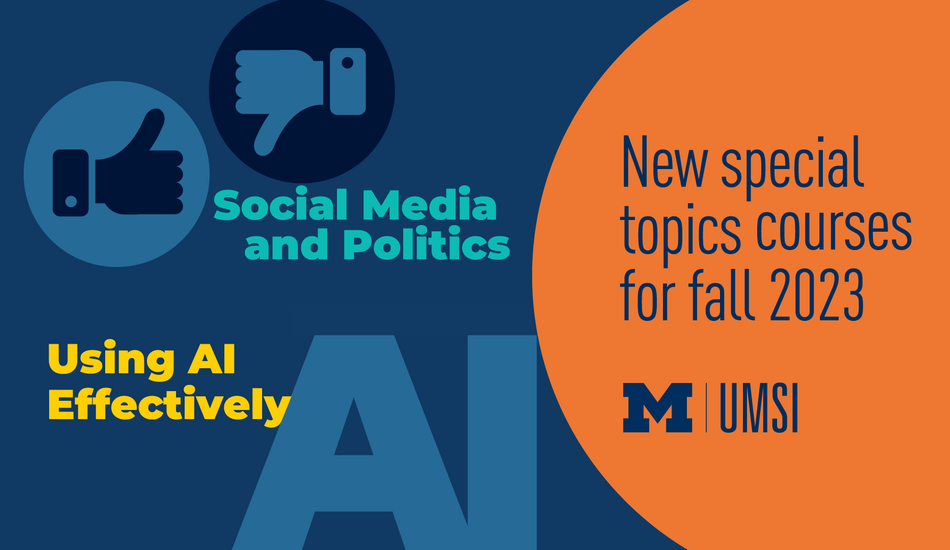 Tuesday, 08/15/2023
How are politicians using TikTok? And what is ChatGPT good at? This fall, UMSI will offer two new courses for undergraduates on special topics that are particularly timely. 
TikTok on the ballot
Associate professor Joyojeet Pal, an expert on the role of technology in democracy, will teach Social Media and Politics. Pal specializes in politicians' use of social media, with a focus on India. He was recently quoted in a New York Times article about Indian prime minister Narendra Modi's use of an old-fashioned radio show to garner widespread popularity despite criticism of his policies.
In Social Media and Politics, Pal will introduce students to global examples of the use of social media in political campaigns. Through case studies, students will examine the brand management of individual politicians — including Modi and Justin Trudeau — and political movement building, such as the use of TikTok by politicians in Singapore.
As the U.S. presidential election approaches, students will also have the opportunity to analyze political outreach by President Joe Biden and key Republican candidates in real time. "Social media has become central to electoral campaigning and narrative building for political issues," said Pal.
He recognizes that social media is also "a growing space of professional opportunity" for UMSI graduates, including those who go on to work in advocacy or corporate communications. In this course, students will gain the ability to identify key social media strategies and assess their efficacy.
AI done right
Assistant professor David Jurgens will teach Using AI Effectively. Over the past year, generative artificial intelligence tools like ChatGPT and Stable Diffusion have gained rapid, widespread use — from casual users creating images for laughs to physicians trying to communicate more empathetically with patients.
As generative AI has entered the hands of the general public, it has also prompted concerns about misuse and misinformation, highlighting the importance of learning how to use this technology.
In Using AI Effectively, Jurgens will offer "a hands-on, interactive tour" through generative AI systems. Students will get answers to practical questions: "How do we write good instructions to accomplish a task? What kinds of tasks are different generative AI systems good or bad at? When can we trust their output?" They will also learn techniques for using AI to study material in their own courses. 
"AI systems like ChatGPT are incredibly useful for many tasks, as students have noticed," said Jurgens. "I was inspired by a faculty discussion to teach a new course that can help students make the most of these tools in their studies and later in the workplace." 
View the full list of fall 2023 special topics courses here. 
— Abigail McFee, marketing and communications writer
People featured in this story
Associate Professor of Information, School of Information
Associate Professor of Information, School of Information and Associate Professor of Electrical Engineering and Computer Science, College of Engineering