University of Michigan School of Information
UMSI researchers to speak as panelists at FTC PrivacyCon 2022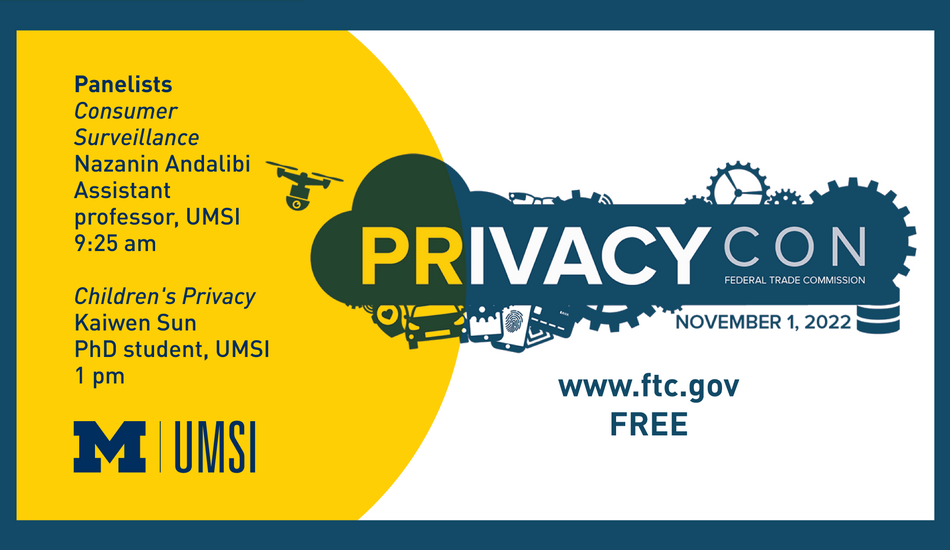 Friday, 10/28/2022
University of Michigan School of Information assistant professor Nazanin Andalibi and PhD candidate Kaiwen Sun will be panelists at the annual PrivacyCon, hosted virtually by the Federal Trade Commission (FTC) on Nov. 1, 2022. 
FTC PrivacyCon is a symposium highlighting important issues in privacy and data security for attendees including researchers, academics, industry representatives, consumer advocates and government regulators. 
Andalibi will discuss "Emotion AI and the Future of Work" on the Consumer Surveillance panel. The talk will highlight two papers supported by a National Science Foundation grant. Both have been conditionally accepted to CSCW 2023. 
"I will provide an overview of some of my research around the ethical and social implications of emotion artificial intelligence technologies in the high stakes context of the workplace," Andalibi says. She looks forward to the value that will surface in the discussion prompted by the panelists' presentations. 
"This research trajectory can be controversial and tricky to navigate, partly because it pushes boundaries and questions the technological status quo," Andalibi says. "I am excited about the potential for broader impact my work can have by reaching this unique audience which includes regulators, policymakers and practitioners beyond other academics." 
The works Andalibi will highlight were co-authored by former UMSI postdoctoral fellow Karen Boyd, PhD students Kat Roemmich and Shanley Corvite, and UMSI Bachelor of Science in Information student Tillie Ilana Rosenberg. 
Kaiwen Sun will discuss "Child Safety in the Smart Home: Parents' Perceptions, Needs, and Mitigation Strategies" on the Children's Privacy panel. The talk draws on findings from the paper published at CSCW 2021.
"Smart home technologies amplify child physical and digital safety and privacy risks because such technologies physically situated in and modifying the home environment serve as windows to the internet, extensively collect lots of family/children's data, and enable children's control via voice command and automation," Sun says. 
"However, parents struggle to gatekeep children's safety around these technologies due to the lack of child-centered and privacy-protective smart home features, controls and resources for families. I hope our work contributes to the discussion around how companies could be more responsible, accountable and transparent with regulatory oversight to ensure child safety around smart home technologies."
Sun's research focuses on the intersection of children's privacy and safety, smart home technologies and human-computer interaction. She is advised by assistant professor Florian Schaub and assistant professor Christopher Brooks, co-authors on the study.
Tune in to the FTC PrivacyCon 2022 live webcast on Tuesday, Nov. 1. 

— Martha Spall, UMSI writer
People featured in this story