University of Michigan School of Information
Alumni Snapshot: Novia Wong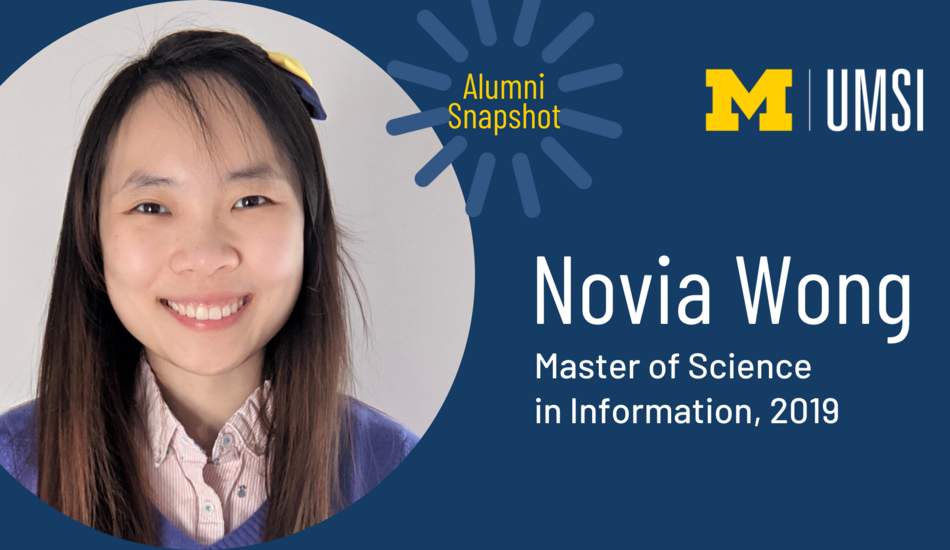 Novia Wong
MSI '19 (Human-Computer Interaction/User Experience Research and Design)
PhD student in informatics at the University of California, Irvine
I have been pursuing my PhD in informatics at the University of California at Irvine since September 2021. The flexibility of the UMSI program was great because I was able to take all the necessary courses, hang out and learn from my colleagues, have work experience and participate in an independent study. All of this led me to pursue my PhD. My research is actually inspired by the independent study work I did with Dr. Gabriela Marcu from UMSI. I will now be working with Dr. Madhu Reddy at UCI on mental health technologies and how to get those resources to people who are in need. 
 
Before pursuing my PhD at UCI, I was working at NowPow, a healthcare technology startup, as a product designer. My main responsibility was to look over the entire design process, from identifying the problem and doing user research to creating wireframes and prototypes. On a daily basis I could be working on a mock, talking to our stakeholders and product managers to understand the problems better, or doing usability testing or interviews with our users. We typically worked with physicians, social workers and community health workers, but we had also been working on a product that focused more on the public user, so we worked with anyone who needed the resources and help from within the community.
UMSI skills in work
The networking opportunities at UMSI have helped me a lot. As the only designer in the company it was hard to adjust at first, but I was quickly able to find other alumni and colleagues from the program who gave me the guidance I needed in the career field. Another thing I've picked up from UMSI is valuable skills from all the projects I had to complete, especially the ones where I worked with clients. The idea of documenting everything really stuck with me. Through classes where we were required to document the findings after an interview and think about next steps, I was really able to bring that into my role as a product designer and help the company mature their UX team. I also found the skills in the data science courses I took at UMSI helpful for understanding basic concepts in the field as we work with many data scientists as UX designers.
Motivation for pursuing information
As an undergrad I was a psychology major, and toward the second half of my degree I came to the conclusion that this was not quite what I wanted to do. I was interested in helping the mental health and autism community, and I realized in order for me to do so I needed to understand them better. That led me to discover the idea of user experience design and research, and I started working at a human factors lab. All of this helped me discover the field and program at UMSI, so I wanted to learn more. After listening to a talk at Google about user experience designers I knew this was the field I wanted to go into. After graduating from the program I have a better understanding of what a UX designer would do and what it means to be a UX professional.
Favorite UMSI memory
The Design Clinic was definitely one that stands out since I was able to work with data science and UX design students and a real client in Ann Arbor on a project. That was one of my best memories due to the nature of the project and the work I was able to do. Overall, I really enjoyed just hanging out with my classmates and working on projects together and meeting new people. The idea of having so many people there and learning about them, working together and gaining new perspectives made it a fun and exciting experience.
Some of the courses that come to mind were my graphic design course because it really helped me build on my design skills and the citizen interaction course, where I traveled with the team to a different city to learn about that city, service design and how to design something to fit the lifestyle and work flow of the area.
Advice for students
Network. Network within the cohort but also on LinkedIn, at conferences, or even through a friend of a friend. You never know when those connections will come in handy. Chances are when you're in need, you can reach out to one of your connections and then they may have someone they can connect you with in the long run. Networking can be as simple as introducing yourself and saying you are interested in the UX field and to stay in touch. Boom. That's all it takes. 
Internships and projects with clients are great for gaining experience, so do those as much as possible. In the end, what really matters is your experience working with other people. Whether it's students in other schools like art or engineering, or internships that allow you to work with data scientists or engineers or others outside of your field, continue to learn what it's like to work with a vast array of people.
Lastly, a portfolio is also really important, but don't over-cram the project section. As someone who has looked at others' portfolios for job recruiting, I've realized that I do not read through the whole thing anymore so it's important to have an overview section with one or two projects that can highlight your strengths.
— March 17, 2022
Learn more about UMSI's Master of Science in Information program and how to apply.
Send UMSI an update and share your own Alumni Snapshot with the world.