University of Michigan School of Information
Citizen Interaction Design introduces civic projects in Lansing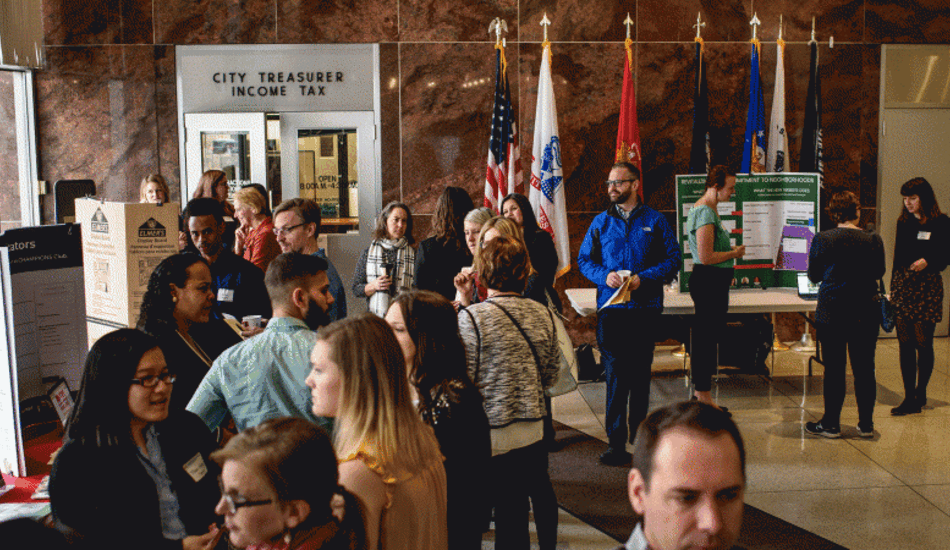 Saturday, 04/28/2018
On April 11, Lansing Mayor Andy Schor addressed about 40 people attending the Civic Tech Exposition, a presentation featuring the work of University of Michigan students at Lansing City Hall. 
Surrounding this group were colorful posters illustrating projects the students had completed for their Citizen Interaction Design (CID) class winter term. The student teams worked directly with citizens and civic leaders of Lansing and Ferndale. 
The mayor's appreciation was summed up in his final remark: "Thank you for all you've done for the City of Lansing. Go Blue!"  
CID is an interdisciplinary course offered by the U-M School of Information (UMSI) that requires students to work in local Michigan communities to develop information tools promoting citizen engagement with their local governments. 
Of the six student projects, four took place in Ferndale, a CID partner for several years. Two other projects were located in Lansing – a new CID partner. 
The timing couldn't have been better for Schor, who took office in January. One of his first decisions as mayor was to establish the Department of Neighborhoods and Citizen Engagement. 
So having a group of bright, motivated students from U-M was an exciting prospect.
One Lansing project, "Revitalizing the Commitment to Neighborhoods," employed students to redesign the city of Lansing's outdated website for communities, making it more user-friendly, relevant and "robust," as the program described.
The other Lansing project was titled "CHAMPION Communicators." Working with a grassroots community organization's youth program, CHAMPIONS Club, the U-M students created a tool, CHAMPIONS Communicators, that offers features specifically designed to facilitate adult-teen conversations about sensitive topics, such as sex and life choices. It also helps parents find support. 
Both projects involved Lansing citizens and civic leaders. Andi Crawford, director of Lansing's new Department Of Neighborhoods and Citizen Engagement, worked with students on the neighborhood revitalization project. 
"Having some additional thinkers outside of our staff to facilitate citizen communication was really important," she said. "We've been working closely with the students all semester, and they worked directly with our citizens.
"We're excited to have U-M students here, bringing the value that they do, the insights. Obviously, they are top flight students with great training and great support from the university, and we're thrilled to put that resource to work here in the Capital City."
Suzanne Pauley, eMichigan director, was a panelist for the Exposition. eMichigan provides enterprise services to all State of Michigan agencies, and Pauley was impressed with how the students looked at problems from different angles. 
"They're critical thinkers, and that's what we need across our organizations – people who can look at problems in ways that are not narrow or via tunnel-vision. I think it's exciting that these students are learning about the entire state, about civic engagement, how to get people involved and engaged in solving problems in proactive ways. 
"It's amazing that U-M is doing this."
Eighteen students in all participated in the six projects; most were UMSI students. They were quick to express equal appreciation for the hands-on experience the CID projects offered.
"This project exposed me to the decision-making process of community leaders," said UMSI student Jelena Knezevic, who worked on the neighborhoods project. "I was able to get an understanding of why community leaders make the decisions that they do, and see how the needs of the community shape those decisions."
Jaren Johnson, who worked with Knezevic, had similar reactions. "Working on this project was turned out to be an incredibly engaging and immersive experience. Seeing our community partner radiate with excitement toward our final product was immensely rewarding. That moment transformed my perspective on the role that academics should have in community engagement."
Daniel Kaplan, a U-M School of Social Work (SSW) student, worked on CHAMPIONS Communicators. "I learned that working with a community partner has almost nothing in common with working in a classroom environment," he said. "It's messier, but it's also incredibly rewarding. I feel accomplished knowing that the work we did in this class has a real purpose for a worthwhile community organization."
This Exposition was another illustration U-M's engagement throughout the state of Michigan, and the effort make a difference in communities via a variety of projects. This applies, as several Exposition attendees joked, even in "Go Green" country – though Mayor Schor is a U-M alumnus.
The event also marked the addition of Lansing to the Michigan cities benefiting from CID involvement. The Capitol City is the fourth to have partnered with CID.  
The other cities are Traverse City, Ferndale and Jackson. The latter two, and Lansing, have ongoing partnerships, which is key to the success of CID, said founder Cliff Lampe, UMSI associate professor. 
"I started the Citizen Interaction Design program to address what I've seen as a common problem with experiential learning. It's really hard to match finite semesters to meaningful projects with the outside world. The schedules just don't match up. Students too often disappoint their community partners."
Multi-year partnerships ensure communities receive continued, coordinated UM student involvement.
Lampe works with Scott TenBrink, UMSI adjunct lecturer in information, and CID program manager. TenBrink provided oversight and support for the projects presented at the April 11 event. He is pleased with the results of this first Lansing CID experience.
"Our new partnership with the City of Lansing offers lots of new opportunities because of its location, size, and proximity to State government," he said. 
"Our partners in Lansing also insisted that this partnership benefit the people in their community. In holding the program accountable, they created a great learning environment for our students, where projects must deliver impact to the community to be considered a success."
Mayor Schor certainly agrees. "Our partnership with the University of Michigan is a great way to help solve real problems facing our community," he said. "The students are innovative, creative and knowledgeable on new trends in technology that can be used by municipalities like Lansing." 
Other students who worked on the Lansing projects include Martha Fedorowicz, Gerald R. Ford School of Public Policy, and UMSI students Jaren Johnson and Uriel Lee. 
The CID Projects in Ferndale are "Dig Downtown," which increased Ferndale citizen input in downtown developments by making the process more engaging and relatable; "Ferndale Special Events," which facilitated effective two-way communication about special events between the City and residents and businesses; "Planned Natural Landscapes," which connected and educated the community on planned natural landscapes in Ferndale; and "Ferndale Snow Heroes," which connected those in need of snow removal assistance with volunteers.
Additional students who worked on Ferndale projects included: Novia Wong, Vaidehi Merchant, Mengzhu Ouyang, Thao Huong Nguyen, Priya Bayisetti, Yihui Zhu, Sophie Linn, Aaron Cheng, Lindsay Brown, Saskia Devries and Juliana Lam, all UMSI students. Brook Sinclair, an SSW student, and Ford School student Hannah Bauman also participated.
Previous CID community projects: https://www.si.umich.edu/outcomes/engaged-learning-outcomes
- Sheryl James, UMSI PR Specialist
People featured in this story
Professor of Information and Associate Dean for Academic Affairs, School of Information
Assistant Director, Civic Engagement and Lecturer III in Information, School of Information