University of Michigan School of Information
Finding your 'square hole home:' Priya Kumar on following your gut and forging your own path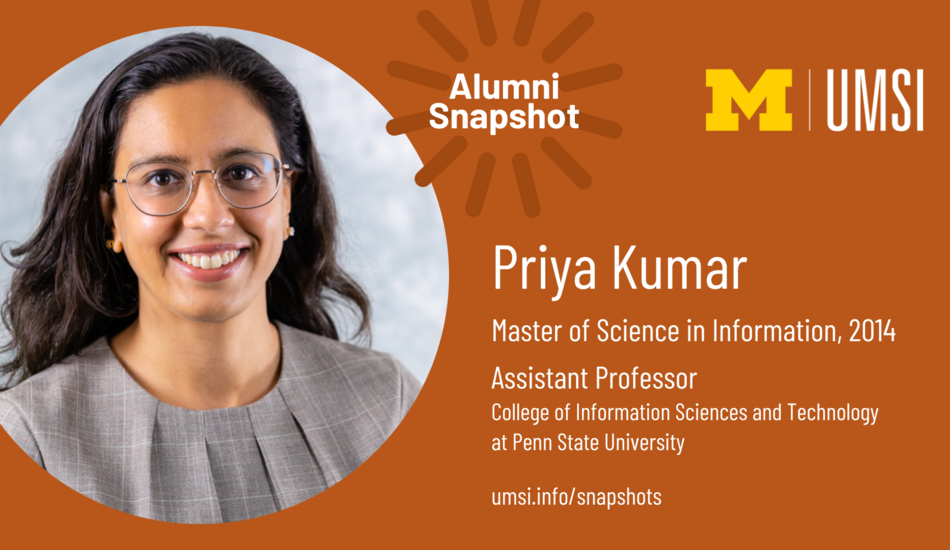 Thursday, 06/16/2022
Priya Kumar keeps a fortune cookie message on her desk at work. It reads, 'People make plans; fate makes the plan successful." Kumar, a 2014 graduate of the University of Michigan School of Information, holds these words close to her heart. A natural planner, the Master of Science in Information alumni has had her life's script change a few times. 
Each time, she's kept an open mind, following her intuition. 
"I really underscore the importance of listening to your gut, intuition, your internal compass, that voice in your head, whatever you want to call it," she says. "I believe we all have something in there that tells us that something is fascinating but you can't explain why. I want to encourage people to pay attention to that because it shows you have a deep connection to that topic."
Currently an assistant professor at Penn State University's college of information sciences and technology, Kumar reflects on her time at UMSI with fondness. Originally, she joined the MSI program with an interest in becoming a data journalist but later fell in love with researching the effects of social media on motherhood.  
"Be open and engaged with the world around you because you never know when the spark of a good idea might strike," she says. 
Kumar's favorite memories at UMSI involve the "amazing, thought-provoking classes" she took. These include an e-communities class with Cliff Lampe, a python class with Charles Severance and a web design class with Colleen van Lent. 
"The way that faculty structured the classes and assignments created a sense of satisfaction of learning something I never thought I would learn about," Kumar recalls. 
Learn more about Kumar's research interests, why she chose UMSI and her favorite classes in her alumni snapshot here. 
People featured in this story
Lecturer IV in Information, School of Information
Professor of Information and Associate Dean for Academic Affairs, School of Information
Clinical Professor of Information, School of Information