University of Michigan School of Information
Joyojeet Pal chosen as Scholars Council member for Data & Society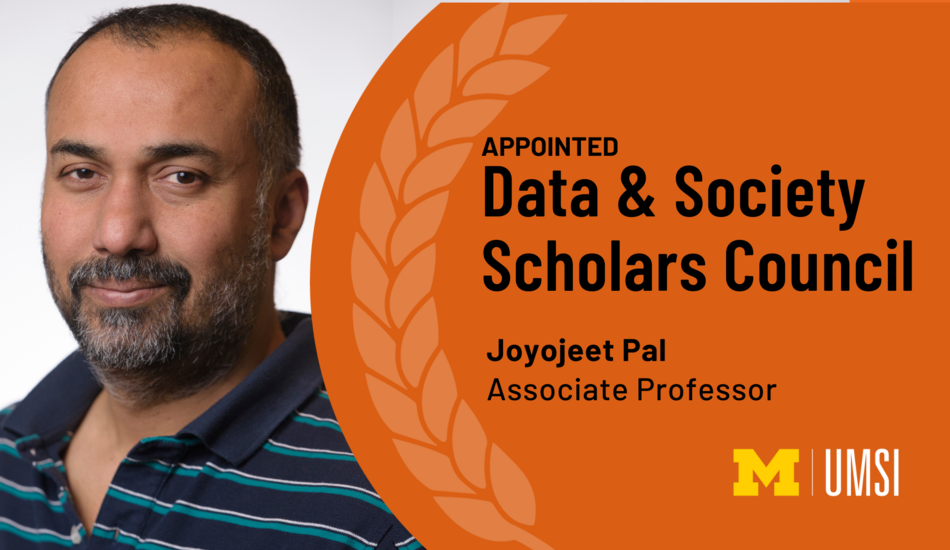 Thursday, 09/15/2022
Data & Society has selected Joyojeet Pal to serve on the organization's inaugural Scholars Council. Pal, an associate professor at University of Michigan School of Information, is one of 11 academics who will serve a two-year term. 
Data & Society is an independent, non-profit research organization. They created the council to gather a group of experts who study technology and data's role in society. Council members will  help Data & Society chart a path forward in its research while facilitating network building.  
Pal says networking with new scholars and creating global attention for research is an important part of being on the Scholars Council. "Data and Society has a strong reputation in the States. For scholars whose work is not US-based, it offers a space from which work is noticed and integrated into the broader information studies networks." 
Scholars Council members represent a wide range of disciplines including anthropology, technology, data, and information. The 11 members represent experts from higher education institutions and organizations.
"My work is in social media, politics and influence in India," Pal says. "Most of my work tends to engage with Indian scholarship; this is a chance for me to work with folks who are active in different spaces of work around society and technology."
"The Scholars Council is the best kind of advisory board, comprised of experts we can learn from and with," said Jenna Burrell, director of research at Data & Society, and coordinator of the council. "I'm so thrilled to welcome these brilliant scholars and look forward to collaborating in ways that are mutually enriching."
— Sarah Derouin, UMSI public relations specialist
RELATED:
Read more about associate professor Joyojeet Pal's research. 
Pal spoke with Bloomberg Quint on "Why Indian companies are loath to speak out against social injustice."
Pal was the co-organizer of the "Social media Influencers and the New Political Economy in South Asia and Africa" international symposium held at U-M.
People featured in this story
Associate Professor of Information, School of Information