University of Michigan School of Information
Kwame Porter Robinson earns Best Student Talk award for discussion on ethical artificial intelligence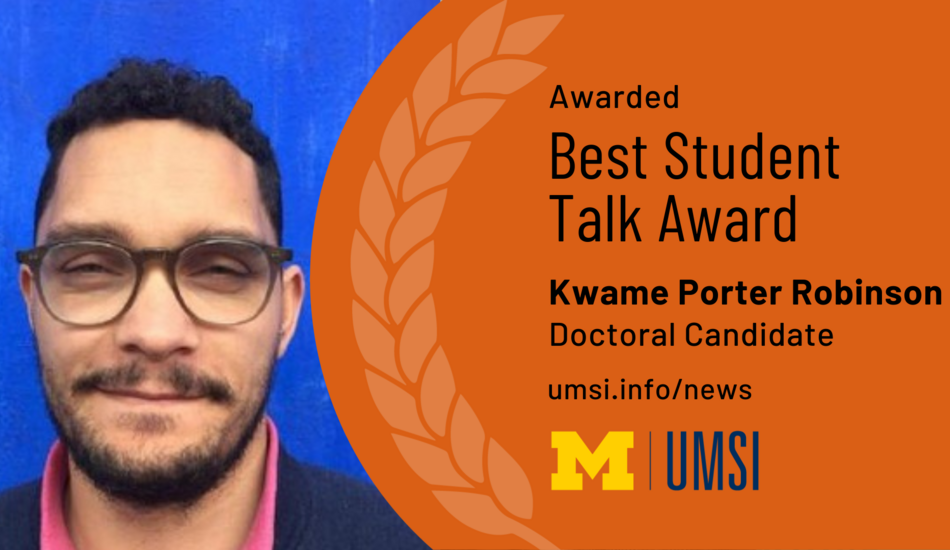 Wednesday, 06/07/2023
University of Michigan School of Information doctoral candidate Kwame Porter Robinson earned a Best Student Talk award from the Michigan Institute for Data Science (MIDAS). 
His talk, "From Extraction to Empowerment: Recent developments in Community-Based Computing Infrastructures" was presented at the 2023 MIDAS Ethical AI forum. Robinson discussed community based practices for implementing AI to help small businesses and low income communities. 
Working from the bottom up, he argues, rather than top down, is an effective approach at using artificial intelligence to solve real-world problems through automation that places the needs of artisans at the forefront. 
"What I'm asking is how can we work with artisans and small businesses to start conversations," he says. "What challenges are they facing and how can we use AI to help them thrive?"  
Robinson began his career in information while working at private and public agencies on cyber security measures and data science. He joined UMSI in 2019. 
At UMSI, Robinson has been conducting qualitative and quantitative research that bolsters community development projects, entrepreneurship and economies. He is mainly focused on finding ways to use artificial intelligence to solve roadblocks small business owners and artists may face towards establishing their own economies. 
"One concrete example is I'm looking at using artificial intelligence for clothing design," he says. "If you make a pattern for a dress, for example, and someone needs a different size, you have to recalculate the measurements and the pattern by hand. That takes a lot of work and isn't super exciting, but wouldn't it be great if AI could do this for you? Such a tool could help many others and serve as a basis for a community economy." 
Robinson is expected to graduate next May. His PhD dissertation is advised by professors Lionel Robert,  Ron Eglash, Mark Guzdial and Audrey Bennett. 
RELATED
Read more about Kwame Porter Robinson through his UMSI profile and his personal website. 
People featured in this story