University of Michigan School of Information
Master of Health Informatics program celebrates ten years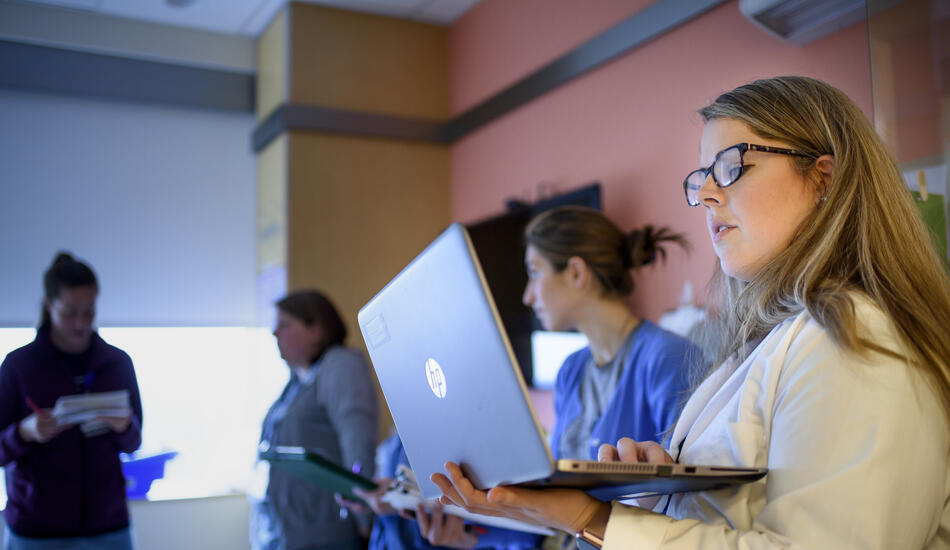 Thursday, 10/13/2022
"We're going to skate where the puck is going" 
More than a decade ago, Katherine Donaldson took a calculated risk. 
The health informatics field was burgeoning, the University of Michigan School of Information had just launched a Master of Health Informatics program and Donaldson was ready to pivot into a new career. 
These factors led to a perfect storm. Donaldson would apply to UMSI's MHI program and become part of its first class of graduates. 
"It was exciting," she recalls. "The first class was an energized group of people from different backgrounds stepping into this field." 
At the time, the health informatics field was expanding. Starting in the early 2000s, the move to digitize health records and use technology to better coordinate patient care was becoming an increasing priority, and by 2009, President Barack Obama signed the Health Information and Technology for Economic Clinical Health Act. 
The act incentivized physicians and care providers to embrace electronic health records and inspired health informatics programs like UMSI's to begin cropping up so that by 2010, UMSI began preparing ground for the MHI program. 
"The first class, we knew we were part of a new and exciting field," Donaldson says. "Health informatics as a field has been growing for decades, but at that time it was moving so fast, changing so much and there were so many unknowns."
Inspiration for the program came partly from Dr. Michael Cohen, who envisioned a program focused on consumer health. Dr. Cohen passed away in 2013, but his vision still guides the program. 
At the launch of the MHI program in 2012, Dr. Charles P.  Friedman served as its inaugural faculty director. Dr. Friedman came to U-M in 2011 after serving as Deputy National Coordinator and Chief Scientific Officer for the Office of the National Coordinator for Health IT in Washington, DC. His health IT policy expertise and deep experience initiating similar academic programs enabled him to provide a thoughtful blueprint for building the MHI program.
"One of the things Charles Friedman would always say is 'we're going to skate to where the puck is going' because we didn't know what the field would look like in two years but they were preparing us to be leaders," Donaldson says.  
One of the people who were integral to the program was Meghan Genovese, who worked at UMSI from 2007 - 2015. She began her association with the MHI program in 2011, later serving as the program's manager and eventually its associate director. She shaped the program's initial curriculum, recruited new students and advised current students. 
Meghan passed away in 2020, but students in the first class credit her for inspiring them to join the program. 
"For many of us in the first class, she was the first interaction we had with the program and a key reason why so many of us felt safe enough to make the leap into the unknown," says Donaldson. "She wore many hats — administrator, career coach, counselor, friend — and wore them all with dignity and selflessness."
Unique in its combination of three University of Michigan schools, the MHI degree is an interdisciplinary program offered by UMSI, the School of Public Health and the Medical School. The 52-credit program spans two years and students are required to take courses in healthcare management, programming and data analysis. 
"I think U-M's program is different in that we split our coursework so you graduate knowing the language of information and the language of the medical system," says Lindsay Weeman, a 2014 graduate. "This really gave me a leg up in my career." 
"Critical bridge builders" 
The MHI program is set up to allow students to liaison between the healthcare field and the technology field. Graduates have the opportunity to take a variety of paths into their careers, becoming entrepreneurs, data analysts and consulting associates. 
"Our graduates are critical bridge builders," says Annie Knill, assistant director for academic programs. "They're linking these two professions together and making them both better. They know the data, they know the tools and they know how to implement them in order to better serve patients." 
Patient advocacy, Knill says, is the goal. Whether it's designing phone applications like Apple Health that allow patients to take control of their health or creating technology that helps doctors serve patients, students are passionate about helping people lead healthier lives. 
Before the health informatics field became what it is today, technology and medicine were often isolated from each other. 
"It's about patient advocacy to the tune of hundreds of thousands of people," Knill says. "We're seeing technology permeate through the medical field in great ways." 
Graduates of UMSI's MHI program enjoy high levels of career success, with 97% working in the field of their choice and 96% reporting job satisfaction. Average starting salaries are $86,000 after a short job search. 
"We've graduated upwards of 400 amazing individuals," says MHI director Allen Flynn. "These are people who have important roles in a wide variety of industries. They're excited about their work, they have a lot of enthusiasm about the training they received and how it makes them stand out and move in the careers and directions they wanted." 
"We are moving towards a technocentric future"
The COVID-19 pandemic highlighted the need for individuals and communities to be able to better control and access health information using technology. 
Mobile health apps granted doctors and patients the ability to communicate with one another during strict lockdowns through telehealth. 
"We cannot avoid technology," says Hanwenbo Yang, a 2016 MHI graduate. "We are moving towards a technocentric future. And while the healthcare industry has been lagging behind in digital adoption, there has been an exponential progression to adopt technology in healthcare."
Allen Flynn says the near future of the health informatics field will be two-fold: It will create 
more opportunities for doctors to use data to predict health outcomes and it will give patients more control of their personal data. 
"Ten years from now, we may be more accustomed to having health factors predicted," Flynn says. "We're going to be able to collect enough outcomes data and use predictive models to make accurate predictions about treatment outcomes before treatments start. For example, like a weather app, imagine being able to pull up a screen and say 'we have three medications to choose from and here's a graph of what is likely to happen in terms of outcomes by using each one." 
This graph of predicted outcomes, he says, would account for individualized patient information like genetics. Right now, most health outcome predictions are"implicit in the minds of our clinicians" but one important goal is to make these predictions explicit so patients have a better sense of how health decisions will impact their future. 
The other move, he says, will help doctors automate certain tasks like medication refills to reduce human error. 
"I think we're going to see some pressure taken off clinical experts," he says. "We expect our clinicians to do many tasks manually because this is how it's been done for decades. Many of our intake, assessment, review, planning, and documentation processes and procedures are redundant and inefficient. A combination of better data sharing and process automation will increase efficiency and give clinical experts' back more time to spend with their patients."
UMSI's MHI program is well-equipped to continue preparing students for whatever the future of health informatics holds. U.S. News and World Report's education rankings consistently list UMSI in the Top 10 across multiple categories, and the School of Public Health is ranked the fourth-best public health school in America. Michigan Medicine is one of the nation's top hospitals and medical schools.  
"Because of how extraordinary the University of Michigan is and how amazing our students are, I'm super excited to see us leading these crucial changes to improve information use for better health" Flynn says. "It's something of high value to look forward to." 
— Noor Hindi, marketing and communications writer at UMSI
RELATED
Learn more about the MHI program and admission requirements. 
Read about current and former students in the MHI program through their Faces of UMSI profiles. 
People featured in this story
Assistant Professor of Learning Health Sciences, Medical School and Clinical Assistant Professor of Information, School of Information
Josiah Macy, Jr Professor of Medical Education, Chair, Department of Learning Health Sciences, Professor of Learning Health Sciences, Medical School, Professor of Information, School of Information and Professor of Health Management and Policy, School of Public Health