University of Michigan School of Information
Oliver Haimson awarded a Faculty Seed Grant from Institute for Research on Women and Gender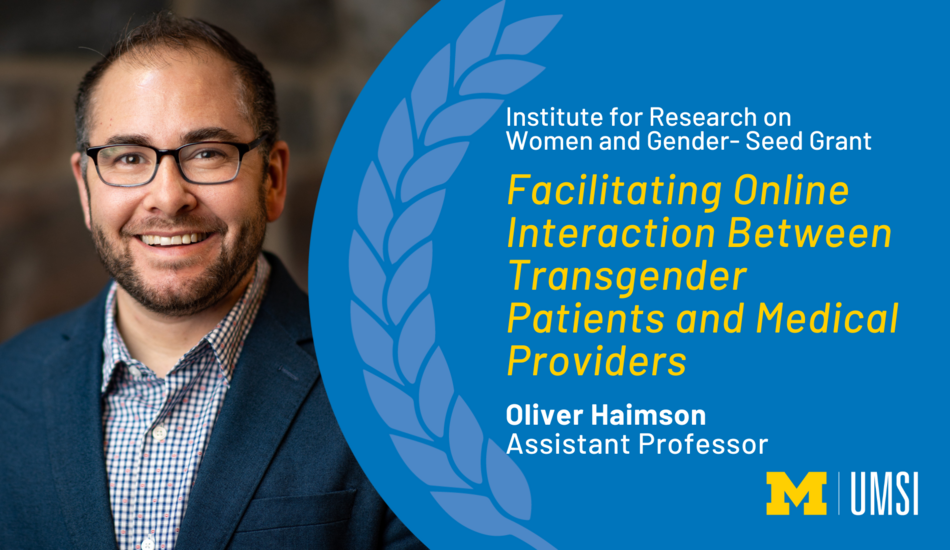 Thursday, 07/21/2022
Oliver Haimson, assistant professor at University of Michigan School of Information, and colleagues were awarded a Faculty Seed Grant from the U-M Institute for Research on Women and Gender. 
The grants support individual research activities, initial research efforts, performances, and community-based research on topics related to women, gender and sexuality. More than $70,000 was awarded to faculty.
His project "Facilitating Online Interaction Between Transgender Patients and Medical Providers" was one of 12 projects chosen for seed grants. Haimson will join collaborators Megan Lane (Michigan Medicine), Nabeel Shakir (Henry Ford Health System) and Mary Byrnes (Michigan Medicine). 
"Southeast Michigan has recently started to become a hub for trans health research, and this project is a collaboration between myself and several gender-affirming surgeons (Nabeel Shakir and Megan Lane) who recently started practicing in Ann Arbor and Detroit," says Haimson. 
Their project focuses on creating better avenues for communication between transgender people and healthcare providers. Currently, surgery-related communication resources are lacking within formalized healthcare settings. As a result, many transgender individuals find health information online in peer-lead groups. While this community can be supportive, these spaces may also facilitate misinformation spread.
The team wants to investigate the feasibility of connecting transgender people to medical professionals online. They plan on recruiting participants (15 patients and 15 providers) to an asynchronous focus group, to explore both the feasibility and the dynamics of combining these two groups in an online space.  
Haimson says this first step will help the team to understand preferred online interaction characteristics and content types shared between trans individuals and physicians who serve these communities. Their work will create proof-of-concept data and preliminary results that can help the team secure larger funding sources for continuing to build online spaces. 
"The new generation of gender-affirming surgeons is very tech-forward, and they are excited about using technology to improve patients' experiences and access to information about surgery," Haimson says. "I'm really excited to collaborate with healthcare providers to move trans health research forward!"
— Sarah Derouin, UMSI public relations specialist
RELATED

:
Learn more about assistant professor Oliver Haimson.
Learn more about the University of Michigan Institute for Research on Women and Gender.
People featured in this story
Assistant Professor of Information, School of Information and Assistant Professor of Digital Studies Institute, College of Literature, Science, and the Arts