University of Michigan School of Information
UMSI accelerates automotive UX program to become hub for industry experts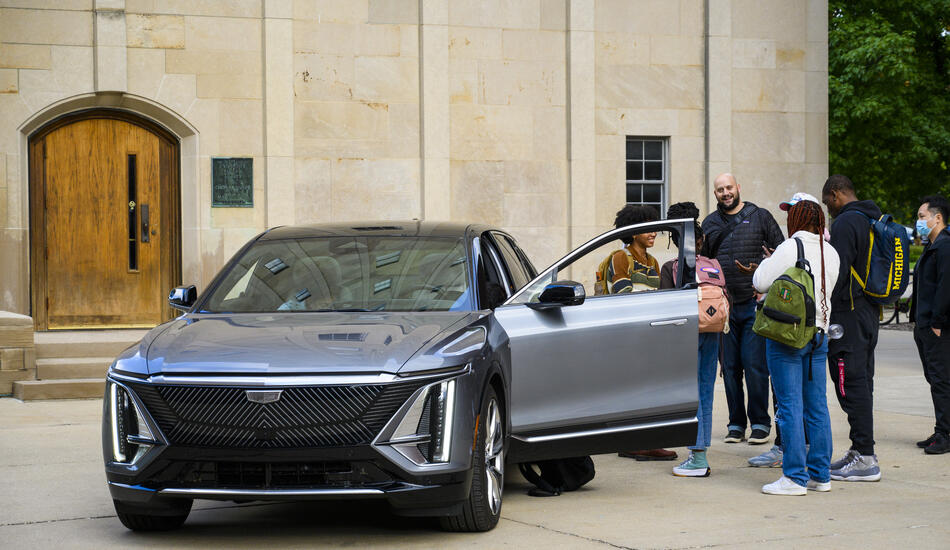 Thursday, 06/22/2023
When University of Michigan School of Information (UMSI) student Zeinab Ghandour thought about taking an automotive user experience (UX) class, she was nervous about the topic, her lack of awareness of the industry and whether she'd enjoy the class. 
Today, Zeinab says taking the class is one of the best decisions she's made at UMSI. 
"The class helped strike a curiosity within me," she says about Jim Rampton's intro to automotive UX class. Rampton is a UMSI lecturer and lead product designer at General Motors.  "Prior to it, I saw myself working at a tech company making mobile or desktop designs," Zeinab says.  
"I've expanded now into considering the automotive field." 
UMSI has added three automotive UX classes since 2022: Intro to Automotive User Experience Design, Customer Experience Design in the Automotive Industry and Automotive User Interface Design. 
The classes emerged as a result of increasing demand for industry professionals with expertise in automotive UX, which focuses on making the cars more intuitive, more fun and safer to use. 
UMSI plans to bring in more lecturers and expand class offerings within the next two years. 
"There's been an increase in demand among consumers for sophistication for their in-car experience," says UMSI professor and associate dean for academic affairs Cliff Lampe. "There are thousands of jobs that are going to be available in this field and we need to train people on what the next hundred years of this industry will look like." 
Automakers are designing the next generation of cars with user experience at the forefront. Infotainment systems, safety features and applications are critical to a consumer's experience. 
"We're thinking about problems in the automotive industry from a customer experience," says UMSI intermittent lecturer in information Bill Thompson. He is senior director of mobility at Rightpoint and former senior manager of global user experience at General Motors. 
Automotive UX technologies could make it easier to shop for a car through an app, utilize bike-sharing platforms in new cities and increase entertainment and safety in car infotainment systems.      
"How can we use technology to enable better solutions? From shopping for a new car, to understanding safety and digital touchpoints," he says. 
Michigan is heavily investing in the future of mobility. In 2021, Governor Gretchen Whitmer rolled out her Future Mobility Plan, which she says will create thousands of jobs and flood millions of dollars into the market by growing the mobility workforce, providing more accessible transportation infrastructure and developing innovative mobility policies. 
The Detroit area is home to the densest automotive and mobility supply chains in the world, with
General Motors, Ford Motor Company and Stellantis positioning Michigan as a global automotive hub. 
"Vehicles are becoming more and more like moving computers," says UMSI alum Emily Bowman. Bowman is the global director of experience design at General Motors. "There's a recognition at our company and our competitors that user experience designers are uniquely prepared to understand the human we're developing for, to help us differentiate our product, meet safety requirements and become the leaders when it comes to the digital experience. 
"Our talent needs are growing, and will continue to grow significantly over the coming years."
Bowman says UMSI is well positioned to train students in this field because of Ann Arbor's proximity to Detroit and because of UMSI's robust curriculum. Designing for the mobility industry comes with unique safety constraints, and introducing students to these parameters "early in their development gives them additional runway to come on board to a company and be successful right out the gate." 
"It's primarily thinking about driver attention and safety," Bowman says. "Drivers are operating a large machine and there needs to be a thorough accounting of other drivers, regulations and the environment." 
Paul Woods, CEO of Edenspiekermann, a global design consultancy working with firms such as Lucid Motors and Mercedes-Benz, cites the high demand in the sector, with organizations like automotive software company CARIAD recruiting about 10,000 digital experts by 2025. Meanwhile, the tech industry is increasingly looking to lure developers as they plan to spend billions on software technologies. 
Woods says salary ranges widely depending on whether the role is with an agency, an established tech firm, electric vehicle startup, or an original equipment manufacturer, but midlevel California based automotive UI and UX employees can expect salaries quickly reaching six figures, and can also include generous equity packages.
UMSI's classes provide students with the knowledge they need to enter the field with confidence and a rich understanding of automotive UX. Each class is taught by experienced leaders in the industry. 
"The authenticity and the amount of passion our professors have is unmatched," says Aaron Huang, a fourth-year student at U-M. "James Rampton (a UMSI lecturer and lead product designer at General Motors) would literally come from his day job to teach us and you could tell he really cares." 
Classes currently available include: 
Intro to Automotive User Experience Design, offered to Bachelor of Science in Information in the fall  introduces students to the basic components of designing for in-vehicle interfaces. This course is taught by James Rampton, lead product designer at General Motors. 
In response to high demand, this course will be offered to Master of Science in Information students in winter 2024. It is also open to students enrolled in graduate-level programs outside of UMSI. 
Automotive User Interface Design expands on the introductory class and tasks students with applying basic design principles to the automotive industry. This course is taught by Scott Martin, vice president of design at Rightpoint.
Customer Experience Design in the Automotive Industry challenges students to identify, design and propose solutions for the in-vehicle and outer-vehicle components of vehicles. This course is taught by Bill Thompson, senior director of mobility at Rightpoint and former senior manager of global user experience at General Motors. 
RELATED
Read "Automotive UX course at UMSI fueled by graduates entering the industry." 
Learn more about our Bachelor of Science in Information program and apply today.
People featured in this story