University of Michigan School of Information
UMSI graduates report high satisfaction, salary increases in new report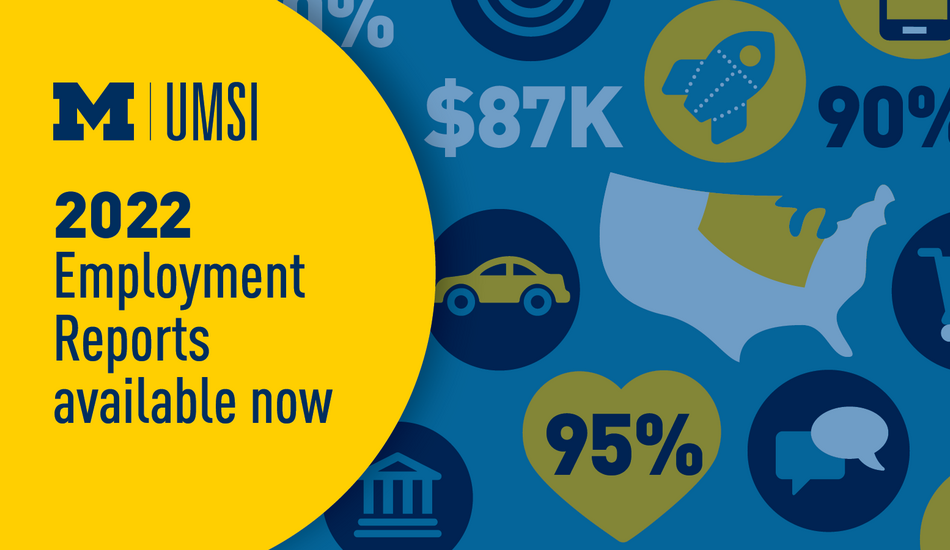 Tuesday, 07/19/2022
With pandemic concerns waning and industries opening back up, University of Michigan School of Information graduates are landing even better jobs, with 93% of graduates working in their field of choice and earning increasing salaries. 
"As the labor market settled and improved this year, more opportunities were available across industries for our graduates," says Joanna Kroll, director of the UMSI Career Development Office. "Despite the tech industry being hit hard with layoffs this year, UMSI grads continued to be successful landing substantial positions in many top tech companies, resulting in tech remaining as the top industry of UMSI job outcomes this year at 28 percent."
Salaries are up three to five percent across all academic programs, with UMSI graduates entering the private sector earning an average of $80-$101,000 upon graduation and public sector employees earning $57-$80,000 across academic programs.
The UMSI data comes from the University of Michigan School of Information annual survey of recent graduates, and reflects first-destination salaries of students who graduated in 2021. The survey included graduates who earned Bachelor of Science in Information (BSI), Master of Science in Information (MSI), Master of Health Informatics (MHI) or PhD in Information degrees.
For the first time, the survey also includes data from graduates in the Master of Applied Data Science (MADS) degree, a fully-online master's program that launched in 2019. Students graduating with a UMSI MADS degree in 2021 reported average salaries of more than $100,000 and work in a diverse range of industries including healthcare, manufacturing and technology. 
After completing the MADS program, more than half of students say they have accepted new jobs in the data science field or moved into advanced roles with their current employer. 
"One of the things that students tell us in the MADS program is they often use the techniques they learn in MADS immediately in their jobs," says Amy Homkes-Hayes, associate director of online programs and strategic advisor to the leadership team on online programs and digital content at UMSI. "They're seeing results instantly that are positively impacting their careers." 
Students report that internships, client-based capstone projects and career courses have a significant role in career readiness. 
Students receive comprehensive career support and career education through both curricular and co-curricular offerings through the Career Development Office (CDO) to get them prepared for successful career outcomes.
In 2022, UMSI graduates were hired into jobs in organizations including innovative tech startups, global healthcare organizations, nonprofits, libraries and Fortune 100 companies. Recruited by employers across industries, students are transitioning into entry and senior-level positions at companies like Ernst & Young, Microsoft, Amazon, Ford and JP Morgan. 
During the height of the pandemic international students faced considerable challenges with their U.S. job search resulting in many accepting jobs in their home countries. This year, UMSI saw an increase of international grads job outcomes reported in the U.S. in top companies such as Microsoft, Indeed, KPMG, Amazon and Adobe. 
What matters to students? An inclusive company culture is one of the critical factors for students in job decision making.  Students want to see evidence of a diversity, equity and inclusion commitment from employers. The CDO is helping students by developing resources and workshops to empower students with knowledge and strategies needed to assess company culture in the recruiting and hiring process.  
Among industries UMSI graduates are entering: technology, consulting and healthcare systems. Outside of these sectors, Bachelor of Science in Information students are entering industries like entertainment, gaming and sports, and Master of Health Informatics students are moving into finance and insurance sectors, startups and entrepreneurial industries.  
Whether pursuing a BSI, MSI, MHI or M.ADS, students are ready to put their skills to the test. More than 93% of students report working in the field of their choice, earning competitive salaries and having high levels of job satisfaction.
Learn more about employment outcomes in the 2022 employment reports. 
Read how BSI students are using their skills at work in the BSI employment report.
Read how MSI students are using their skills at work in the MSI employment report.
Read how MHI students are using their skills at work in the MHI employment report.
Read how MADS students are using their skills at work in the MADS employment report.