University of Michigan School of Information
UMSI staff awarded for outstanding work and peer-to-peer mentorship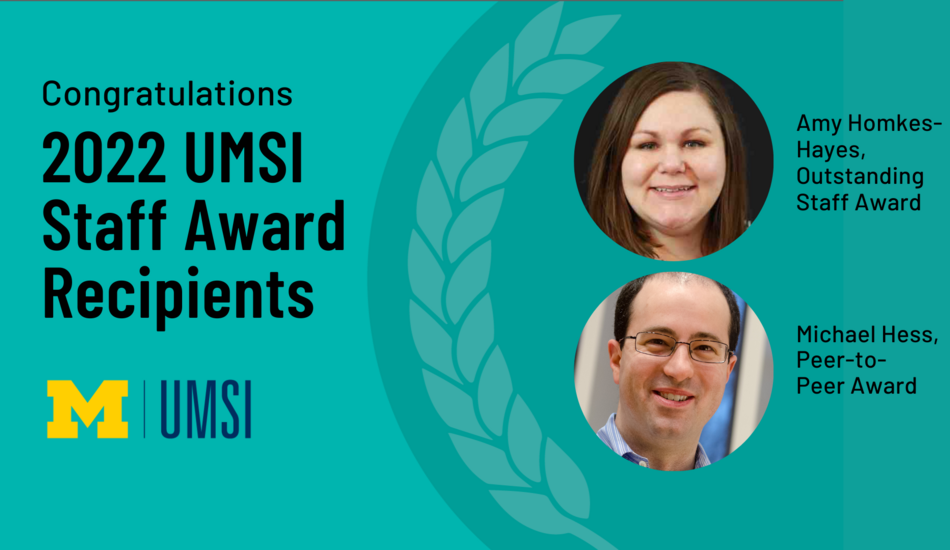 Monday, 11/07/2022
The University of Michigan School of Information (UMSI) celebrated the persistence and excellence of two staff members in 2022. The annual recognitions, announced this year at the November staff meeting, went to Amy Homkes-Hayes, who received the Outstanding Staff Recognition award, and Michael Hess, who received the Peer-to-Peer award. The honorees are recognized for sharing their skills to uplift students and colleagues, and for helping the community sustainably navigate change. 
UMSI staff are recognized through a peer-nomination process with committee oversight. Director of inclusion, equity and outreach Devon Keen chaired this year's selection committee. Kelly Iott and Lauren Murphy, 2021 awards recipients, were among the committee members.
Outstanding Staff Recognition award 
The Outstanding Staff Recognition award honors a UMSI staff member who contributes in an exceptional way to advancing UMSI's mission. Any regular UMSI staff or faculty can submit nominations. 
This year's recipient, Amy Homkes-Hayes, is associate director of UMSI's online programs and strategic advisor to the Leadership Team on online programs and digital content. In that role, she is recognized as a strong communicator who is dedicated to solving problems with a focus on student success.
"Amy is an incredibly dedicated, diplomatic problem solver," shares Keen from compiled nominations. "She is committed to the success of the Master of Applied Data Science program and perseveres through any problem. Amy liaises with folks at every level of the department. She works with our student org, MADSA, the online curriculum committee and department leadership." 
Homkes-Hayes has been a UMSI staff member for four years, and has guided the community with skill in the face of change and crisis. 
"She has been essential in navigating some of our most pressing issues (vaccine policy changes, students affected by the Ukraine-Russia conflict, Coursera platform problems)," says Keen.
Homkes-Hayes says, "When I started working in UMSI almost four years ago I knew almost immediately that this was a special place. Launching the Master of Applied Data Science degree and managing everything that's come with it has enabled me to develop deep and wide relationships with folks throughout UMSI. I have benefited, greatly, from others' expertise, enthusiasm, humor and hard work." 
"We have had many challenges helping the campus come along on launching an online degree at the scale and reach of ours using a short-course approach, but what we're doing here is incredible," Homkes-Hayes says. "It's giving a U-M education to folks who otherwise would never get one, and it's extending UMSI's reach further than we imagined. I am incredibly proud of the work we do here and deeply humbled to be honored in this way." 
Peer-to-Peer award 
The Peer-to-Peer award honors a staff member whose efforts are commendable in service to other staff or to the work environment at UMSI. Any regular UMSI staff member can nominate a peer for this award. 
This year's recipient, Michael Hess, is senior technologist and adjunct lecturer in information, and earned his Master of Science in Information at UMSI in 2006. 
"Michael has this huge desire to dive into a system/project/program and learn everything he can," Keen shares from compiled nominations. "This tends to either inspire others to do the same, or gives others a person to go to in times of confusion." 
His supportive mentoring qualities are recognized, as is his work with a wide variety of people and projects at U-M. He has been contributing his skills across the institution for 17 years. 
"He understands that if he always gives the answer to a problem which he knows the person is capable of figuring out themselves, they may never build up the knowledge to solve future problems themselves. His goal with teaching is to teach investigation, and hopefully build curiosity," Keen says. 
 
RELATED:
Find more information about UMSI Staff Awards criteria and past awardees.


— Martha Spall, UMSI writer
People featured in this story