University of Michigan School of Information
Assistant professor Michaelanne Thomas earns a Crosby Research Award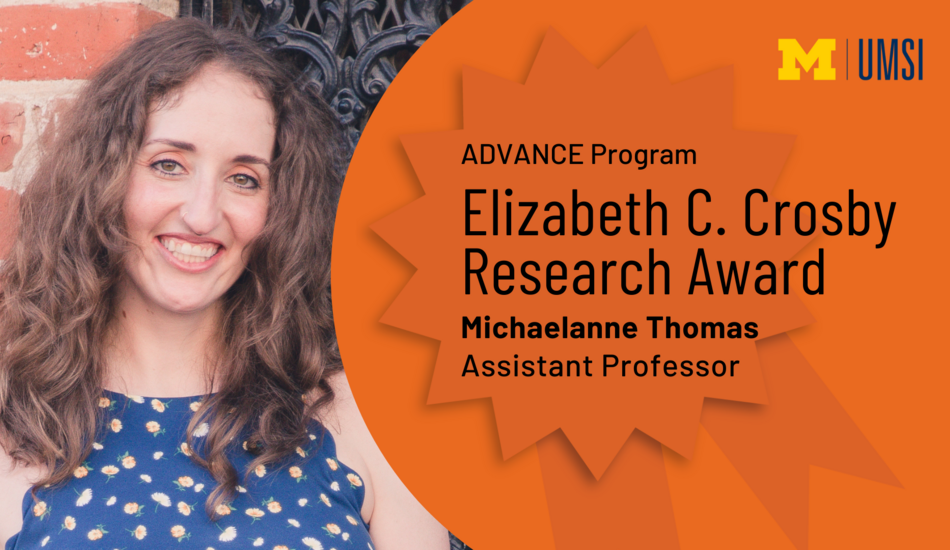 Tuesday, 06/21/2022
Michaelanne Thomas, was awarded a 2021-22 Elizabeth C. Crosby Research Award for her research project, "The Design of Culturally Appropriate Social Media Tools Among Hispanic Communities in Flint, MI."
The Crosby Grant helps science and engineering researchers meet career-relevant needs. The goal is to help increase the retention or promotion of a diverse faculty in science and engineering. 
Thomas, assistant professor and Presidential Postdoctoral Fellow at the University of Michigan School of Information, is a sociocultural anthropologist. She researches how communities collaboratively innovate to solve problems amidst challenges like poverty, lack of internet availability, language barriers, housing scarcity, and other such crises. 
"Part of what I study is creativity that is born out of constraint, particularly for communities that are living in times of either extended crisis or are experiencing economic, political, or structural constraints," says Thomas.
In the past, Thomas' research examined how Cubans living in Havana collaboratively pieced together technologies to create a "Cuban" internet, in spite of the restrictions of access to the World Wide Web. 
Now, Thomas is heading to a community closer to Ann Arbor. She was awarded a Crosby Grant to support new research working with the Latinx community in Flint. Thomas hopes to better understand how the community uses technology to help solve problems.
With specific research like this, it's important to understand what members of the Flint community have already done and are currently doing, says Thomas. For example, she notes that there is a LatinX Community and Technology center in Flint that has been a meeting place for all who live in the neighborhood.
Thomas notes the issues are more than just access to the internet. Getting groceries, having access to a cell phone, or worrying about your legal status all play a role in isolating marginalized communities. Community centers can help bridge those barriers.
She has already spent time in Flint, taking note of the efforts individuals are making to help all people, Hispanic or not, in their community. "There is a level of commitment and drive by members of this community that is incredible," she says.
Thomas also notes that it's not enough to simply survive in a community– there's also a need for joy. "I think with this community, what I'm finding is that the sense of art, food and music have equal weight to legal support, technical support and educational support," says Thomas. "These daily interactions and extra emotional labor, create community."
In her research, Thomas notes that building trust and taking her time building a relationship with the community is crucial. "I'm constantly checking myself — my own subjectivities, my own judgments, in addition to making sure there is ethical consent on every level. That's the baseline." 
She also stresses that it's important to work with community leaders to understand what their goals are and what is the timeline and exit strategy of the projects. "Particularly in the field of information science, where it's very intervention based, I am moving toward practicing 'slow scholarship,'" says Thomas.
"One of the things I'm most excited about is that this grant is giving me the resources to be able to start that very delicate, slow process," she says. 
Receiving the Crosby Grant will allow Thomas to continue this research, while providing financial support for very real challenges of her own. "This is going to fund safe transportation for me from here to there, meaning, snow tires," she says. 
She will also use the grant to help with childcare, something that makes doing field research possible for a single mom. "Traditional funding agencies and institutions do not take childcare into account," Thomas says, adding that mothers can experience a lot of barriers with this type of work. Nearly a third of past awardees of the Crosby Grant awardees have used a portion of their funding to assist with child care needs. 
Grants like the Crosby are important for meeting DEI goals, says Thomas. "As someone who wants to visibly push back against oppressive structures of power, I am so excited when there's a grant like this that recognizes these challenges."
— Sarah Derouin, UMSI public relations specialist
Learn more about assistant professor and Presidential Postdoctoral Fellow Michaelanne Thomas. 
Learn more about the Elizabeth C. Crosby Research Awards. 
Read Thomas' take on Cuba's new smartphone.
People featured in this story
Assistant Professor of Information, School of Information