University of Michigan School of Information
Summer outreach programs inspire students to make and break the mold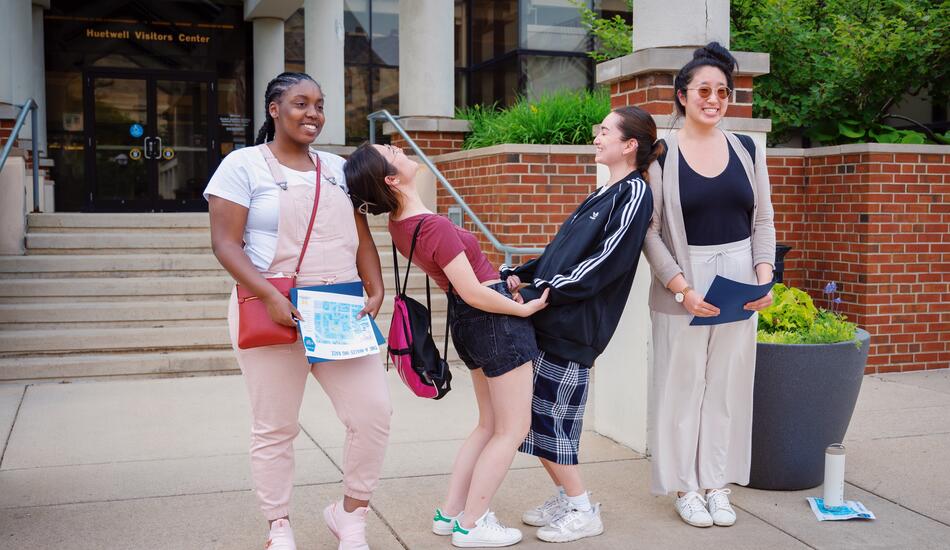 Monday, 08/21/2023
It's lunch time, and high school students at UMSI's Information Changes Everything Camp are engaged in an impromptu debate about mushrooms, spurred by the vegan taco option. They draw upon information — mushroom facts they've read online — to defend their stances. 
The camp, which was introduced virtually in 2022 and held in person for the first time this year, allows rising 10th and 11th graders to explore the field of information science over the course of four days in July. It is organized by UMSI's Diversity, Equity and Inclusion Office in collaboration with Wolverine Pathways, a program that provides college preparation and enrichment opportunities to students in Detroit, Southfield, Ypsilanti and Grand Rapids. 
In sessions led by UMSI faculty and current students, campers learned how information can be used to address pressing societal questions. They gained an awareness of the diverse fields that employ information scientists — from health care and government to finance and entertainment.
When Corban Panagos, a rising sophomore at West Bloomfield High School, heard the word "camp," he pictured himself hanging out with peers and playing games. He wasn't wrong — on the first day, campers came together to play a research-backed game that associate professor Ceren Budak helped develop to reduce political polarization. In the sessions that followed, Panagos found himself "drawing, working with thermoplastics and coding." 
Before attending the camp, he was interested in coding and art, but he thought of the two interests as separate. That changed during a session led by assistant professor Patricia Garcia on designing with rapid prototypes. Panagos and fellow campers had the opportunity to take a hands-on approach, molding thermoplastics to create prototypes that could help individuals experiencing physical limitations like arthritis.
While sculpting his design idea, Panagos found the intersection of his passions. "I never thought there were things like this that actually existed," he said. 
'Some kind of magic'
For Sandra Lopez, DEI outreach coordinator, these revelations are the best part of UMSI's summer outreach programs. "I enjoy watching the aha moments happen when students learn about the field of information and learn that U-M is not an impossible dream," she said. 
Over the course of the summer, UMSI hosts or participates in a total of four outreach programs, each designed for a different cohort. The most established of these programs is the Community College Summer Institute, which has taken place every summer since 2017. Participants gain in-depth exposure to information science while exploring U-M's campus. 
The goal is to remove barriers for community college students who might be interested in transferring to UMSI to pursue a Bachelor of Science. All participants have the opportunity to stay in residence halls and receive meals and a stipend through the John, Karen and Casey Cameron Community College Fund. The DEI Office also works to accommodate individual needs. "If students need assistance with transportation to and from Ann Arbor, we make it happen," said Lopez. 
Anna Maria Clark, who has worked for two decades as a TRIO Student Support Services academic advisor at Grand Rapids Community College, has referred many students to CCSI.
"There's some kind of magic that happens," Clark said of the program. "The students have felt at home from the get-go. They have seen so many different facets of what the School of Information offers, and they have been inspired to such an extent that a few have come back and said, 'This is what I want to do. This is where I belong.'"
Jose Velazquez, a student at Oakland Community College, participated in CCSI this past June. He said U-M used to feel out of reach to him. Then, on the first day of CCSI, he walked into the classroom and was greeted by an old friend who is a current UMSI student. As the program continued, his sense of belonging deepened. Now, he is applying to transfer to UMSI and plans to pursue a career in data analytics. 
"​​There's a common stigma that many community college students might feel, thinking they are not qualified or don't belong," Velazquez said. "It's essential to know that there is a supportive community of faculty and current students who are more than willing to assist you and provide the necessary resources if you find the School of Information to be the right fit for you." 
Coming up roses
At the Wolverine Pathways Summer Institute, which is designed to expose rising 12th graders to college rigor, a word that comes up repeatedly is "freedom." 
Participants enroll in a four-week course taught on campus by a U-M faculty member. This is one of their first glimpses of life on a college campus, so the little things — like wandering on their own to pick up lunch — stand out. On the final day of class, two students return to the classroom carrying flowers. Over lunch break, they stopped by University Flower Shop to pick out bouquets, just because. 
But the "freedom" students speak to is also curricular: They choose which course to enroll in from a list of options across disciplines. This summer, assistant professor Megan Threats designed a course to introduce 14 students to health informatics. 
"It was a good opportunity for me to meet new people and try something I'd never tried before," said Donnie Fleurina of Lincoln High School.
"The students had no prior familiarity with health informatics," Threats noted. "They came into the course with curiosity and quickly began to ask questions." 
With Threats and doctoral candidate Deahan Yu as their guides, students explored human-centered design, artificial intelligence in healthcare, and practice areas within health informatics. They also heard from seven guest lecturers, who led activities that included a community science video game and writing a prescription for Ozempic.
"It's really cool to see that this is all health informatics, and there are just so many things you can do with it," said Lara Jomaa of Washtenaw International High School. 
For their final projects, students worked in teams to design a consumer health informatics platform for a target population of their choosing. One team designed HyGenius, a platform to improve hand washing and teeth brushing among adolescents. Another designed Sugr Warrior, a platform to help people manage Type 2 diabetes. 
"Not just this class, but the summer institute as a whole, was really positive," Fleurina said. "And it's getting us rising seniors ready for college."
All roses from this group, with only one thorn: They wished they could have stayed in the residence halls. 
A campus to call home
That wish will soon be a reality for over 70 incoming first-year students who participated in the NxtGEN STEM Scholars Summer Institute in August. The virtual program provides a jumpstart to the college experience for STEM students from marginalized communities. Scholars attend sessions on data science, robotics and other STEM pathways, in addition to workshops on the college transition.  
This year, UMSI faculty led four sessions. Clinical assistant professor Allen Flynn discussed major challenges and opportunities in the field of health informatics. Assistant professor Paramveer Dhillon led a session on "the societal perks and perils" of artificial intelligence in travel, including driverless cars. All of the faculty members who presented — including lecturer Bobby Madamanchi and associate professor Ceren Budak — shared with students about their own journeys to the field of information. 
The summer institute was established in 2020 by the Michigan Louis Stokes Alliance for Minority Participation, which works to increase the number of underrepresented students of color earning bachelor's degrees in STEM fields. This fall, scholars will head off to six local campuses: U-M, Michigan State University, Wayne State University, Western Michigan University, Washtenaw Community College and Mott Community College.
"Our goal is to ensure that our scholars are able to build a sense of community and belonging early on in their journey," said program coordinator Elijah Vasquez, "so that when they first step foot on campus, they know they have a support system in place and a community to call home."
Participants across summer outreach programs mentioned "friendship" as one of their main takeaways.
"I love observing the connections students make with the field of information, with our staff and faculty and with each other," Lopez said. 

— Abigail McFee, marketing and communications writer
 
LEARN MORE
The UMSI DEI Office invites students, faculty and staff to get involved in outreach opportunities to spread awareness of the field of information. Sign up to volunteer here. 
If you are a counselor or student interested in learning more about the Community College Summer Institute, view details here.  
Students join Wolverine Pathways in 7th or 10th grade and continue through 12th grade. Learn more here. 

To learn more about the NxtGEN Summer Institute, please reach out to Elijah Vasquez or the MI-LSAMP alliance director, Joseph Ballard II.
People featured in this story