University of Michigan School of Information
UMSI awards & honors: September 2023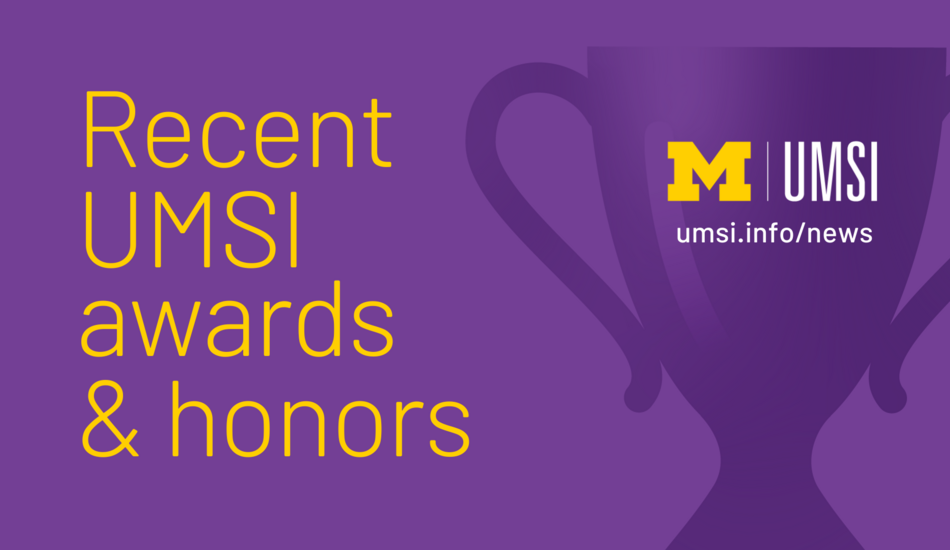 Wednesday, 09/20/2023
University of Michigan School of Information researchers are addressing real-world problems through their work. Each day, UMSI faculty and PhD students are thinking through complex issues like privacy and security, the ethics of artificial intelligence, how best to use technology to leverage better health outcomes and meaningful practices for archiving works from marginalized communities. 
Their accomplishments are recognized both nationally and internationally. See their most recent achievements below. 
---
UMSI assistant professor Julie Hui and UMSI associate professor Tawanna Dillahunt have been accepted into the inaugural cohort of the Boost program. The program, initiated by the University of Michigan Office of the Vice President for Research, supports new and early-stage multidisciplinary teams whose ambitious, transdisciplinary projects have substantial potential for large-scale funding. 
Hui and Dillahunt's project, "Community Tech Workers: Advancing a Sustainable Vision for Small Business Tech Support in Detroit," includes faculty from the university's School of Social Work, Gerald R. Ford School of Public Policy and U-M's Detroit Neighborhood Entrepreneurs Project. 
Learn more about their project and other members of the 2023 Boost cohort. 
---
The University of Michigan Office of the Vice President for Research has awarded seven research teams anti-racism grants to support scholarship that addresses complex societal racial inequalities, with the goal of bolstering actions that achieve equity and justice. 
Among the grant recipients is UMSI professor Tiffany Veinot's project, "Unraveling and Mitigating the Impact of Structural Racial ("Redlining") on Chronic Disease Burden in Detroit using Geospatial and Mediation Analysis." Veinot will work with faculty from the Medical School and the School of Public Health. 
Learn more about the project and other recipients. 
---
Ihudiya Finda Williams and April Wang are the recipients of the 2023 Gary M. Olson Outstanding Ph.D. Student Award. Awarded yearly to students based on progress in the doctoral program, achievements in terms of publications and presentations as well as service to fellow students. Williams was nominated by her dissertation chair and advisor, UMSI professor Kentaro Toyama. Wang was nominated by her dissertation co-chair and co-advisor, UMSI assistant professor Christopher Brooks. 
UMSI doctoral candidate Elsie Lee-Robbins is the recipient of the Rackham Graduate School's One-Term Dissertation Fellowship, which supports students completing their dissertation. Lee-Robbins was nominated by her dissertation chair and advisor, UMSI associate professor Eytan Adar. 
RELATED
Read more research from UMSI faculty and PhD students. 
Apply to UMSI's PhD in Information program.
People featured in this story