University of Michigan School of Information
Board of Regents approve 6 UMSI faculty for promotions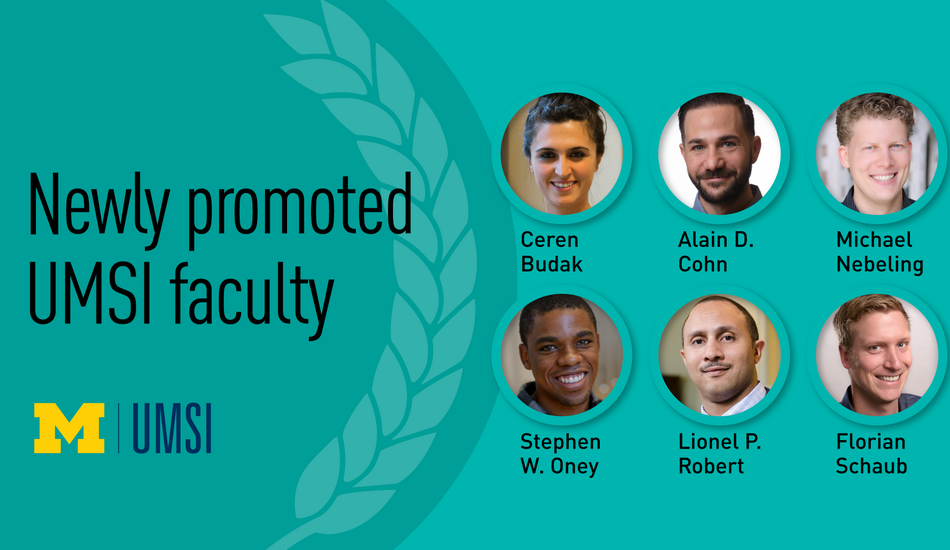 Friday, 05/20/2022
Six University of Michigan School of Information faculty promotions were approved at the May 19, 2022 meeting of the University of Michigan Board of Regents. The promotions will go into effect on September 1. 
Ceren Budak, Alain D. Cohn, Michael Nebeling, Stephen E. Oney, and Florian Schaub will be promoted from assistant professor to associate professor, and Lionel P. Robert will be promoted from associate professor to professor. 
Ceren Budak began her U-M career in 2015. She holds a joint appointment with UMSI and the College of Engineering. She is an interdisciplinary scholar who focuses on computational social science, and more specifically, in political communication. In 2021, Budak earned a prestigious CAREER grant from NSF for her research on the role community norms, platform architectures, and markets play in regulating disinformation and cross-partisan animosity online. Before coming to U-M, Budak earned her PhD from University of California Santa Barbara, and she completed a postdoctoral position at Microsoft Research in 2015. 
Alain D. Cohn joined the UMSI faculty in 2017. His work is rooted in economics, but his research bridges psychology, finance, information science and political science. In particular, he focuses on the origins and consequences of social preferences and moral behavior. In 2020, Cohn was awarded a Diligentia Prize for Empirical Research for his outstanding field study on the trade-off between material self-interest and honesty around the world, published in Science. Before joining U-M, he was a postdoctoral scholar at the University of Chicago and University of Zurich, and he earned his PhD from University of Zurich in 2010. 
Michael Nebeling joined the U-M faculty in 2016 and holds a joint position with UMSI and the College of Engineering. His research focuses on user interface tools for novel interaction platforms, including the emerging domain of XR. In his work, Nebling hopes to broaden participation in the XR design process by allowing individuals with various technical expertise to build and evaluate designs. He has brought XR expertise first to U-M classrooms, then to Coursera where current student enrollment is more than 7,000 students. He earned his PhD at ETH Zurich in 2012, and was a postdoctoral researcher at Carnegie Mellon University in 2016.  
Stephen E. Oney first came to U-M in 2015 as a President's Postdoctoral Fellow, and joined the faculty in 2016. He has a joint appointment at UMSI and COE. His research focuses on enabling and encouraging more people to write and customize computer programs by creating new programming tools and exploring usability issues in programming environments. Oney earned the 2021 Excellence in Instruction award for his teaching at U-M and Python class on Coursera. Since arriving at U-M, Oney has secured more than $1.6 million in research funding from NSF and private companies, including Google and Adobe. In 2012, he earned his PhD from Carnegie Mellon University.
Lionel P. Robert joined the UMSI faculty in 2011. His research uses experimental methods to examine how collaborating with technology changes communication, cooperation and coordination and how to better design technology to support collaboration. Robert has also contributed pioneering research on human collaboration on technologically based agents, including autonomous vehicles, robots, and artificial intelligence. He was recently asked to join the AAAS Community Advisory Board. Since being promoted to associate professor in 2017, Robert has garnered $1.8 million in research funding. He earned his PhD in 2006 from Indiana University. 
Florian Schaub started at UMSI in 2016, and has a joint appointment with EOC. His research focuses on empowering users to effectively manage their privacy in complex socio-technological systems. His research interests span privacy, human-computer interaction, mobile and ubiquitous computing, and the Internet of Things. In 2020, Schaub earned a Defense Advanced Research Projects Agency (DARPA) Young Faculty Award for research on people's privacy expectation-risk misalignment. Before arriving at U-M, Schaub was a postdoctoral fellow at Carnegie Mellon University. He earned his PhD from University of Ulm, Germany in 2014.
RELATED:
Read about all U-M faculty promotions on The Record. 
People featured in this story